Ina Garten's Roasted Brussels Sprouts Recipe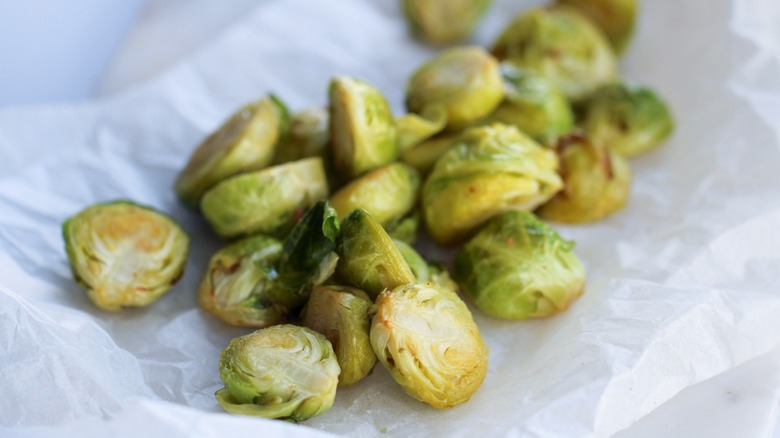 Susan Olayinka/Mashed
When it comes to celebrity chef Ina Garten, we trust pretty much every cooking tip she has to offer. And her recipes are basically biblical. In fact, Garten is such a cooking genius, we wanted to build upon one of her most basic, yet delicious recipes for roasted Brussels sprouts. The ingredients and process really could not get any easier, and that part didn't change when recipe creator Susan Olayinka, who blogs at The Flexible Fridge, added her own twist on Garten's dish. 
In fact, the twist is super simple, with Olayinka adding just one ingredient to switch up the taste of a vegetable not everyone can get behind. "Adding sweetness to vegetables is just genius!" the U.K.-based cook explains, adding about her maple syrup-infused recipe, "It's really delicious." 
So, ready to mix up dinner tonight? Perfect, because as Olayinka says, "These would serve perfectly with a dinner of roasted chicken and potatoes." One thing to note is that we've scaled back Ina's recipe from 6 servings down to 2 or 3, so if you're serving more people or want to have leftovers, be sure to double up on the ingredients!
Gather your ingredients and prep your sprouts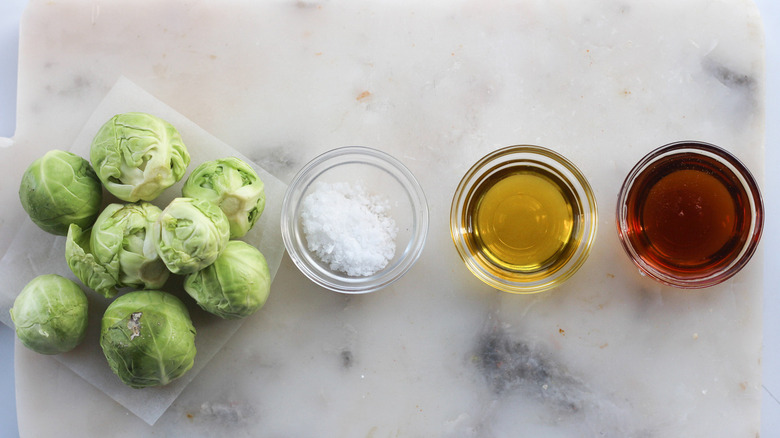 Susan Olayinka/Mashed
It does not get any more simple or budget-friendly than a dinner side that requires just five ingredients, four of which you are sure to have on hand: Brussels sprouts, extra-virgin olive oil, maple syrup, salt, and pepper. As Garten would say, "How easy is that?" 
Once you have gathered your ingredients, the process to make this dish is just as approachable. First, preheat the oven to 350 degrees Fahrenheit. You will wash your Brussels sprouts, and pat them dry with a paper towel. Next, Olayinka instructs home cooks to peel the outer layer of the sprouts. Why? This removes old or discolored leaves. The last steps to prepping your sprouts are to trim off their tough ends, carefully slice them lengthways, and go ahead and place the veggies into a mixing bowl. 
What did we change?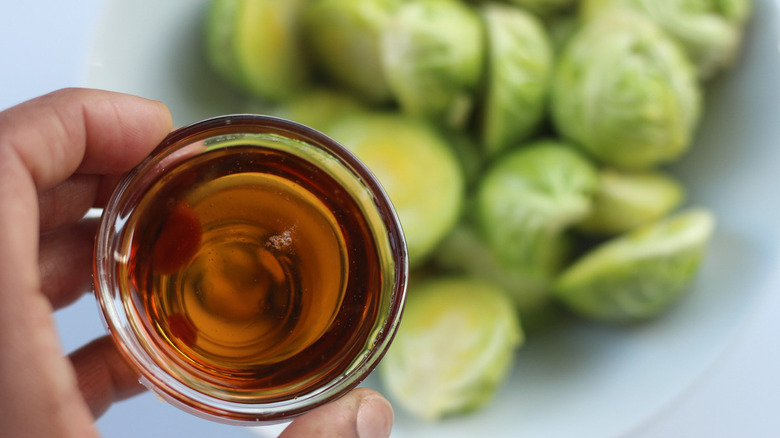 Susan Olayinka/Mashed
Creating her own take on Garten's recipe for roasted Brussels sprouts was all about making the dish a bit more palatable for Olayinka. "My twist is adding a touch of sweetness!" she explains to Mashed. "Brussels sprouts aren't always the popular side dish around the dinner table, so I have added a touch of sweetness with the maple syrup. It adds a sweet and savory taste."
Ultimately, Olayinka says about the finished dish she created, "The Brussels sprouts are crispy on the outside and soft on the inside, making it the best side!" 
To continue prepping this side worth swooning over, you will take the mixing bowl containing your prepped Brussels sprouts, and add to it the remaining ingredients, including the extra-virgin olive oil, maple syrup, salt, and pepper.
Cook your Brussels sprouts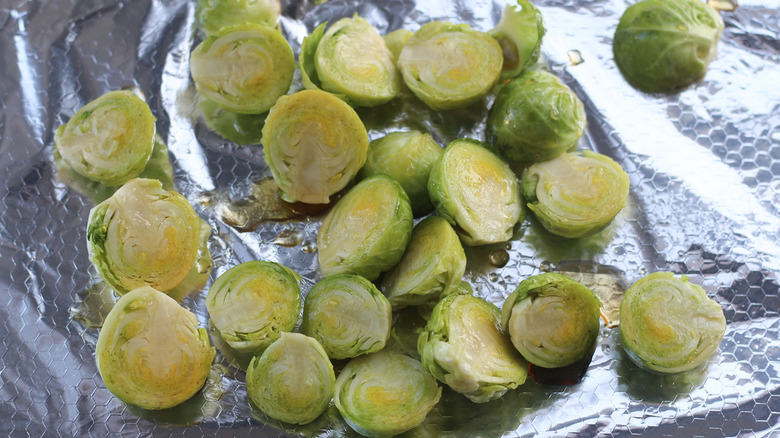 Susan Olayinka/Mashed
Once all of your ingredients are added to the mixing bowl, gently stir to coat the Brussels sprouts evenly. Then, place the veggies on a baking sheet. The sprouts get cooked for only about 20 minutes, which is half the time Garten roasts hers. We asked Olayinka about this instruction, and she told Mashed, "I found that my cook time resulted in a lightly browned Brussels sprout. It wasn't too soggy or too burnt!" If you do want to try and make yours a bit more crispy like Garten's, go ahead and leave them in the oven for another 10 minutes or so.
Once your veggies are cooked to perfection, go ahead and place them on a serving dish, and wait for the compliments to pour in. Bet your family or friends didn't expect Brussels sprouts to taste so satisfying and yummy. 
Thanks Ina and Susan!
Ina Garten's Roasted Brussels Sprouts Recipe
If you like Ina Garten's simple roasted Brussels sprouts recipe, you're going to love the easy twist we put on our version!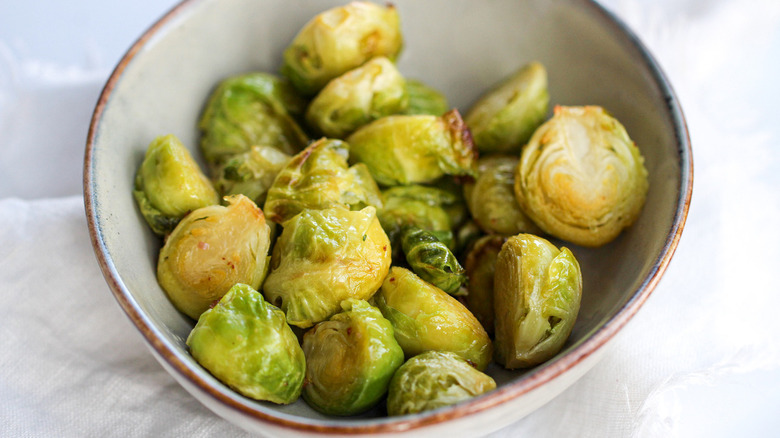 Ingredients
2 cups of Brussels sprouts
2 tablespoons extra virgin olive oil
1 tablespoon maple syrup
salt and pepper, to taste
Directions
Preheat the oven to 350 degrees Fahrenheit.
Wash the Brussels sprouts and pat dry with a paper towel.
Peel the outer layer of the Brussels sprouts to remove any old or discolored leaves.
Trim off the ends of the sprouts, slice them lengthways, and place them into a mixing bowl.
Add to the mixing bowl the extra-virgin olive oil, maple syrup, salt, and pepper.
Mix to coat evenly and place the Brussels sprouts onto a baking sheet.
Bake in the oven for 20 minutes.
Place the Brussels sprouts onto a serving dish and serve as a side dish.
Nutrition
| | |
| --- | --- |
| Calories per Serving | 184 |
| Total Fat | 13.8 g |
| Saturated Fat | 1.9 g |
| Trans Fat | 0.0 g |
| Cholesterol | 0.0 mg |
| | |
| --- | --- |
| Total Carbohydrates | 14.8 g |
| Dietary Fiber | 3.4 g |
| Total Sugars | 8.0 g |
| Sodium | 260.1 mg |
| Protein | 3.0 g |