The Suspicious Timing Of McDonald's Recent Wage Announcement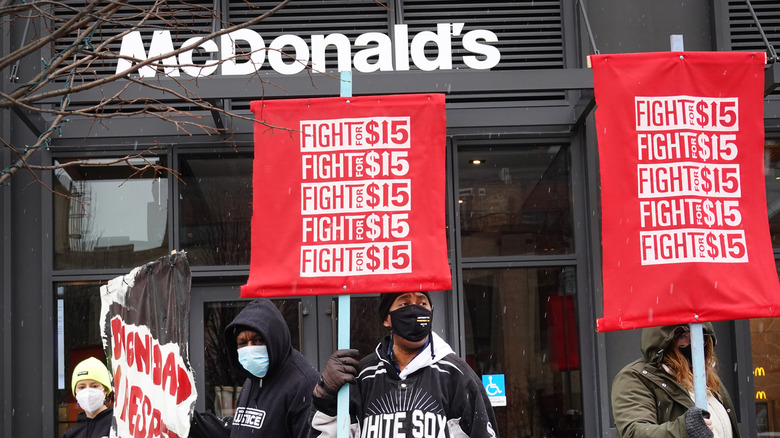 Scott Olson/Getty Images
Earlier today, McDonald's announced that it will raise the minimum wage of its company-owned restaurants. "Together with our franchisees, we face a challenging hiring environment, and staying ahead means we must constantly renew our commitment to offer one of the leading employment packages in the industry," Joe Erlinger, McDonald's USA President, declared in a message watched by CNBC.
McDonald's workers will receive about 10% more in their paychecks, lifting a McDonald's cashier's pay from $11 to $17 an hour. A shift manager's wages will increase from $15 to $20. While the pay of workers for franchisees will remain unaffected, CNBC says that McDonald's estimates that by 2024, the company-owned restaurants will have a minimum wage of $15 per hour.
That last bit is frightfully important, as last week McDonald's workers declared they will strike on May 19 to further their campaign for a $15 minimum wage. This, as Vice reports, is occurring during what many have termed a labor shortage for the fast food industry, the correlation of which seems to imply at least a decent amount of causation. Erlinger and Chris Kempczinski, the CEO of McDonald's, did broach the subject of a wage hike back in April, Vice points out.
Of course, if it's serious, McDonald's could also charge its franchisees less rent, which The Motley Fool credits as the majority of its income. In return, franchisees could ensure all employees receive a base $15 by a non-estimated and closer date.
McDonald's has taken note of the Fight for $15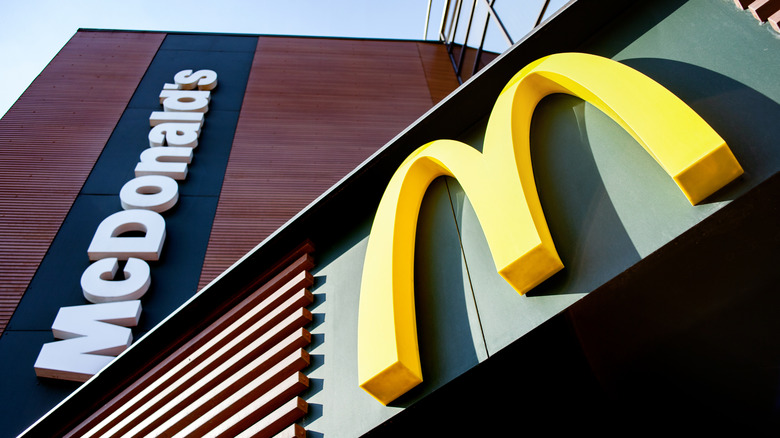 Shutterstock
While Kempczinski has been on record multiple times taking a non-oppositional stance towards the $15 minimum wage (via Newsweek), McDonald's actions have said otherwise.
On February 24, Motherboard discovered McDonald's has considered the Fight for $15 a security threat for years. They even cobbled together an intelligence unit to monitor the members of the group in an attempt to squash the pay raise and detect potential unionizing efforts. According to Motherboard, these investigative efforts took place as recently as this year. 
With that added context, it appears more and more likely that McDonald's modest pay measures are an attempt to grab attention back from the fight for a higher minimum wage. The organizers aren't having it, though. McDonald's worker Doneshia Babbitt told SFGate: "Now, they're raising pay for some of us and using fancy math tricks to gloss over the fact that they're selling most of us short." The strike is still set to occur.
In fairness, What Franchise notes that unless stipulated in the franchise agreement, salaries fall under the discretion of the franchisee. However, as suggested earlier, franchisors may guide and assist their franchisees in this manner. Furthermore, the power balance favors the franchisor. So, McDonald's corporate could do more than encourage its operators to pay a living wage if they felt the need.