Aldi Fans Are Loving Its New Dark Roast Coffee Packaging Art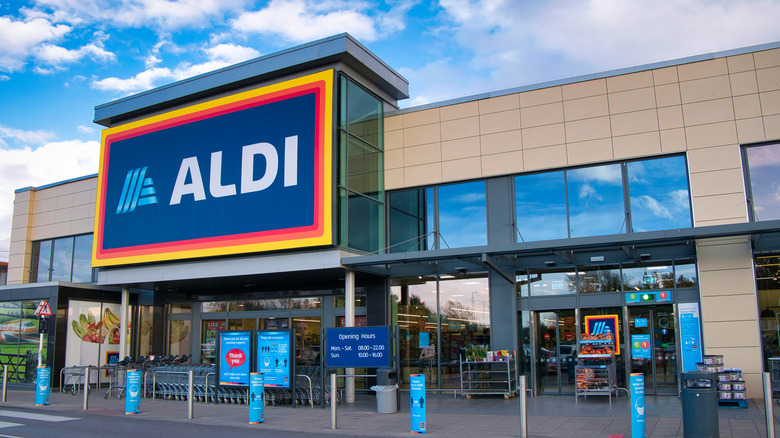 Shutterstock
Aldi has been in the process of quietly rebranding the labels and packaging on some of its items, but the project is not staying quiet any longer. The chain's Barissimo brand coffee has new packaging that recently caught the eye of some Aldi art and design enthusiasts. If the response on social media is to be believed, the repackaging is a huge success. The new coffee packaging art is a hit with Aldi shoppers, with one fan liking it so much they took to Reddit to rave about it, posting a picture with the caption, "this is some nice coffee art."
Aldi's Barissimo ground dark roast coffee package is decorated with a beautiful nature scene, depicting a monkey on a branch set against a gorgeous purple night sky. The monkey's mysterious expression prompted one Reddit user to joke: "The monkey looks like it's stealing something. Are you stealing coffee beans, monkey?" Other Aldi shoppers also loved the artsy new packaging. Reddit user u/flying_fish69 raved: "Yes!!! I'm loving all the new coffee bag art! Even on the morning and breakfast generic ones too." User u/waxmuseums agreed: "I like how it's a monkey in the moonlight." 
Aldi's coffee is not just pretty, it's tasty too
But this coffee is not only pretty to look at. According to Reddit, the dark roast inside the packaging is also pretty pleasing to the senses. The rich ground coffee is made with 100 percent Arabica beans and is also fair trade certified, per Aldi. Even people who aren't traditionally fans of Aldi's coffee had good things to say about this rich dark roast. "I would wholeheartedly agree that the canned Aldi coffee is terrible, HOWEVER, these new blends are awesome! I purchased the French Roast, & I can't tell much difference between the Aldi French Roast and the Starbucks French Roast. Give these new blends a try —I think you will be completely shocked & pleasantly surprised!" u/WishinForTheMission said of the roast on Reddit. Others agreed that this Aldi brand coffee is similar to Starbucks, like u/juniorsdca, who replied "I like strong coffee and I agree that this & French Roast are similar to Starbucks...This one reminds me of Starbucks Italian Roast."
So if you are a fan of Starbucks coffee, but not the chain's prices, then you might want to grab a bag of this Barissimo ground dark roast the next time you are at your local Aldi. Just keep an eye out for the artful packaging to snag the purchase that will be a treat for both your eyes and for your taste buds.