Giada De Laurentiis' Dream Life Is Basically A Romantic Comedy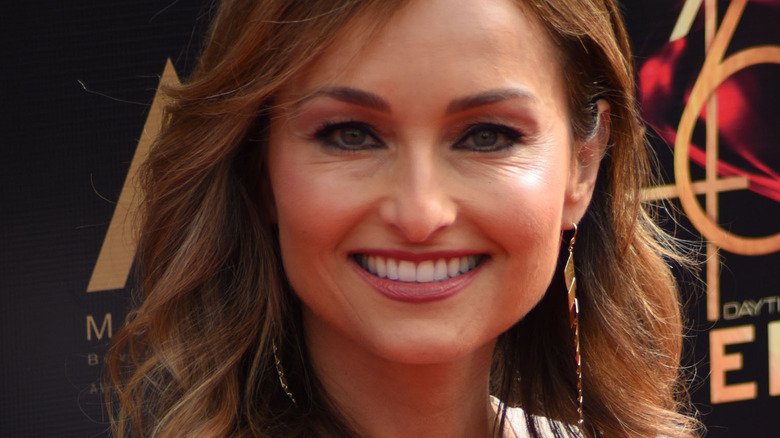 Shutterstock
Not to be captain obvious, but she's the daughter and granddaughter of cinema legends and Giada De Laurentiis knows a good storyline when she sees one. The Food Network Star recently told "Christopher Kimbell's Milk Street" what she's scheming for her future. "In a perfect world, Chris, I would buy a vineyard in the South of Italy, turn it into some kind of bed and breakfast, and spend half the year there," De Laurentiis said.
Say what? If your mind immediately went to an "Under the Tuscan Sun" scenario in which Diane Lane-as-Frances Mayes runs off to Italy and finds eternal happiness when she purchases a Tuscan Villa ... yeah, ours did too. And we're not on a fishing expedition, either. De Laurentiis did an episode called "Under The Tuscan Sun" for "Everyday Italian," so she's certainly wise to the storyline. Or, just maybe, De Laurentiis wants to be like Russel Crowe in "A Good Year," inherit a vineyard and, of course, fall in love with Marion Cotillard while doing it (via Rotten Tomatoes). If De Laurentiis would rather not inherit a vineyard, perhaps she'd rather fall in love with a vineyard owner à la Meg Ryan in "French Kiss" (via Sonoma). Just saying. 
Now that we've established that De Laurentiis' dream life is pretty much a romantic comedy, we can turn our attention to another salient issue. If she does buy a vineyard, the celebrity chef will be doing what pretty much every-other-celeb-ever has done before her.  
Like every other celeb, Giada wants to own a vineyard
"I'm trying to get back my Italian passport now in the hopes that someday I can [buy a vineyard]. That would be the ideal way of living my life. I don't know that that will ever happen. But I will try," Giada de Laurentiis told "Christopher Kimbell's Milk Street." Don't get us wrong. It's a great idea ... it's just one that lots of other rich and famous have pursued, too. 
Antonio Banderas did it in 2009 when he bought half of a winery in Burgos Villalba de Duero, Spain, thereby fulfilling his "lifelong dream," according to Decanter. Sting and his wife Trudie own a 16th century home in Tuscany, complete with an organic farm, vineyard, olive groves, and life-size chessboard (via Haute Living) ... because, why not? And, we hardly need to remind you about Brad Pitt and Angelina Jolie's Chateau Miraval vineyard in Correns, France, an endeavor which prompted Brad Pitt to announce to the world, "I'm a farmer now" (via People). Don't get us worked up about Donald Trump's winery.
The idea of buying a vineyard in Italy isn't, obviously, extraordinarily original. We are, however, having a hard time finding a celeb that has dedicated herself to opening a B&B to boot. All of that's to say, good luck with your passport, Giada!