Easy Cauliflower Potato Salad Recipe Brings A New Twist To An Old Favorite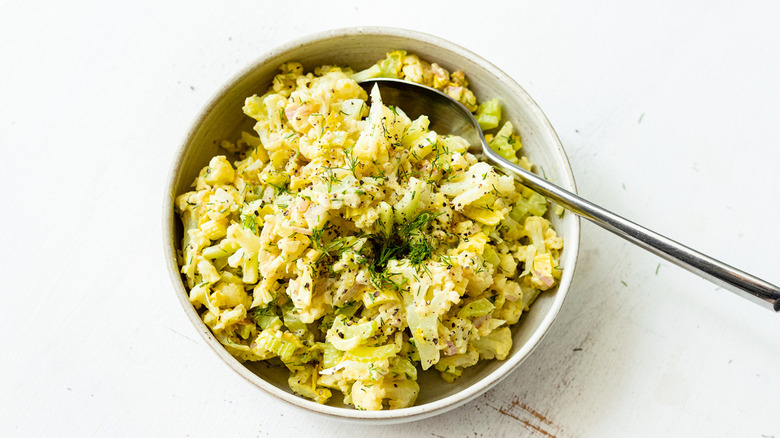 Sher Castellano/Mashed
You've heard of potato salad ... but what about cauliflower salad? This unique play on a cookout classic is just as delicious as its spud-based cousin, but it's got a hidden benefit: it's lower in carbs and higher in fiber, making it a far more filling, nutritious alternative that proponents of a low-carb diet can enjoy, too.
Like a potato salad, this cauliflower salad can either be eaten right away or made in advance of a potluck or other gathering, explains recipe developer Sher Castellano. She likes to serve it "with foods you would eat traditional potato salad with" — think burgers, grilled chicken, brats, or even grilled fish. "The dressing tastes exactly the same but made with cauliflower and not potato," she says. In fact, if it weren't for the beautiful floret shape of the cauliflower, we doubt most people would notice the difference!
That said, if you want to make this cauliflower salad extra special, you could use multicolored heirloom cauliflower to make it pop on the picnic table! Purple, yellow, or green cauliflower florets — or a combo of all three — would be lovely. Just be sure to cook them separately from one another so that their colors don't become mottled in the finished dish.
Gather the ingredients for the cauliflower salad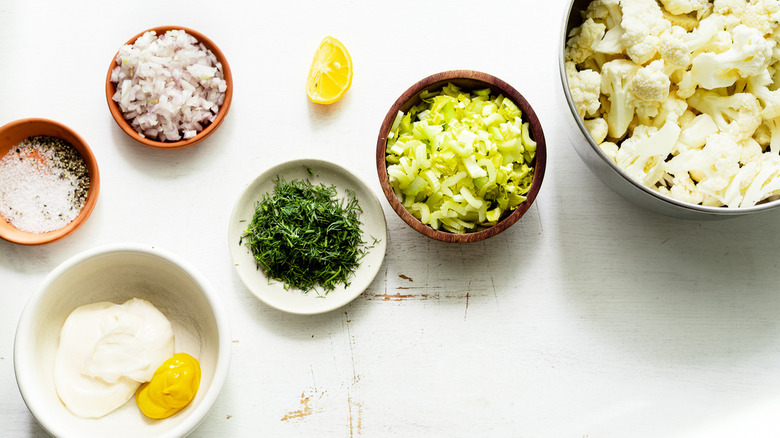 Sher Castellano/Mashed
To make this cauliflower salad, you'll start with cauliflower florets — 4 cups of them. You could also add the stalks, cutting them down to the same size as the florets, but if you want just the prettiest pieces in this salad, save the stalks in a freezer bag and add them to a soup or stock.
The cauliflower for this salad is seasoned with a dressing made with mayo, dill, mustard, and lemon juice. Flavored with minced shallots and thinly sliced celery for crunch, as well as salt and pepper, this salad comes together beautifully.
Cook the cauliflower for this cauliflower salad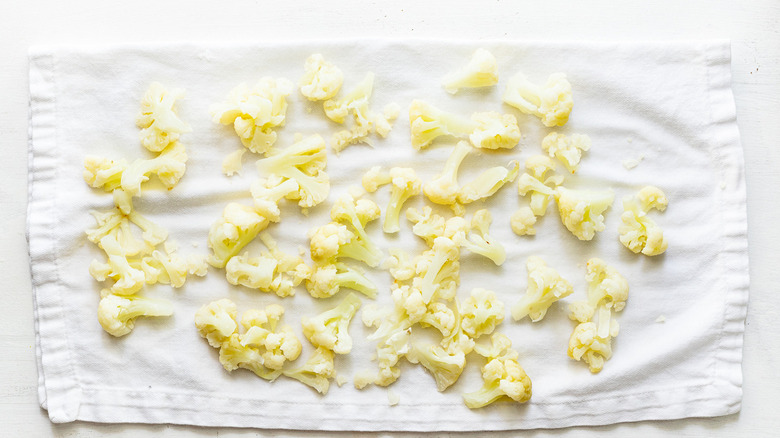 Sher Castellano/Mashed
There's no need to turn on the stove range to cook this cauliflower. Instead, Castellano relies on a much-maligned but oh-so-useful kitchen appliance: the microwave. Microwaves have gotten a bad rep in recent years, but experts agree that they're a safe and useful way to cook some foods, and veggies are one of them. 
To cook the cauliflower, simply place the florets in a microwave-safe bowl with 3 tablespoons of water. Cover with a paper towel, and microwave for 4 minutes. This will give you the perfect texture halfway between tender and firm. Drain the cauliflower and set it on a tea towel. Pat dry and allow to cool while you prep the other ingredients for the cauliflower salad.
Make the dressing for the cauliflower salad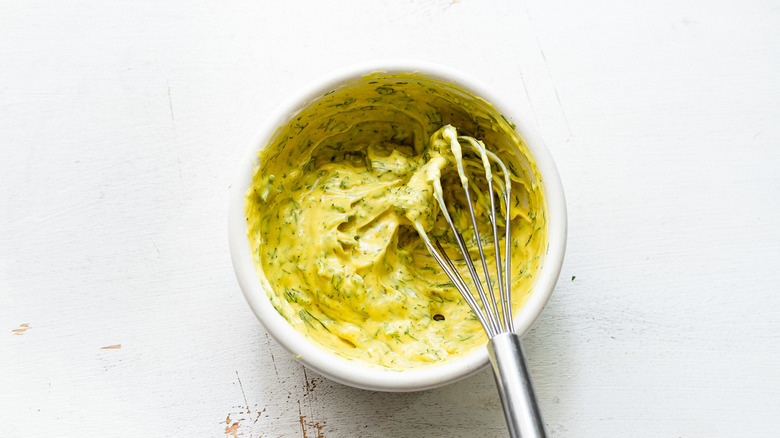 Sher Castellano/Mashed
The dressing for this cauliflower salad is super similar to that of a potato salad, and it's a cinch to pull together. Simply combine the mayonnaise, celery, shallots, dill, mustard, lemon juice, salt, and pepper in a small bowl, and stir to combine.
If you want to change things up, parsley or chives can join the dill, or slightly more pungent red onion can take the place of the relatively mild shallot. You can also swap the yellow mustard for Dijon or old-fashioned grainy mustard if you want a bit more of a kick.
Combine the dressing and the cauliflower for the cauliflower salad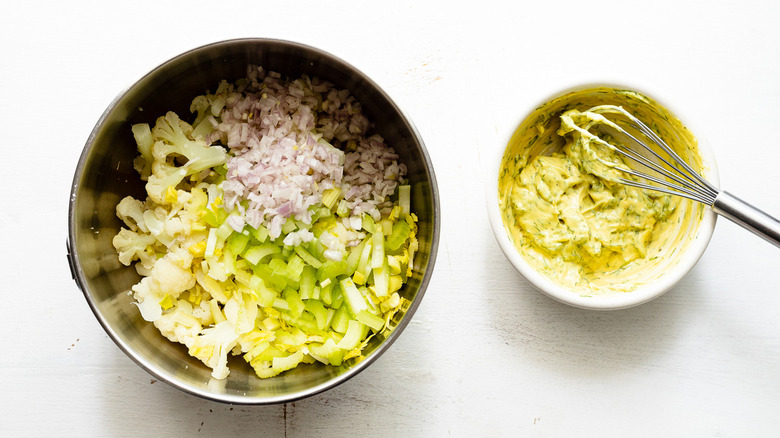 Sher Castellano/Mashed
The cauliflower is cooked; the dressing is made. It's time to combine them to make this delightful cauliflower salad! Once you've stirred the two components together and the dressing is lovingly coating each and every floret, it's time to serve. 
This salad is just as delicious warm as chilled; in the case of the latter, it will soak into the cauliflower florets a bit more, infusing them with flavor. Serve the salad alongside burgers on lettuce wraps or marinated grilled chicken for a low-carb barbecue meal everyone will love.
Easy Cauliflower Potato Salad Recipe Brings A New Twist To An Old Favorite
This cauliflower salad has all the taste of classic potato salad, but fewer carbs. It comes together quickly and is perfect for your next potluck or cookout.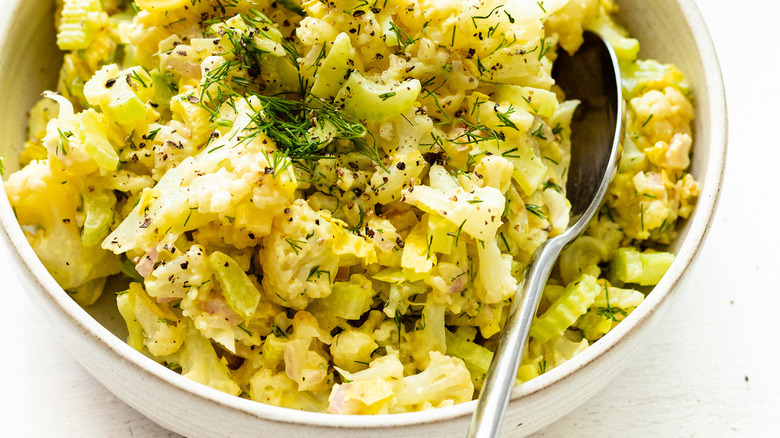 Ingredients
4 cups small cauliflower florets
¼ cup mayonnaise
½ cup celery, thinly sliced
¼ cup shallots, minced
2 tablespoons fresh dill, minced
1 tablespoon yellow mustard
1 teaspoon lemon juice
¼ teaspoon fine sea salt
¼ teaspoon black pepper
Directions
Place the cauliflower florets in a microwave-safe bowl with 3 tablespoons water and microwave with a paper towel over the top for 4 minutes. Drain the cauliflower and set it on a tea towel to pat dry and cool while making the dressing.
In a small bowl mix together the mayonnaise, celery, shallots, dill, mustard, lemon juice, salt, and pepper.
Combine the dressing with the cauliflower and serve warm, or chill until you are ready to serve.
Nutrition
| | |
| --- | --- |
| Calories per Serving | 132 |
| Total Fat | 11.5 g |
| Saturated Fat | 1.8 g |
| Trans Fat | 0.0 g |
| Cholesterol | 5.6 mg |
| | |
| --- | --- |
| Total Carbohydrates | 6.5 g |
| Dietary Fiber | 2.3 g |
| Total Sugars | 2.6 g |
| Sodium | 285.9 mg |
| Protein | 2.1 g |