Fans Of Popeyes' Biscuits Won't Want To Miss This National Biscuit Day Deal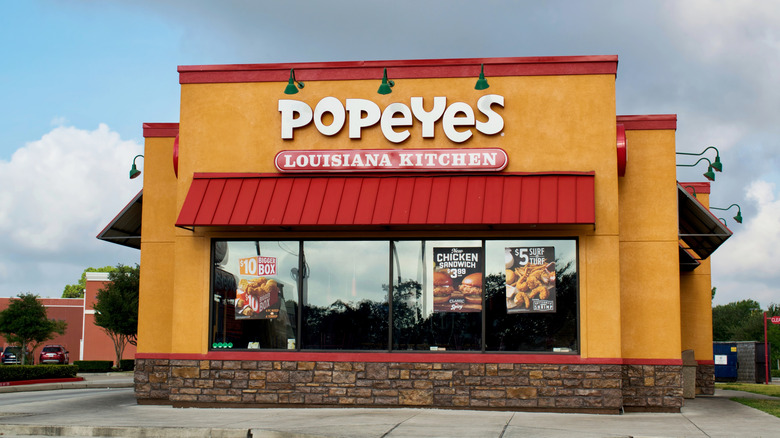 Shutterstock
If the main reason you go to Popeyes is for the sides, then you are in luck. In honor of National Biscuit Day on May 14, the chain has just announced they will be giving away a free biscuit and a small drink to customers. To receive one of their flaky, buttery biscuits and the drink for free, Popeyes fans simply have to make a purchase of $5 or more through the app or online, and use the promo code #sodry when checking out, according to People. 
The code is a humorous nod on Popeyes part to the many memes that are floating around the internet, joking about the difficulty of trying to eat a flaky Popeyes biscuit without a drink on hand. In addition to their free biscuit promotion, Popeyes also has other discounts available to customers that use their app, including offering free delivery on orders over $10, and a free two-piece order of signature chicken on your first digital order, per Popeyes.
Popeyes will also be serving up biscuits at the International Biscuit Festival in Knoxville, Tennessee
"Over the past three decades Popeyes has served billions of our delicious, Buttermilk Biscuits to millions of passionate Popeyes biscuit lovers around the globe," Popeyes Vice President of Marketing, Hector Munoz, said in a press release (via Business Wire). "It wouldn't be National Biscuit Day without Popeyes Buttermilk Biscuits, so we're joining in the celebration and providing a biscuit to every Popeyes guest–on us."
Beginning on National Biscuit Day and going through May 18, Popeyes will also be serving up their biscuits at the International Biscuit Festival in Knoxville, Tennessee. So, if you happen to live in the Knoxville area and you just can't get enough of these buttered pastries, you might want to head over there to check out all the biscuits it's offering and see how Popeyes' biscuits stack up to the competition. But even if you can't take advantage of all the delicious offerings at the festival, you can still head to your local Popeyes and enjoy a delicious biscuit on the house.