Costco Fans Are Loving These Keto-Friendly Chocolate Cups
Sometimes trying out a new food can feel like gambling with your money. After all, taste is subjective; one person's favorite can turn another's stomach. So, when a bunch of people all agree that something is delicious, it can make the choice feel a whole lot safer. That's what's happening in the comments of Instagrammer @costco_doesitagain's recent post (via Instagram).
The photo shows a box of No Sugar Keto Cups, Costco's keto-friendly version of a classic peanut butter cup candy, with zero grams of sugar, seven grams of fat, and only one gram of net carbs per cup. Not only that, but according to the box, these cups are also kosher, gluten-free, and non-GMO to boot, which is great considering dietary restrictions are something lots of people deal with. Plus, in addition to 20 dark chocolate peanut butter cups, the box also includes 10 dark chocolate fudge brownie cups for some added variety. Still, the best thing about these keto treats is all of the positive reviews being left in the comments.
What people have to say about No Sugar Keto Cups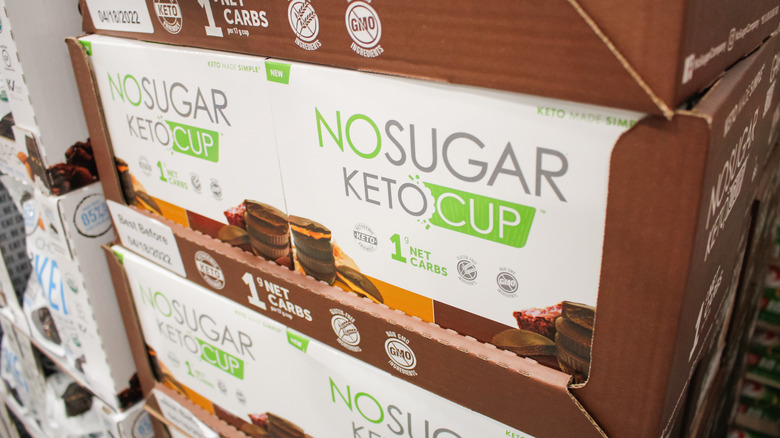 Shutterstock
In less than a day @costco_doesitagain's post has already gained over 1,700 likes, and the comments are overwhelmingly positive (via Instagram). According to one user: "These are amazing frozen" while another wrote: "Can confirm these are [fire emoji]." More than one comment describes the keto cups as "amazing," with others using "so good," and "yummy" as their adjectives of choice. These short reviews are paired with plenty of exclamation points and peppered with drooling, tongue-out, and heart-eye emojis, while several users chose simply to tag a friend they thought needed to see the post.
The No Sugar Keto Cups also got good reviews on the r/keto subreddit a few months ago, with one user wondering if they were possibly "too good," and might stall the progress of their ketogenic diet. Others took the chance to recommend peanut butter bars from the same brand (via Reddit). In fact, of the 59 comments on @costco_doesitagain's post, only two so far have actually been negative, with one calling the keto cups "disgusting" and another, simply, "not great." So, if you're looking for a new keto-friendly, sugar-free, kosher, or gluten-free dessert, or if you've been eyeing these in store but held off on trying them, at least now you know they seem to be well-liked by most.