Creamy Crab Pasta Salad Recipe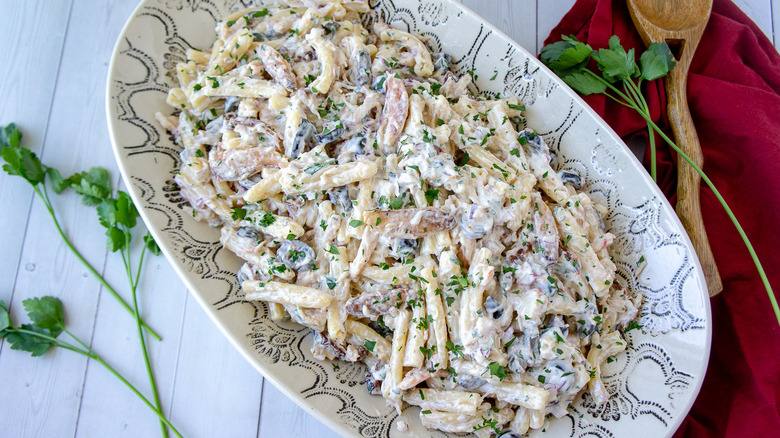 Mikayla Marin/Mashed
With the warm summer months approaching, potlucks and cookouts are next on the calendar. Whether you're hosting or attending, this creamy crab pasta salad with black olives, sun-dried tomatoes, and red onion would be a welcome addition to any meal.
This recipe by Mikayla Marin of The Flour Handprint is a perfect prep-ahead dish for parties, but it's also quick enough to enjoy within an hour if you're pressed for a quick and easy side. Aside from boiling water for pasta, there's no cooking involved, making this low-prep pasta salad fantastic for those scorching days in the middle of summer when you don't want to work with the oven.
We focused on highlighting and enhancing the fresh crab meat, the true star of this recipe. Its delicate flavor is balanced by complimentary flavors, and the portion of pasta to crab is just right. With every single bite, you'll get a taste of cold, perfectly seasoned crab and pasta.
Gather the ingredients to prepare creamy crab pasta salad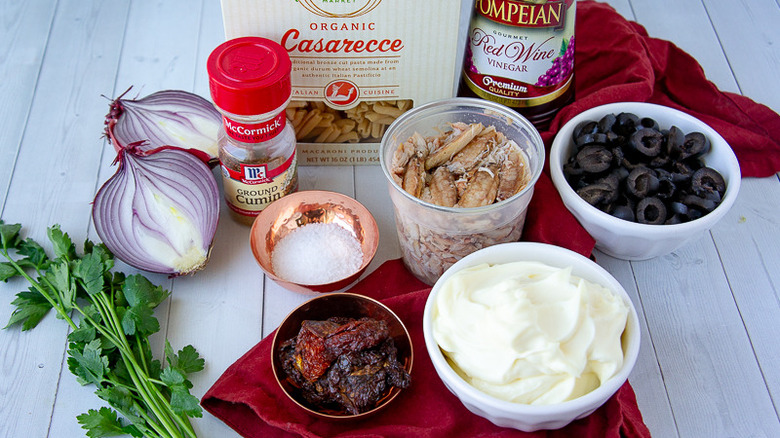 Mikayla Marin/Mashed
This creamy pasta salad doesn't overwhelm the delicacy of fresh crab meat. To begin, you'll need 12 ounces of dried pasta, or ¾ a box, boiled al dente. We opted for casarecce pasta, but any short noodle-like shells, bow tie, elbow macaroni, or rotini would work as well.
We developed the dish by first including that creamy dressing. It's made from simple mayo, seasonings, and vinegar, and it's very easy to put together. We then tossed in additions like red onion, tomatoes, and black olives to finish the dish and provide different textures and flavors that go well with the crab and pasta.
Whip up the creamy dressing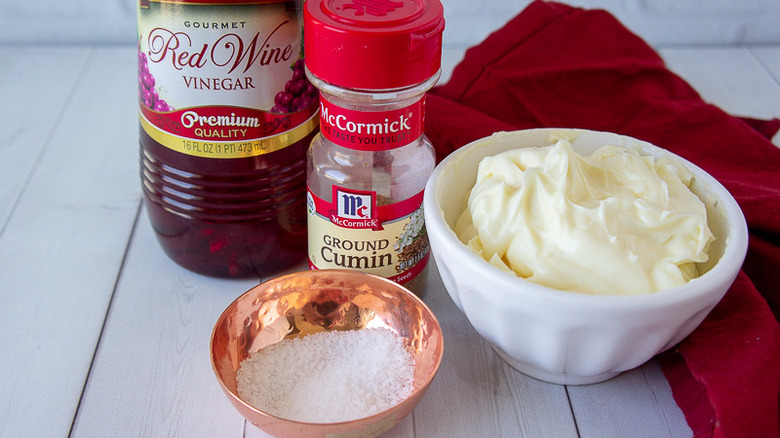 Mikayla Marin/ Mashed
We kept the dressing simple. Mayonnaise is a classic pairing for crab, making it ideal for the foundation of this creamy dressing. In addition to mayonnaise, the dressing requires only three more ingredients: red wine vinegar, cumin, and salt.
Red wine vinegar is a lightly flavored vinegar that pairs very well with crab and lightens up the heaviness of the mayonnaise. Adding cumin and salt gives it just enough kick to make everything taste like a dressing, and not simply mayonnaise. If you don't have red wine vinegar, white wine, golden balsamic, or even rice wine vinegar are all lightly flavored enough to go well with the crab without being distracting.
Just four mix-ins make your pasta salad perfect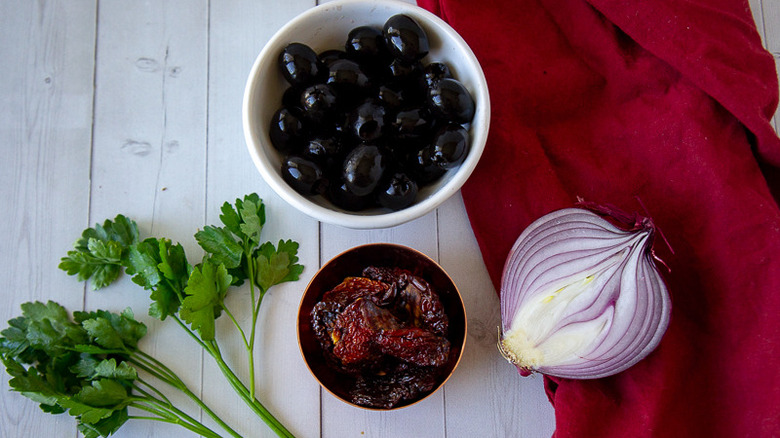 Mikayla Marin/Mashed
Even though crab is the star of the show here, the other ingredients this pasta salad calls for are just as important to the overall finished flavor.
First up are black olives. They're really tasty with crab and are a breeze to add to your salad — just a quick chop if you're using whole ones, or you can buy a can of pre-sliced olives.
Now, let's talk about the red onion. You will minced it finely so you get just a bit of crunch and sharp onion flavor in every bite, rather than a mouthful of raw onion. You can also use scallions or green onions if you'd prefer.
Sun-dried tomatoes are up next, and they're a fun way to add deep, rich tomato flavor to a pasta salad, without the water content from fresh tomatoes. They'll need to be sliced finely, then they get dumped straight in.
Finally, a few sprigs of finely minced parsley wrap up the mix-ins. A bit of green is always welcome, and parsley is a subtle, fresh herb that goes well with pretty much everything.
Choose fresh crab for the best flavor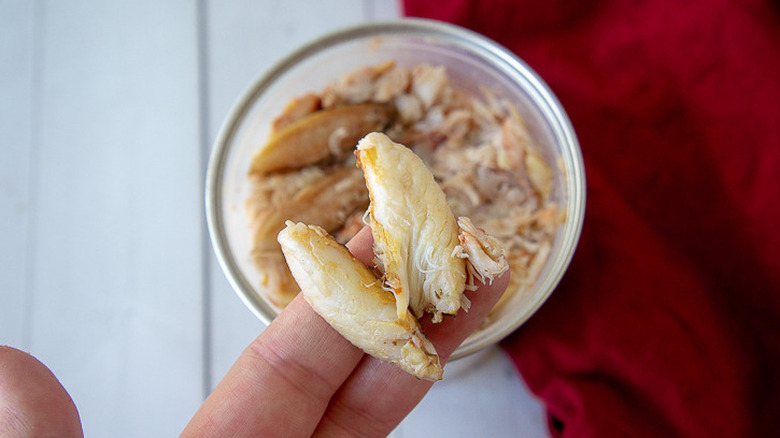 Mikayla Marin/Mashed
There are tons of pasta salads out there that use imitation crabmeat, and if you'd prefer that, you can definitely swap it into this recipe. However, we really like the flavor and texture of fresh crabmeat in our pasta salad. 
If you can get your hands on a whole crab or some quality legs, please feel free to crack and shell the meat yourself. But part of the ease of this pasta salad is low prep, and to keep our workload light, we opted for a container of fresh crab claw meat. You can usually find this right next to the butcher in your grocery store near the smoked salmon. They sell more varieties than the claw meat, but in our tests, the claw meat holds together in larger chunks and makes for much better bites in this pasta salad.
Cook the pasta al dente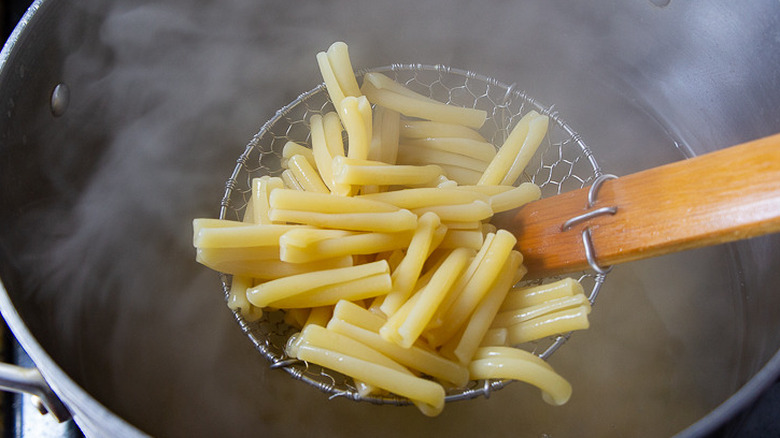 Mikayla Marin/Mashed
Before you do anything else, get a large pot of salted water over high heat, and bring it to a boil. It's really important that the water is salted, as it's the only opportunity you'll have to add flavor to the pasta itself, and it makes a huge difference in the flavor of the creamy crab pasta salad.
You can add salt early in the process, or as the water comes to a boil (it will foam up at that point, which is normal), but just be sure to add it. You want the water to taste salty like the ocean, and then you'll know you have well-seasoned pasta, too.
Cook the pasta you choose according to the package instructions for al dente. If we overcook the pasta now, you'll end up with mushy clumps of pasta salad. So, keep an eye on it, and taste-test as needed. When it's done, drain and rinse it with cool water, then set it aside to cool completely.
If you need to, rehydrate your sun-dried tomatoes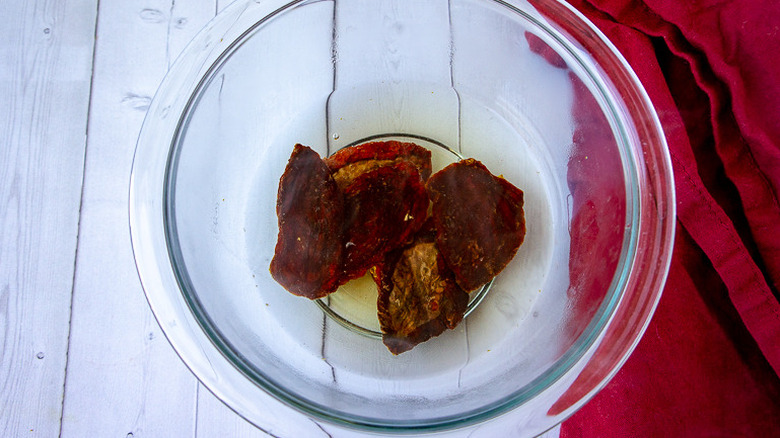 Mikayla Marin/Mashed
This step may be optional, depending on the sun-dried tomatoes you have. We used a dry packed sun-dried tomato, so in order to intensify that tomato flavor and make them pleasant to chew on, they need a little love first.
Rehydrating sun-dried tomatoes is very easy — especially since you already have a pot of water coming to a boil. Simply add the tomatoes to a heat-safe bowl, and ladle enough boiling water over top to cover them. Let them sit for 10 minutes or so while you prep the rest of the salad.
If you're using sun-dried tomatoes packed in oil, you can skip this step.
Prepare your dressing and add-ins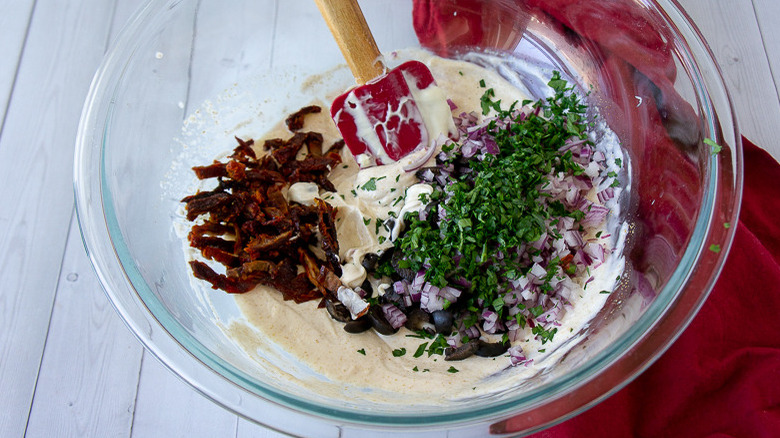 Mikayla Marin/Mashed
While your pasta cooks and cools, chop your parsley finely, mince the red onion, and if you need to, slice your black olives. Once that's ready, mix the dressing by combining the mayonnaise, cumin, salt, and red wine vinegar in a bowl. It's easiest if you simply mix the dressing together in the bowl you intend to serve or store your pasta salad in. Whisk the dressing together until it's smooth, then add in the olives, onion, and parsley. (We liked to reserve a bit of extra parsley to garnish over the top for serving.) 
If your sun-dried tomatoes are softened, remove them from the water, and gently pat them dry. Then, thinly slice and add them to the bowl as well.
Add in the pasta, and mix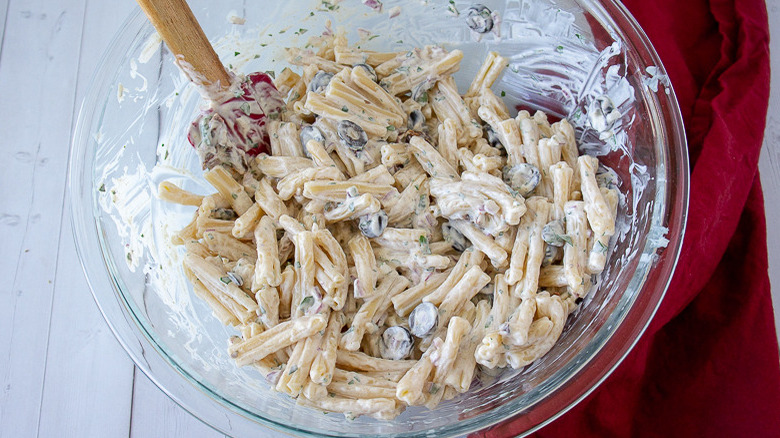 Mikayla Marin/Mashed
Give everything a quick coat of dressing, then dump in the cooled pasta. It's important that it's cooled all the way, so if it's not, then give it another rinse with cool water. You also don't want a lot of excess water on it, as that will dilute the flavor of your dressing and lead to a watery pasta salad. 
Just shake your pasta strainer well, or dump the pasta onto a clean kitchen towel for a moment to get rid of any excess. With the pasta in the bowl with everything else, mix it until everything is well coated and evenly distributed.
Add the crab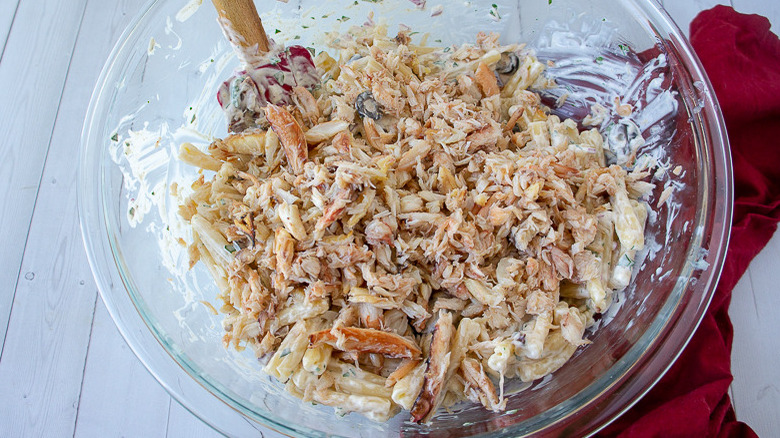 Mikayla Marin/Mashed
With everything mixed, it's time to add in the crabmeat. Be sure to do this last to ensure that the crab doesn't get broken down too much while you're mixing everything else.
Add the meat in, and gently fold until it's coated and distributed. Reserve a few prime pieces to display on top. If you're taking this creamy crab pasta salad to a party, definitely don't skip that step!
One important thing to note is that regardless of whether you opted for pre-shelled or if you cracked those crab legs yourself, it's important to ensure there's no leftover shell in your pasta salad.
Crab shells tend to stick to skin, so simply move the meat around in your palm to check for sharp bits, then add it in.
Chill the pasta salad, then serve and enjoy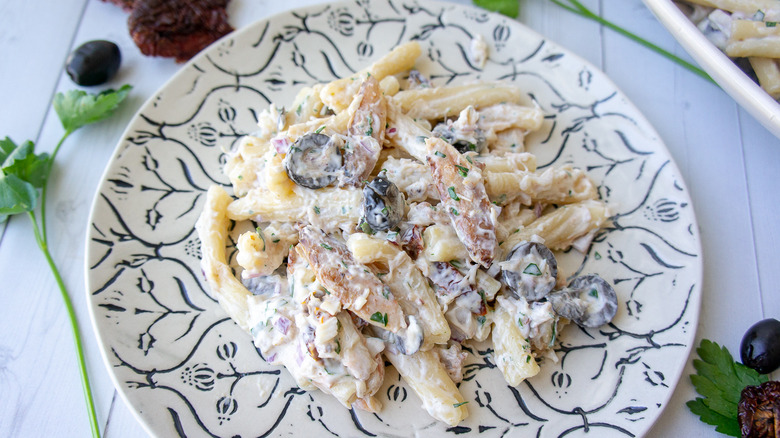 Mikayla Marin/Mashed
All that's left to do is cool the salad. We'll be honest: We tried a bite straight after it was mixed, and it was delicious! But it's even better after 30 minutes of chill time in the fridge.
You can certainly prep it ahead longer than that, but it is best on the first day. We'd recommend prepping it in the morning and keeping it covered and stored in the fridge until you're ready to serve.
For leftovers, you can enjoy your pasta salad for up to three days if kept cold. When you're ready to serve, be sure to sprinkle on a bit of fresh parsley, and then watch your bowl of creamy crab pasta salad with black olives disappear before your very eyes.
Creamy Crab Pasta Salad Recipe
Whether you're hosting or attending a summer cookout, this creamy crab pasta salad with black olives and sun-dried tomatoes is a welcome addition.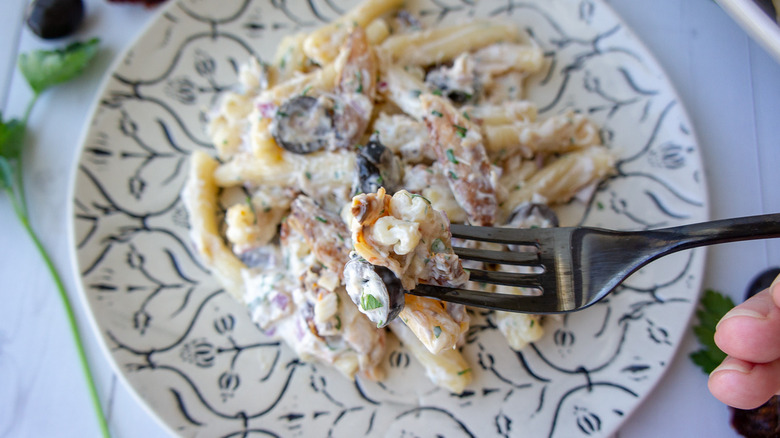 Ingredients
5 sun-dried tomatoes
¾ pound pasta
1 cup mayonnaise
1 teaspoon ground cumin
½ teaspoon kosher salt
2 tablespoons red wine vinegar
¼ cup red onion, finely diced
2 tablespoons parsley, chopped
¾ cups olives, sliced
8 ounces crabmeat
Directions
Bring a large pot of salted water to a boil. When the water is boiling, ladle a scoop or two over the sun-dried tomatoes in a heat-proof bowl, and set it aside. (If sun-dried tomatoes are in oil, skip the soaking step.)
Add the pasta to the remaining boiling water, and cook according to package instructions until it's al dente.
Drain and rinse the pasta with cold water, then set aside to cool completely.
Combine the mayonnaise, ground cumin, salt, and red wine vinegar in a large bowl, and whisk until smooth and creamy.
Finely dice your onion and parsley, and slice the olives. Then, add them to the bowl with the dressing.
Remove the sun-dried tomatoes from the water, and gently pat them dry to remove excess moisture. Slice thinly, then add to the dressing.
Stir to combine the add-ins with the dressing until lightly coated, then add in the cool pasta, and stir again to coat.
Pick through the crabmeat to remove any shells, and add it to the pasta salad. Fold the crab in gently.
Chill at least 30 minutes, then serve cold.
Nutrition
| | |
| --- | --- |
| Calories per Serving | 403 |
| Total Fat | 24.5 g |
| Saturated Fat | 3.7 g |
| Trans Fat | 0.0 g |
| Cholesterol | 38.8 mg |
| | |
| --- | --- |
| Total Carbohydrates | 33.9 g |
| Dietary Fiber | 2.1 g |
| Total Sugars | 1.8 g |
| Sodium | 425.9 mg |
| Protein | 11.0 g |