Aldi's Cookies And Cream Dessert Bars Are Turning Heads
When warm weather has you down, nothing hits the spot like an ice-cold cheesecake bar. Luckily, Aldi has a history of dishing out treats. According to Delish, the grocery chain started carrying frozen cheesecake bites in three flavors — New York-style, strawberry swirl, and turtle — last spring. This year, Aldi may have outdone itself with a new cool dessert for anyone who loves a bit of decadence.
Instagram user @theamazingaldi discovered that Aldi now carries frozen Cookies & Cream Dessert Bars from Belmont. Each package comes with two big bars and guarantees to satisfy any cravings for cheesecake. Followers loved the product, giving the post over 700 likes. Naturally, Aldi fans couldn't keep their comments to themselves. Gems included glowing testimonies like "These are so freaking good," and "So love these," while others loved how sweet the bars taste. While these new desserts can win over anyone looking for a decadent good time, the only thing sweeter than the dessert is the price tag on each box.
The perfect Aldi dessert for cookie and cream lovers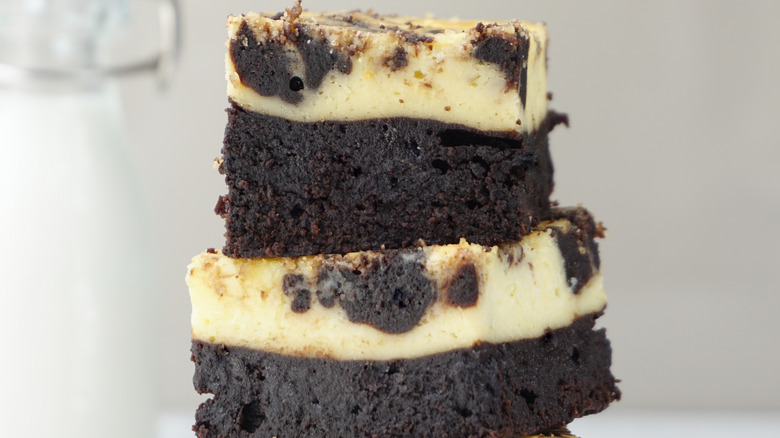 Shutterstock
Fans have gathered to praise the dessert since it launched. According to Delish, other Instagrammers spotted the product back in April 2020, when each box went for about $4.49, making it a real steal, especially if you love cheesecake. To enjoy each square, all you have to do is thaw one of these bars out for a good time that can get you through the hottest days of the year.
If this tempting, frosty bar has you drooling, make sure to make your way over to your local Aldi and grab a package of these desserts while you can. Once spring comes to a halt, who knows if Aldi plans to keep this product on shelves. With a cookies and cream flavor this tempting, you don't want to miss out on the dessert of the season that only a grocer like Aldi can serve up.