Bacon Jalapeno Deviled Egg Recipe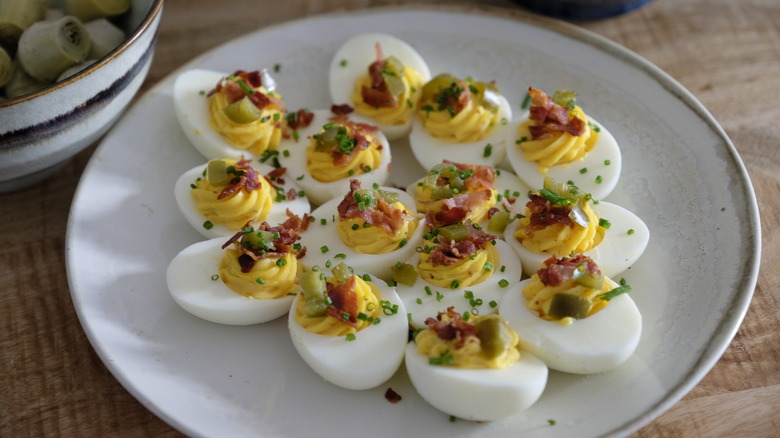 Eric Ngo/Mashed
Deviled eggs are an incredibly simple yet iconic dish in American cuisine. If you've been to a party or gathering before, odds are that these delectable eggs were served as an appetizer, and you may have found yourself going back for seconds and even thirds. Typically, they're served in a classic way: the hardboiled egg whites hold the yolk mixture and may be topped with a seasoning like paprika. While you can't go wrong with this simple take, what if you could add an extra oomph to your deviled eggs and take the dish to the next level?
Thanks to recipe developer and chef Eric Ngo's bacon jalapeño deviled egg recipe, you can do just that. This recipe incorporates all of the delicious flavors of deviled eggs while adding an extra kick thanks to bacon and jalapeños.  "Deviled eggs are very easy to change up," Ngo explains, adding that you could even switch it up by using cooked shrimp or smoked salmon as a topping. For the sake of this recipe, however, bacon will do the trick — and you may just find that this will soon become your new go-to deviled egg recipe!
Gather your simple ingredients to make bacon jalapeño deviled eggs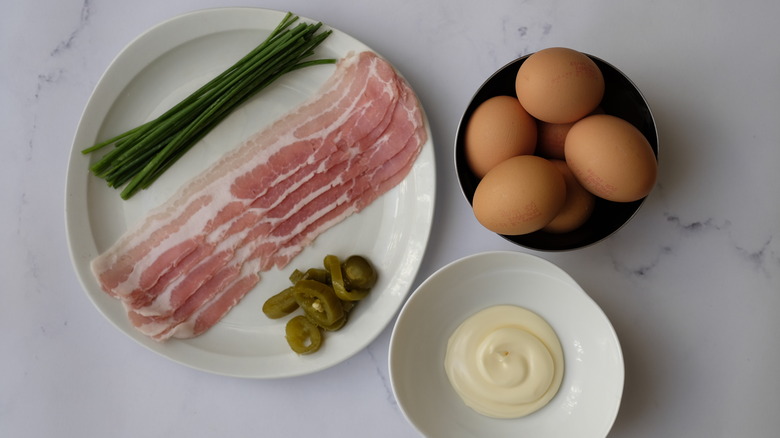 Eric Ngo/Mashed
To get started with your bacon jalapeño deviled eggs, you'll need to gather all of your ingredients. Like even the most basic deviled egg recipe, the ingredients for this one are very simple: you'll need eggs, mayonnaise, bacon, jalapeños, and chives for garnish. You can also use mustard, which would go into the yolk mix, and if you do, recipe developer Eric Ngo recommends using yellow or Dijon. Also, the chef uses pickled jalapeños in this recipe, though fresh ones would work just as well.
Start with the eggs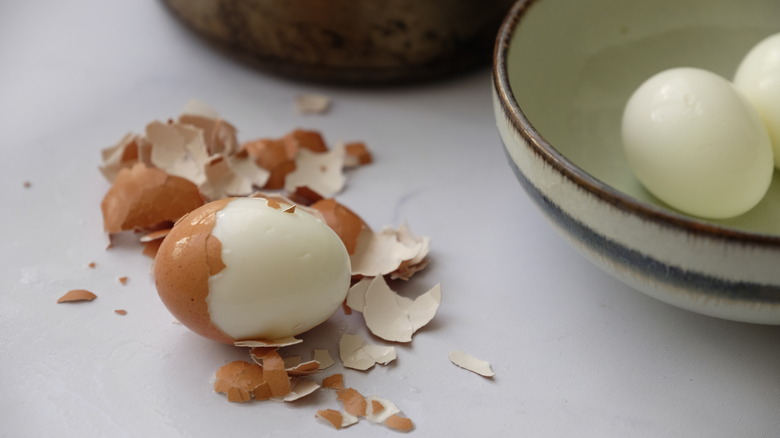 Eric Ngo/Mashed
To get started on these bacon jalapeno deviled eggs, you'll start with the star ingredient: the eggs, of course! Bring water to a boil in a large sauce pan and gently add in your eggs. Try to ensure that you use room temperature eggs, as cold eggs might experience temperature shock and crack while boiling. After about 12 minutes of boiling, you'll remove the eggs from the boiling water and put them in an ice bath to cool. After the eggs have cooled, you can begin cracking the shells on a hard surface. 
Make your egg yolk mixture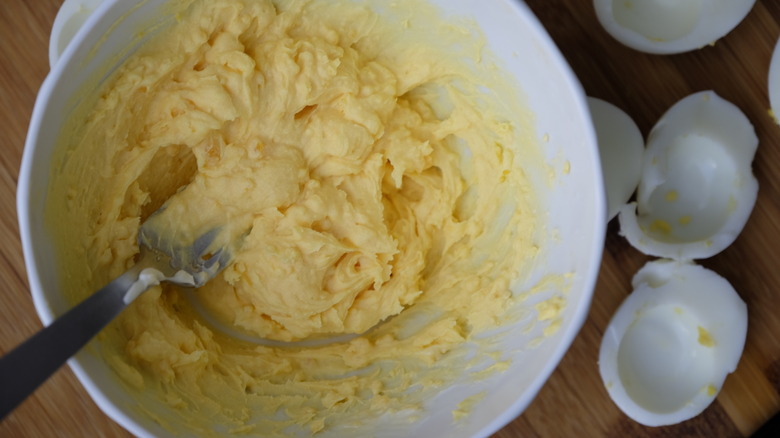 Eric Ngo/Mashed
Once you've cracked your eggs, you can slice them open lengthwise, placing the egg whites on a plate and the cooked yolks into a bowl. Once you have all of the yolks in the bowl, add in your mayonnaise and optionally, the mustard. Also, add in salt and pepper along with any preferred seasoning. Once all the ingredients are in the bowl, mix with a fork or whisk until you have a smooth, creamy texture. 
Prepare the bacon, jalapenos, and chives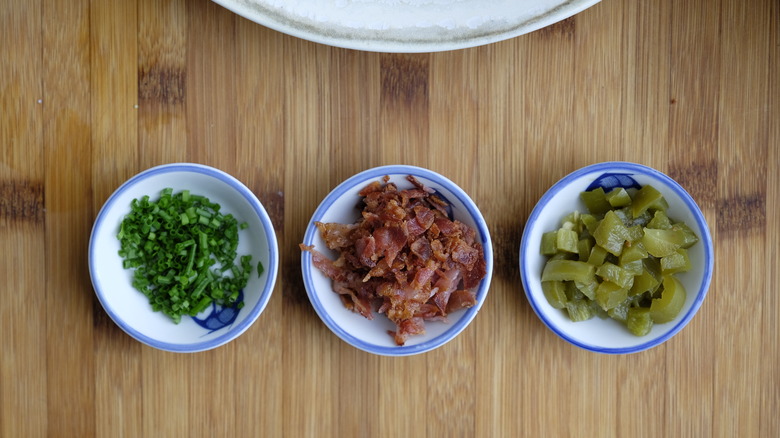 Eric Ngo/Mashed
Now it's time to get started on the toppings for the deviled eggs. Start by cooking your bacon on low heat to ensure that the slices don't burn and that they come out nice and crispy. After your bacon cooks, go ahead and set the slices onto a paper towel to absorb extra grease. Once the bacon has cooled, you can cut the strips down to tiny bits and set them into a bowl.
Next, get started on your jalapeños. Whether you're using pickled or fresh jalapeños, cut them down into bits and set aside in a bowl. Finally, mince your chives and set those aside in a bowl as well. 
Get your piping bag ready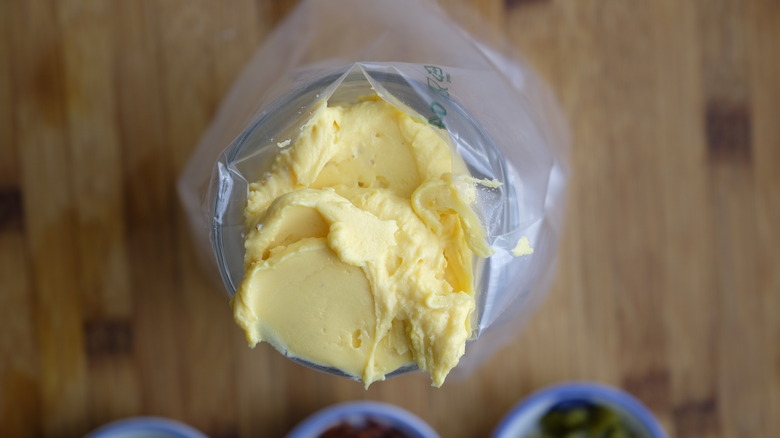 Eric Ngo/Mashed
Now that all of your ingredients are ready, you can begin to construct the deviled eggs. You'll start by putting your yolk-and-mayo mixture into a piping bag with a star tip, as shown in the picture. You could also use a Ziploc bag, or if you don't want to pipe the mixture, you could also just use a small spoon. By using a piping bag and a star tip, your yolk mixture will look nice and come out easily when you add it to the egg whites.
Pipe your yolk mixture into the egg whites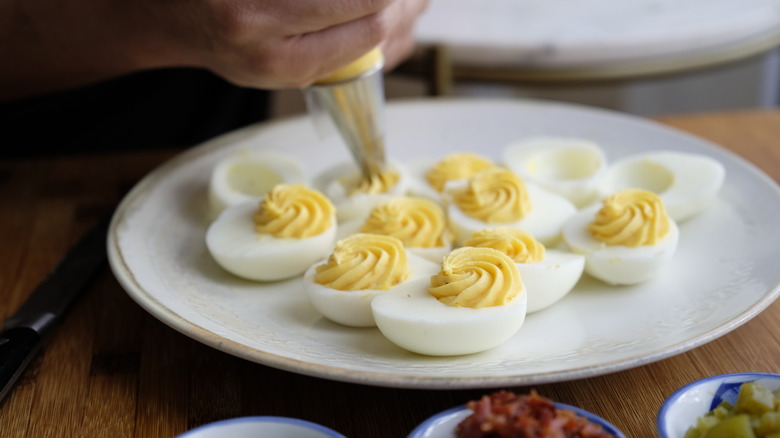 Eric Ngo/Mashed
Once you have the yolk mixture in the piping bag, you can begin to add it to the egg whites. Grab the plate in which you put your egg white halves and begin carefully piping the yolk mixture into each one. Thanks to the star tip, the mixture comes out in a nice swirling shape, and you can add extra flair by doing a slight circular motion as you pipe the mixture into each egg white. 
Add your toppings, serve, and enjoy!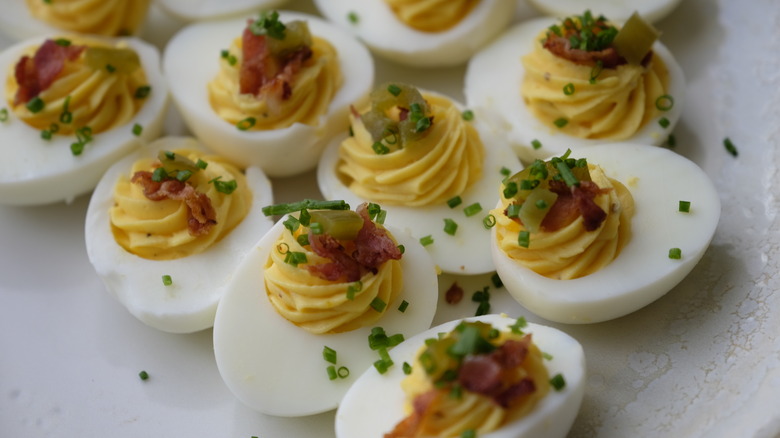 Eric Ngo/Mashed
Now that you've piped the yolk mixture into your egg whites, you can add the toppings. Gently press bacon bits and jalapeno pieces into the yolk mixture on each egg and then sprinkle on some chives. And there you have it! Recipe developer Eric Ngo recommends this recipe as a great beginner or "intro to cooking" type, so even if you aren't super skilled in the kitchen, this recipe is a great go-to for your next cocktail party or event. 
Bacon Jalapeno Deviled Egg Recipe
Deviled eggs topped with bacon and jalapenos are a spicy kick on the classic appetizer. Serve this quick and easy dish as a snack or as an appetizer.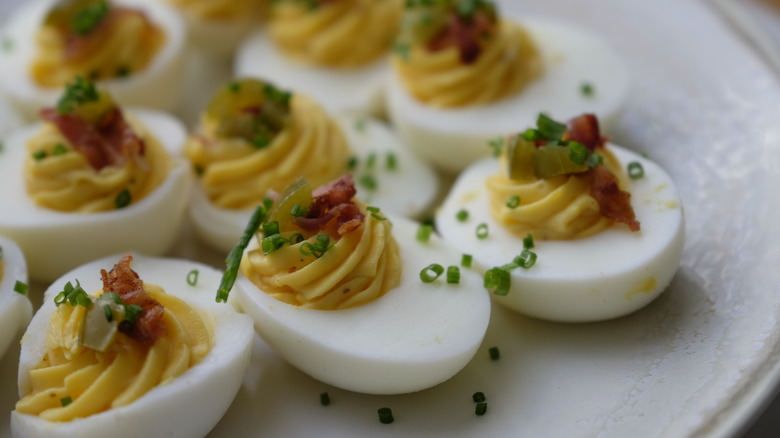 Ingredients
6 large eggs
2 slices bacon
5 slices jalapeños
4 tablespoons mayonnaise
1 ounce chopped chives
Optional Ingredients
Salt and pepper to taste
1 teaspoon of mustard
Directions
Boil eggs in large sauce pan. Bring water to a boil, and gently place eggs in the sauce pan. Boil for 12 min. After 12min, immediately place eggs in an ice bath (or cold water) to stop cooking process. Set eggs aside.
Fry bacon by placing bacon strip on a hot pan on low heat. Flip bacon strips once one side is cooked. Set aside cooked bacon on a paper towel to soak up grease.
After the eggs are cooled, carefully crack the eggs on a hard surface and peel the hard boiled eggs.
Once peeled, cut the eggs in two length wise and place the cooked egg whites on a plate and the cooked egg yolks in a medium sized bowl.
Add 4 tablespoons of mayonnaise to the egg yolk along with the seasoning of your choice such as salt, pepper, and mustard. Mix with a fork or whisk until creamy smooth.
Cut bacon strips into bits and set aside in a small bowl.
Cut jalapeños into bits and set aside in a small bowl.
Mince chives and set aside in a small bowl.
Prepare pipping bag (or zip lock bag) with star tip, and fill with the egg yolk/mayo mixture. (Or use small spoon)
Carefully pipe egg mayo mixture into the cooked egg whites. (Or use small spoon)
Add bacon bits and jalapeños on top of the egg filling.
Sprinkle chives on top and enjoy!