This Red Lobster Meal Was Considered The Unhealthiest Of All Time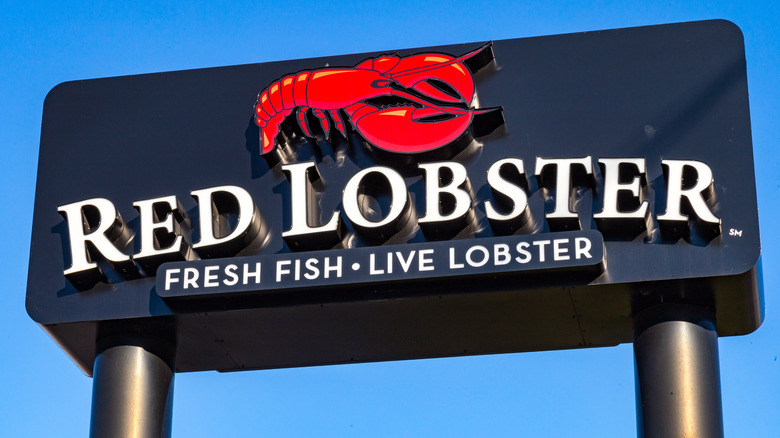 Shutterstock
At Mashed, we cover a lot of the unhealthiest things you can find at certain brands. The Center for Science in the Public Interest, however, actually "awards" the unhealthiest food you could order with their Xtreme Eating Award, an award Red Lobster "won" in 2015.
"It takes a lot to shock the nutritionists at the Center for Science in the Public Interest who compile the annual Xtreme Eating Awards," they stated in the award's announcement before moving on to just how shockingly bad Red Lobster's "Create Your Own Combination" could be. While you could temper yourselves, those who order the Parrot Isle Jumbo Coconut Shrimp, Walt's Favorite Shrimp, and Shrimp Linguine Alfredo with a Caesar salad, fries, and a cheddar biscuit would consume 2,710 calories. And that's not including the 24-ounce Lobsterita (their version of a margarita) offered.
The real kicker, however, is, as always, the sodium content. You would eat 6,530 milligrams or almost three times the absolute maximum the American Heart Association allows for a daily intake and over four times the ideal limit.
Cheesecake Factory has been a consistent 'winner' of the award
To single out Red Lobster, as Mental Floss does, is unfair, though. After all, they only won once in 2015. The Cheesecake Factory, however, has been a consistent "winner" of the Xtreme Eating Award.
Due to the disruption of the pandemic, the last time the award was given out was in 2019. The winner then was the Cheesecake Factory, which, as noted in the announcement, had by then won 21 Xtreme Eating Awards. This time the honor was due to their Cinnamon Roll Pancakes, which fills their eaters with 2,040 calories, 51 grams of saturated fat, 2,950 milligrams of sodium, and an estimated 137 grams of added sugar. True, this is not as bad as Red Lobster's offering, but it should be noted that Red Lobster won with a special platter that incorporated many smaller meals. Whether any of these meals would have individually won seems unlikely.
It should also be mentioned that the Cheesecake Factory did, in fact, win an Xtreme Eating award in 2015 as well. On the list of awardees, it appeared this time with a Louisiana Chicken Pasta. Weighing at 1.5 pounds and boasting 2,370 calories, the pasta and breaded chicken barely loses out to Red Lobster's various shrimps. In fairness, it does have a third of the sodium of Red Lobster's fare, only reaching 2,370. However, the word "only" is doing a lot of reaching in its own right. Further fairness would note, though, that Red Lobster didn't win anything in 2019.