How Rich Is The Applebee's CEO And What's The Average Pay Of Its Employees?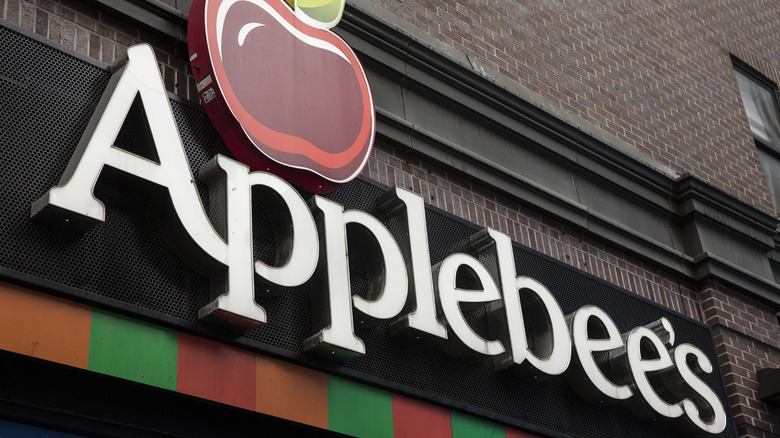 Andrew Burton/Getty Images
For more than 40 years, Applebee's has welcomed millions of hungry customers into its eateries across the US. Throughout its history, the company has seen many changes, including new CEOS and acquisitions, but it has only grown overall (via Applebee's). Applebee's Bar and Grill is currently the second-highest grossing full-service dining restaurant chain in America (via Restaurant News).
In November 2020, Applebee's parent company Dine Brands named John Peyton CEO after former head of the company Stephen Joyce stepped down without explanation (via FSR). Peyton hasn't been in charge long enough for there to be a totally accurate report of his yearly salary, but FSR reported that his expected pay includes "an annual base salary of $1 million" in addition to a $1.2 million dollar signing bonus and access to both a "one-time grant of restricted stock units" valued at $3.5 million dollars and a "one-time special grant of stock options" equaling one million. Based on a Salary.com report from 2020, this number falls close to what Joyce earned in his final year as CEO and represents 135 times what the average Applebee's employee makes.
Despite this astounding income disparity, Applebee's website claims it takes special care in creating a workplace where all of their 28,000 employees feel welcome. And they've got accolades to prove it, including an "Excellence in Retention Award" from People and Performance Award Council and the reputable "Heart of the workplace award" which distinguishes companies that "model best people practices in their workplace and make a difference in the lives of their employees." Of course, being able to boost company morale is great. But are employees treated to pay that's just as "good in the neighborhood" as the restaurant's meal deals would lead you to believe?
Many Applebee's employees have mixed feelings about their pay
As is the case with most chain restaurants, pay for starting gigs at Applebee's varies tremendously depending on the position and location. Based on reports from US-based workers on Indeed, servers and bartenders take home an average of $13.24 and $11.24 per hour, respectively, though these figures may fluctuate based on tips earned. Hosts are in a similar position, in that they may get a small cut of tips every time they work, but generally earn $11.14 per hour. Those who get promoted to an Applebee's training role (which requires more work) reap a small pay boost that amounts to roughly $14.34 an hour. As far as back of house positions go, the hourly rate hovers around $13.89. While this is marginally higher than the Bureau of Labor Statistics median hourly pay for US restaurant workers, many Applebee's employees find their wages are unsustainable. 
Some Indeed reviews reviews from current servers note that tips are inconsistent, with one describing their experience as, "not the best ... some days are good while others are awful". On Glassdoor, another employee called their compensation "insufficient." Overall, management roles have the highest earning potential, with salaries in the $50,000-$60,000 range. Even so, across more than 21,000 Indeed ratings, only 44% of Applebee's employees are satisfied with their current pay.
It seems the draw to work for Applebee's goes beyond salaries. Most positive Indeed reviews cite flexible schedules and teamwork as the reason they enjoy their job. On top of that, Applebee's employees at some locations earn points for meeting goals at work that they contribute toward future prizes. Some examples of things employees can win include small perks like merch and even prizes like kitchenware and event tickets. (via CIO)