Quick And Easy Coronation Chicken Sandwich Recipe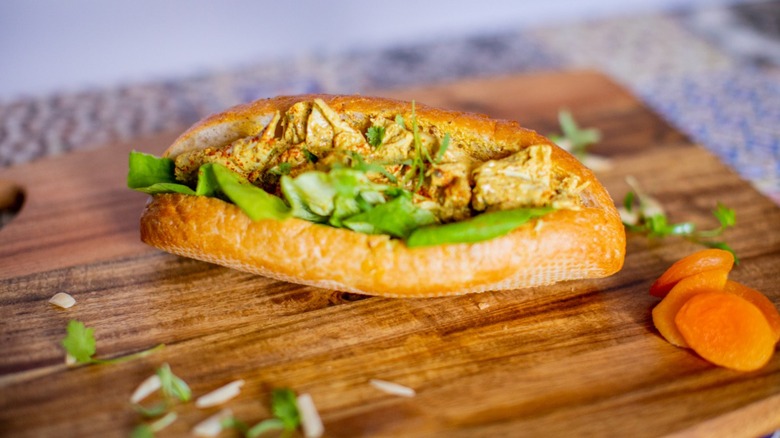 Nathaniel Lee/Mashed
My, how the time just flies by. Has it been 68 years already since Queen Elizabeth first sat upon the throne? Not only is Britain's beloved monarch celebrating a 68th anniversary this year, but so is a certain well-loved British recipe as well: coronation chicken, a dish that The Petite Cook says was created specifically for the coronation banquet. The recipe's creators were Le Cordon Bleu cooking school founder Rosemary Hume and author/educator/florist Constance Spry, a woman who'd also done all of the flower arranging for the coronation ceremony and was an early LGBTQ+ domestic diva (via the London Floral Society).
While the original recipe was a fairly simple one, basically a curried-up chicken salad, plenty of cooks have tinkered around with it in subsequent decades to the point where when you see coronation chicken on a menu, you're never quite sure what to expect. Recipe developer Nathaniel Lee of the Beginner Food is an advocate for easy-to-prepare foods, however, and his version of this recipe takes us back to something that closely approximates the original recipe but has a slightly simplified list of ingredients. Lee says he's been eating this dish since he was a kid, but admits, "We always called it curried chicken salad here in California. It wasn't till I started learning more about British culture and food that I learned it is called coronation chicken over there."
It all starts with chicken, of course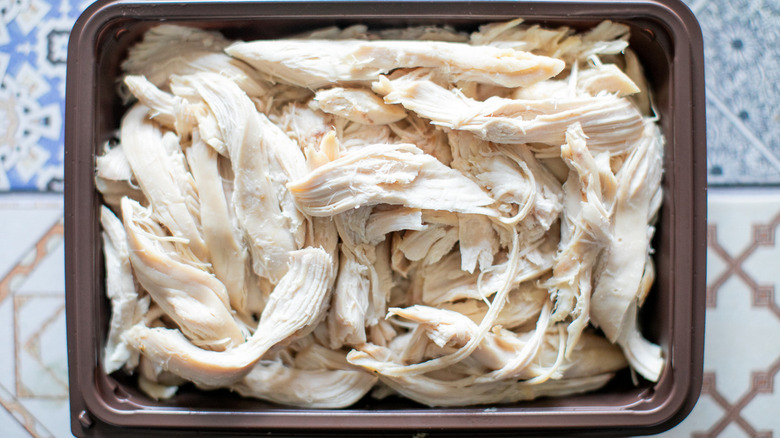 Nathaniel Lee/Mashed
The original recipe just calls for cooked chicken, as does this one, so it is up to you whether you would prefer to use light meat or dark meat. Lee does say his own preference is for white meat in this salad but says dark meat is perfectly fine too, though he adds, "My recommendation would be to use thighs rather than drumsticks given you do want a clean meat in a salad."
You can, if you choose, poach, grill, steam, or bake the chicken breasts or thighs, whichever you find easiest to do, or you can always go the leftover rotisserie chicken route. If you want the easiest option of all, however, you can do as Lee did and use pre-packaged cooked chicken.
You'll need a few other ingredients as well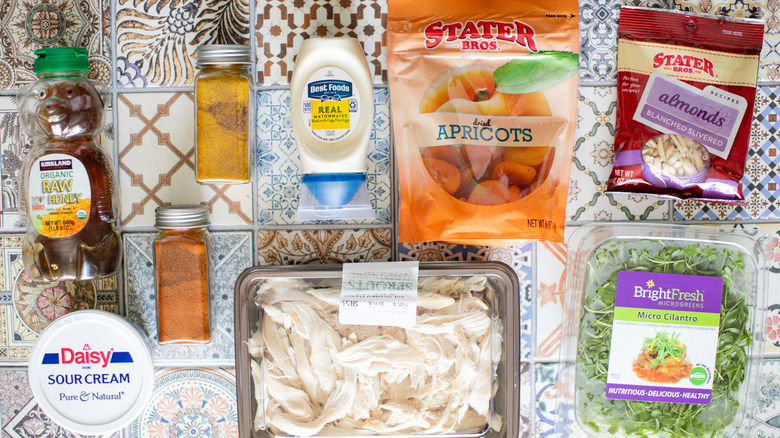 Nathaniel Lee/Mashed
Along with the chicken, you'll need apricots, slivered almonds, mayonnaise, sour cream, honey, curry powder, cayenne pepper, lettuce leaves, and fresh cilantro to round out the dish. You'll also want some sort of bread to build the sandwich on!
Putting the coronation chicken together will only take a few minutes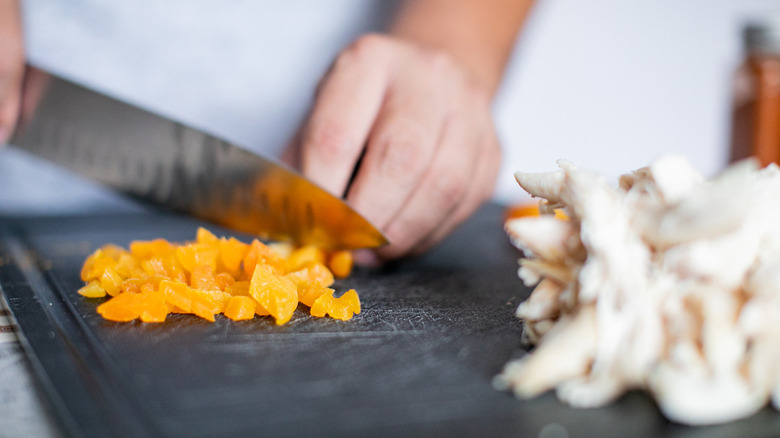 Nathaniel Lee/Mashed
Mix the mayonnaise, the sour cream, and the honey together in a small bowl. Stir in the curry powder, and, if you'd like to add a little heat, a sprinkling of cayenne pepper. Now dice your dried apricots into small pieces, maybe about the size of a raisin. After this, chop your chicken into bigger pieces, roughly one inch in size to make a nice chunky salad. The slivered almonds are good as they are, no need to mess with these. If all you have on hand is whole almonds, though, then you should sliver or chop these as best you can. Mix the apricots, chicken, and almonds into the mayo mix, and voila! You now have coronation chicken.
Coronation chicken salad isn't just for sandwiches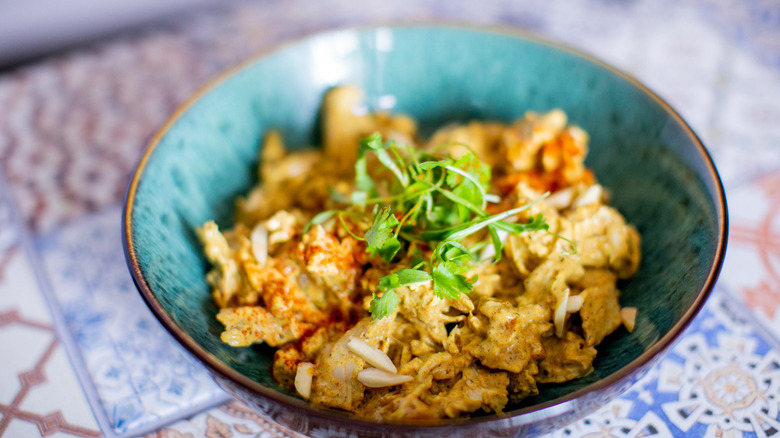 Nathaniel Lee/Mashed
You can spread the coronation chicken between two slices of bread of any kind to make a sandwich. Another thing you can do is to spread it on a lettuce leaf to make a low-carb sandwich substitute, or you could use a tortilla to make a wrap, stuff the filling in a pita, or even use it to top a baked potato or a plate of pasta. Coronation chicken can also be piled on crackers or crostini to make an elegant appetizer or just scooped into a pretty bowl and served with melba toast on the side for dipping.
Lee says he enjoys coronation chicken salad on a split mini-baguette garnished with a few sprigs of cilantro and washed down by a blonde ale or pilsner. If you want to keep to the coronation theme, though, you could always accompany your chicken salad with a cup of the Queen's favorite tea, which is reported to be Assam or Earl Grey. If the sun is over the yardarm (pirate talk for "it's five o'clock somewhere"), you could even pair it with her favorite cocktail, a gin and Dubonnet.
Quick And Easy Coronation Chicken Sandwich Recipe
If you're feeling like royalty, there's nothing better to make than this super quick and easy coronation chicken sandwich.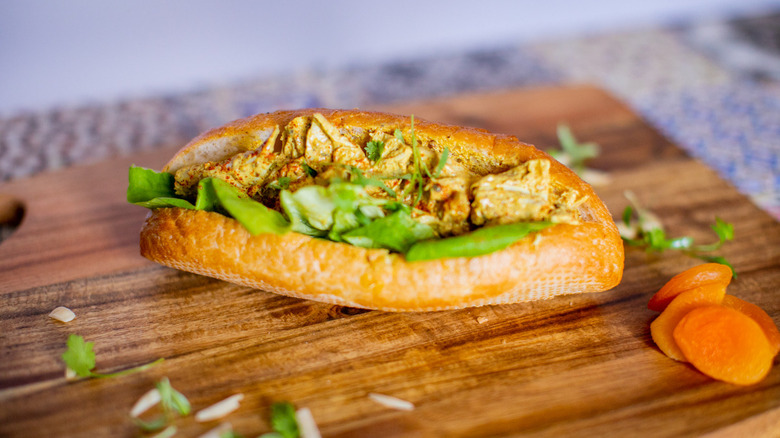 Ingredients
3 tablespoons mayonnaise
3 tablespoons sour cream
1 tablespoon honey
1 tablespoon curry powder
¼ cup dried apricots, diced
½ pound cooked chicken, chopped into 1-inch pieces
¼ cup almond slivers
Optional Ingredients
Bread of any type, to make sandwich
1 teaspoon cayenne pepper
Crackers or crostini
Lettuce leaves
Chopped cilantro for garnish
Directions
Measure the mayonnaise, sour cream, and honey into a mixing bowl.
Stir in the curry powder and, if desired, cayenne to taste.
Dice the apricots.
Chop the chicken into 1-inch pieces.
Gently stir the chicken, apricot, and almonds into the mayonnaise mix
Spoon coronation chicken salad onto bread to make a sandwich if desired. Serve and enjoy.
Nutrition
| | |
| --- | --- |
| Calories per Serving | 559 |
| Total Fat | 37.2 g |
| Saturated Fat | 7.3 g |
| Trans Fat | 0.0 g |
| Cholesterol | 102.9 mg |
| | |
| --- | --- |
| Total Carbohydrates | 25.0 g |
| Dietary Fiber | 5.1 g |
| Total Sugars | 18.7 g |
| Sodium | 222.3 mg |
| Protein | 33.5 g |