The Real Reason This Disneyland Sandwich Costs $100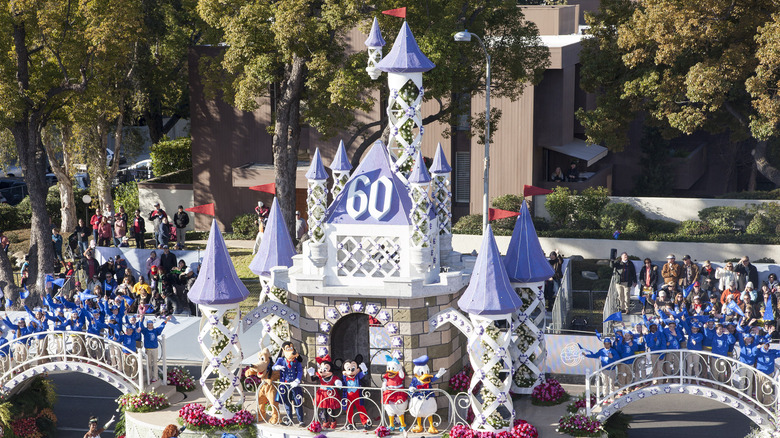 After being temporarily thwarted by the pandemic, Marvel's much-anticipated Avengers Campus will celebrate its opening at Disneyland on June 4. The superhero-centric section of the amusement park will boast rides themed around "Spider-Man" and "Guardians of the Galaxy," reports Insider. It's even a casual comics enthusiast's dream, but one feature of the Avengers Campus is arguably drawing just as much attention, if not more, than the sleek and exciting rides: a sandwich with a $100 price tag.
Just one day at Disneyland is already an expensive excursion. In 2021, ticket prices range from $114 to $154 for adults and are not too much cheaper for kids — and that's before tallying up the day's other necessities, like food. Traveling Mom advises visitors to budget $12 to $18 per person per meal at quick-service eateries in the park, of which there are 78, according to Disneyland's website. You'd need to up that to about $18 to $25 at full-service restaurants, of which there are about 33, and that doesn't include the park's "character dining," which is more expensive in exchange for the experience of eating among your favorite Disney personalities. 
Even for a pricey destination, however, a $100 sandwich is raising eyebrows. This menu item certainly blows a general $12 to $25 budget out of the water, doesn't it? What could possibly be going on between those two slices of bread to warrant a triple-digit price, and is it worth the splurge?
The $100 Pym-ini isn't just for one person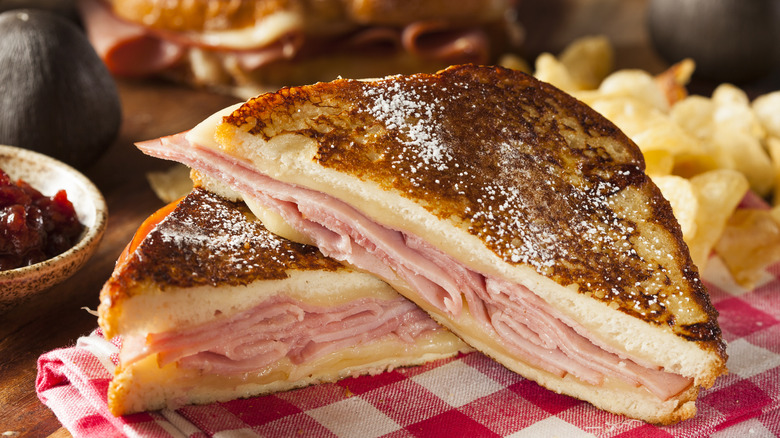 Shutterstock
As Food & Wine points out, the splashy $100 cost for this sandwich at Disneyland doesn't have much mystery behind it: It's simply a giant sandwich. It serves six to eight people, which actually flips it back into being a not-so-indulgent buy for the whole family during a park visit. That $100 breaks down to about $12.50 to $16.50 per person depending on how many people split it.
The infamous sandwich, which looks fairly similar to the image above, is essentially a fancy party sub-turned-panini and has salami, rosemary ham, provolone, and sun-dried tomato spread on toasted focaccia. It comes with marinara dipping sauce and an arugula salad. It's sort of like a Monte Cristo without the sweet element of French toast, or a Cuban sandwich with its whole two-meats-plus-cheese vibe. It's also technically $99.99, according to The Disney Food Blog. 
The reason for its giant nature is that this family-sized panini is being served at the Pym Test Kitchen, a restaurant themed for the 2018 Marvel flick "Ant-Man and the Wasp." The menu plays with "Pym particles," the secret to Ant-Man's ability to shrink as well as the technology to make things huge. There are other clever Pym particle-inspired dishes, like a monstrous meatball on an enormous spoon, and a Caesar salad with one colossal crouton. The restaurant also keeps the Ant-Man and Pym particle theme of wacky science going with concepts like an "Assemble Your Own Experiment" peanut butter and jelly sandwich platter for kids, and a radioactive-appearing neon green beverage called Pingo Doce with lemon, lime, and vanilla (via Disney Parks Blog).
The Pym-ini's price tag makes the Pym Test Kitchen stand out among other Disneyland restaurants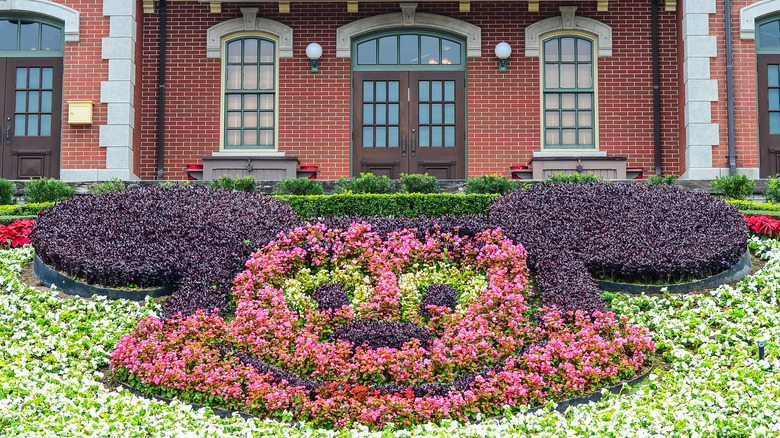 According to Disney Parks Blog, Disneyland has of course planned other eateries for its Avengers Campus that will be familiar to fans of the movies and comics. There will be a Shawarma Palace, a nod to the Avengers heading to Tony Stark's favorite shawarma spot after "the battle of New York" in the first flick (via Entertainment Weekly). Meanwhile, Terran Treats will offer up cosmic desserts to tie in with "Guardians of the Galaxy." 
As intriguing as these spots sound, the $100 Pym-ini sandwich has made the Ant-Man-themed Pym Test Kitchen the main attraction when it comes to eating on the Avengers Campus. After all, this dish doesn't fall too far behind the Quintessential Grilled Cheese from New York's Serendipity 3, which comes in at $214 and is made with Dom Perignon champagne, edible gold flakes, white truffle butter, and the "very rare" Caciocavallo Podolico cheese. It's also served with a South African lobster bisque as a dipping sauce for even more extravagance. That sandwich holds the Guinness World Record for the priciest in the world.
The OC Register writes that the Pym-ini is now one of the world's most expensive sandwiches, too, though again, that thinking doesn't exactly hold up to how many portions are on the table here. The family-friendly Pym-ini almost seems like a steal compared to the Quintessential Grilled Cheese. Even still, it is indeed one of Disneyland's most expensive dishes. Food & Wine says picks like the $138 Porterhouse for Two at Disneyland Hotel's Steakhouse 55 are among its only competition in terms of price.