What Is A Monte Cristo And How Do You Make It?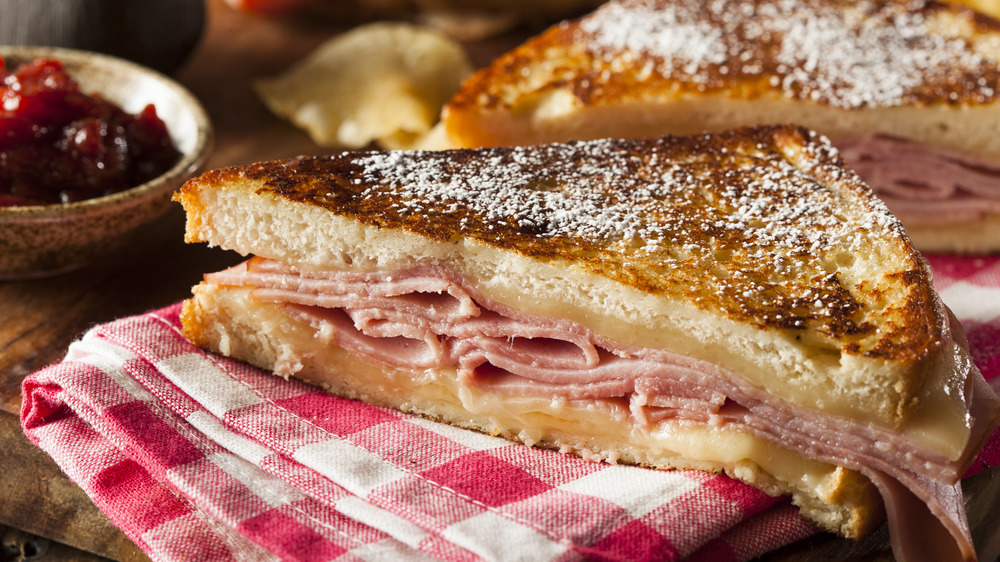 Shutterstock
Raise your hand if you like grilled ham and cheese sandwiches. Raise the other hand if you like French toast. Now take both of your hands and wrap them around a classic Monte Cristo sandwich, a sumptuous fusion of both of these comfort foods.
According to What's Cooking America, a traditional Monte Cristo Sandwich has slices of ham, turkey or chicken, and Swiss cheese sandwiched with white bread. The sandwich is then dipped in an eggy batter and sautéed until golden brown on both sides. It's then dusted with powdered sugar and served with jelly for dipping (via The Kitchn). What a decadent, sweet-savory combination!
What's Cooking America also notes food historians believe that while the Monte Cristo debuted in California, it was derived from a French sandwich called Croque Monsieur. The Culture Trip says this fried sandwich is made from a sweet bread like brioche, with slices of ham, and melted cheese inside and on top. A variation, the Croque Madame, has a fried egg added to the top. The Monte Cristo cleverly incorporates elements of both sandwiches: savory meats, a bit of sweetness, rich eggs, and melted cheese.
Make a diner-worthy Monte Cristo at home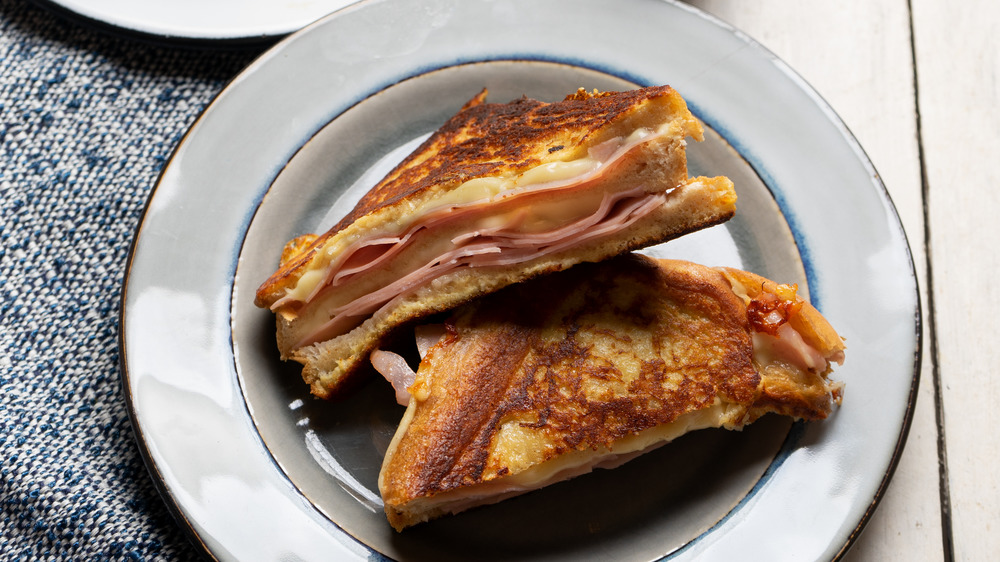 Shutterstock
The Monte Cristo is a favorite restaurant and greasy spoon brunch choice, and some say one of the greatest sandwiches of all time. So you should definitely whip up your own at home. It's just taking your simple grilled cheese sandwich up a couple of notches.
The Kitchn's recipe for a classic Monte Cristo sandwich calls for an egg batter made by whisking eggs and half-and-half together with a little seasoning. The sandwich is assembled by layering slices of deli ham and turkey with grated Gruyere cheese inside slices of "sturdy" bread (like sourdough.) It is soaked in batter and cooked in a skillet on each side to a golden-brown, crispy texture. Sprinkle some powdered sugar over the hot sandwich, and don't forget a little sweet jam on the side.
There is also a favorite version of the Monte Cristo that's been made at Disneyland since the '60s, according to D23, the official fan club of Disney. They share that the sandwich is so popular at Disney's Blue Bayou Restaurant that the park has recipe cards available for guests to take home. Disney's Monte Cristo looks fairly similar to The Kitchn's with one exception: Instead of getting browned in a skillet, it's deep-fried. We didn't think this sandwich could get more over-the-top indulgent, but leave it to Disney to find a way!