Joel McHale On What To Expect From Crime Scene Kitchen - Exclusive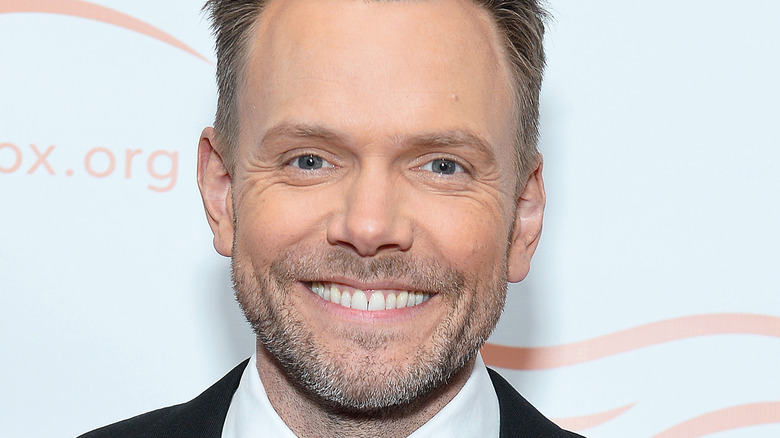 Noam Galai/Getty Images
These days, there's no shortage of binge-worthy baking shows to spark your sweet tooth or inspire a kitchen adventure; but to be honest, once you've seen one, you've kind of seen them all. Contestants are presented with challenges — a pantry (or basket) full of ingredients, a ticking clock, an impossible seeming task — and must create magical masterpieces to impress the judges and win the grand prize. Sound familiar?
Well, if you've found yourself looking for something a little more unique, we've got some good news: FOX is out with a brand new bake-off series that's unlike anything you've seen before. "Crime Scene Kitchen" challenges contestants in a whole new way, forcing them to search for clues and ingredients to figure out what mystery dessert they then have to turn around and recreate. Naturally, there are endless possibilities for disaster and hilarity. 
And who better to guide the bakers along and make light (and jokes) of the mind-bogging situation, than comedy connoisseur Joel McHale. The former "Community" star and host of "The Soup" is taking on a whole new kind of hosting gig, spilling the details in an exclusive interview with Mashed. McHale shared what viewers can expect from "Crime Scene Kitchen" and what makes this a baking competition like no other, and also dished on what he learned and all the goodies he consumed while filming the show.
Crime Scene Kitchen is a baking show like no other, according to Joel McHale
The winners of each episode of "Crime Scene Kitchen" get to take home $100,000 (via FOX), but that steep prize doesn't come easy. The network says that in order to win, "the competing dessert makers will need to prove they have the technical know-how, imagination and problem-solving skills needed to decode and re-create incredible desserts and cakes from across the world."
As host Joel McHale explains, "there's this kitchen they set up and the bakers have two minutes to go into this kitchen, and there is evidence left behind of something that has been baked, like five to 10 things." But by no means is this an easy task, McHale told Mashed that bakers have to piece together what the mystery dessert challenge is based on vague clues. "Just a little bit of sugar, perhaps a fork with some simple syrup on it, some type of yeast, who knows, and they have to figure out what was baked there," shares the host. Of course, they also have to try and bake the dessert themselves, and have their creations judged by celebrity chef Curtis Stone and respected cake artist Yolanda Gampp.
As McHale puts it, "there's definitely, like, an unboxing sort of vibe to it and a mystery thing to it, so that's really what I think sets it apart." The real question is, will this be an impossible feat, or a piece of cake? McHale says it's a little bit of both, telling Mashed, "you would be amazed at how close people get and amazed at how far people miss."
A new kind of hosting gig for Joel McHale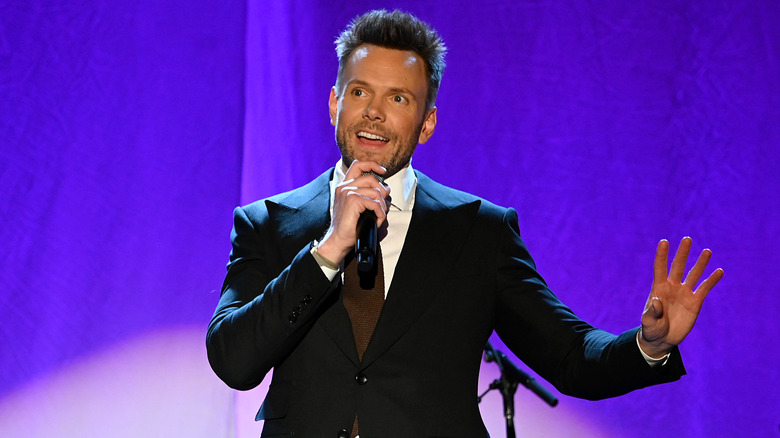 Jamie Mccarthy/Getty Images
While this may not be the type of show you'd expect to see Joel McHale taking the reins of, the star is confident fans will love "Crime Scene Kitchen." To put it more bluntly, the comedian stated, "I think it's going to be the greatest show in the history of television." 
McHale also said the experience gave him a whole new appreciation for the creativity and technical skills that go into baking. He told Mashed, "I love food and I definitely let [people] know about how I feel about it," but admitted "baking is a world that I wasn't really a part of. I just enjoyed it. And then after hosting ["Crime Scene Kitchen"], I'm like, it is a science and it is so difficult to do it right." McHale also mentioned how awestruck he was by the judges, adding that "Curtis Stone and Yolanda Gampp, who's the queen of cakes ... they talk like they are at jet propulsion labs, and it's pretty incredible."
All in all, McHale said he "had so much fun doing it. And of course, ingesting 9,000 calories a day, which I'm still working off, which is cool, but it was, boy, it was a blast." 
"Crime Scene Kitchen" premieres on Fox on May 26. You can catch new episodes on Wednesdays at 9/8c.