Why You Should Avoid Cracker Barrel's Momma's Pancake Breakfast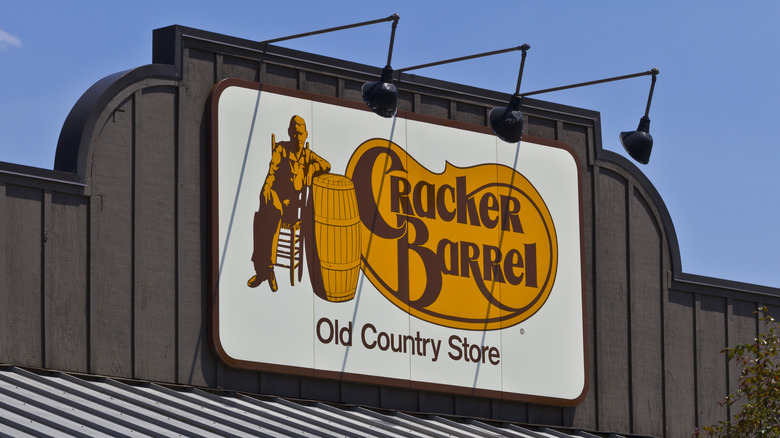 Shutterstock
Let's be honest: You don't go to Cracker Barrel for the vegetable medley or house salad. Heck no! Cracker Barrel got its Southern comfort food reputation from its hearty samplings of mashed potatoes and gravy, country fried steak, hot biscuits, country ham, and hash brown casserole. The treasured chain, known for lining its storefront with handmade wood rocking chairs and brain teaser peg game, has been dishing out homestyle classics since 1969 (via Cracker Barrel).
That said, Cracker Barrel (unfortunately) isn't the best choice if you're watching what you eat, especially if you're trying to avoid foods high in carbs and sodium. However, this doesn't mean dining for health-conscious eaters is impossible at Cracker Barrel. It's just important to know what foods you should avoid — like the Momma's Pancake Breakfast, for example.
The fan-favorite breakfast platter comes with three buttermilk pancakes topped with butter and pure natural syrup. On the side, you get two eggs plus your choice of thick-sliced bacon or sausage. It's a showstopper, but also not the most nutritious.
Momma's Pancake Breakfast is 880 calories before bacon and sausage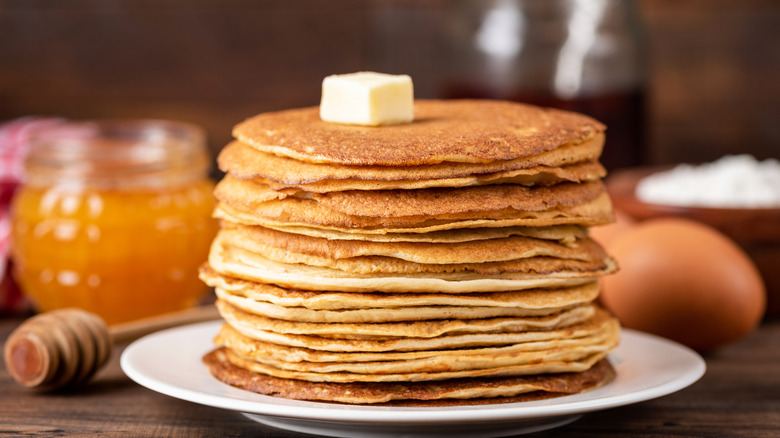 Shutterstock
While delicious and definitely filling, the amount of sodium in Cracker Barrel's Momma's Pancake Breakfast is astonishingly high, and that alone is a big enough reason to say no to the breakfast sampler. The calories and fat aren't too great either. According to the chain's nutritional guide, Momma's Pancake Breakfast before sausage or bacon comes in at 880 calories, 38 grams of fat, and 2,870 milligrams of sodium. If you want bacon, you're looking at 1,090 calories, 55 grams of fat, and 3,330 milligrams of sodium. Sausage is 1,120 calories, 57 grams of fat, and 3,260 milligrams of sodium. Cracker Barrel does give patrons the option to order turkey sausage, which is a healthier option.
Clearly, Momma's Pancake Breakfast is a once-in-a-while meal. Though, when compared to Momma's French Toast Breakfast, it is slightly better. The latter is 1,250 calories and 73 grams of fat (via EatThis!NotThat!). Bottom line: Neither option is good for your body, so choose wisely.