Masaharu Morimoto Talks Iron Chef, His Restaurants, And Cocktails - Exclusive Interview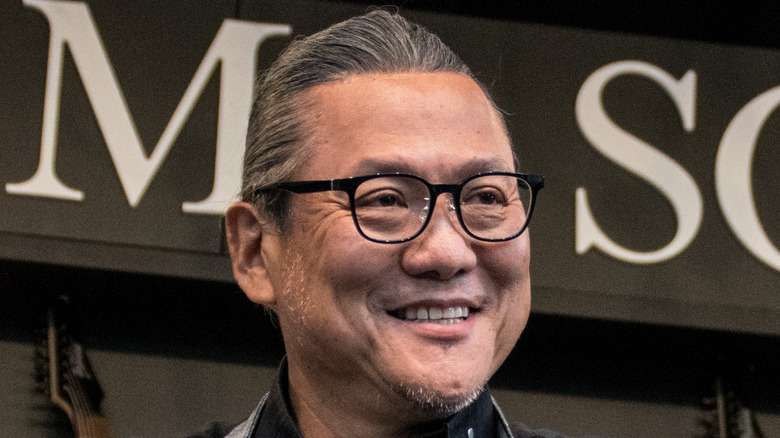 Shutterstock
Pitting culinary giants against one another has catapulted the talents of more than a few chefs into household names. Since 1998, Masaharu Morimoto has sharpened his knives and competed on the Japanese television show "Iron Chef" and appeared on the Food Network's "Iron Chef America." Following his success on the show, Eater reports Morimoto garnered attention for his take on the style of omakase, exposing the style to the East Coast — all while using things like liquid nitrogen, fugu (blowfish), and live sea urchin on the menu.
Omakase translates in Japanese literally to "respectfully leaving another to decide what is best," meaning your meal is a form of chef's choice for what dishes and fish options to serve. The Michelin Guide explains this style of dining is centered around what's fresh that day and leaves the expertise to the chef to create the experience. Chef Morimoto translated the word as "to entrust" during his interview with Mashed, saying he aims for a "one-of-a-kind experience" at each of his 16 (and counting) fine-dining and ramen restaurants found around the world. 
Morimoto is celebrated as a chef, but is also making his mark with signature cocktails and spirits. He's collaborated with multiple leaders in the beverage industry, including a near two-decade partnership with Oregon-based Rogue Brewing. The latest is the release of a limited-edition Morimoto Single Malt Whiskey, aged for two years in handmade barrels that had formerly housed the brewery's award-winning Rolling Thunder Imperial Stout. We'll drink to that.
Chef Morimoto takes his beverages seriously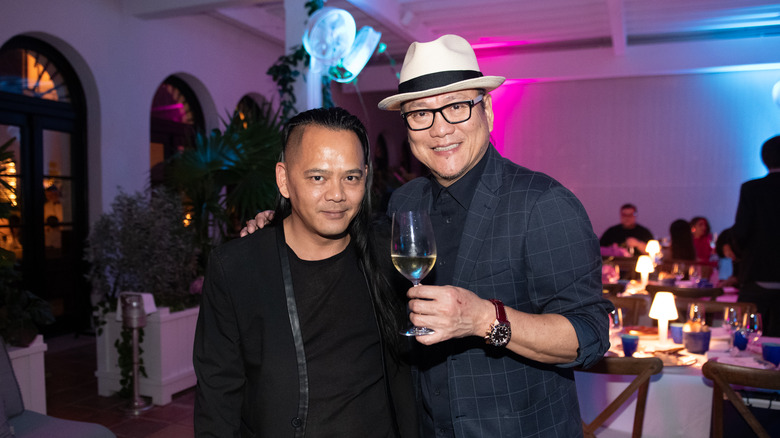 Romain Maurice/Getty Images
After opening Momosan Ramen Wynwood last year, more locations are planned for this year. What can you tell us about the new Momosan locations?
We have a few Momosan openings planned for later this year, including in Boston, San Jose, and Brooklyn. I am excited to share more on each of them when we are closer to their opening dates, and would love to speak with you again then.
You've collaborated over the years to create your own sake, beer, and Cabernet. What can you tell us about the Spiced Car cocktail and the latest Single Malt Whiskey with Rogue Ales?
The Spiced Car cocktail, which includes Japanese whiskey, triple sec, yuzu juice, honey, and a dusted rim of Shichimi Togarashi, is one of my favorite cocktails for the summer. [The cocktail's] so light and refreshing on a warm summer day with a great balance of sweet and sour notes. 
As for my recent collaboration with Rogue Ales & Spirits to create our limited-edition Single Malt Whiskey, my relationship with Rogue goes back nearly two decades and is one of the longest collaborations of my career. The Morimoto-branded beers have been guest favorites in my restaurants worldwide, and [I] was excited to introduce this very special single malt whiskey to our guests.
Masaharu Morimoto explains why you should trust your sushi chef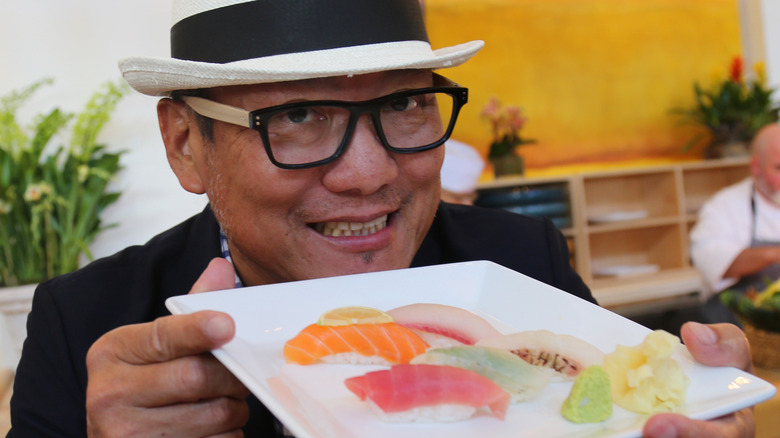 Shutterstock
Your flagship Morimoto restaurant in New York City closed during the pandemic after 15 years. Can you talk about some of the challenges of being a restaurant owner and how you think the industry needs to evolve, especially in a city like New York?
Of course, it was difficult to say goodbye to Morimoto New York, as it was my first restaurant in New York City, and I had a very special relationship with it and the great partners we had there. But I'm still operating in New York City with Momosan Ramen & Sake on Lexington in Midtown East. 
Evolution, for us, came during the start of the pandemic when we had to quickly shift to online ordering, takeout, and delivery options, which was new to us. We even began offering reservations at some of our restaurants that were always first come, first serve, in order to provide a better guest experience. So far, the convenience of takeout and delivery has been well received, and I think this is a service that guests will continue to seek out and expect even more once the restaurant industry goes back to normal. 
Additionally, we plan to incorporate even more outdoor dining options for all future openings than before, as people continue to seek out an open-air option.
You've been credited for bringing modern omakase to the East Coast. What drew you to this style of restaurant?
An omakase experience is an adventure unlike any other. In Japanese, omakase means "to entrust." You put your dining experience into the hands of the expert sushi chefs who create an unforgettable, multi-course dining experience that features the freshest fish and various other specialty ingredients that are reserved for this truly unique meal. That, to me, is a very special experience and offers guests a truly one-of-a-kind experience, which I love.
Iron Chef's Masaharu Morimoto on facing the competition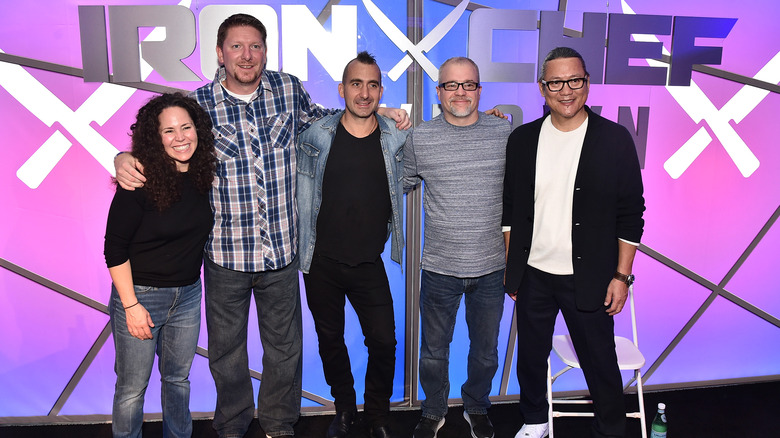 Theo Wargo/Getty Images
You were on the original version of the "Iron Chef" in 1998, before the explosion of cooking competitions on TV. What was that experience like, and how did it inform how you approached "Iron Chef America" later on?
When I competed on "Iron Chef America," I would be very focused on the challenge at hand and always wanted to win. It was quite a stressful experience. Now that I've appeared as a guest or guest judge on many different types of TV shows, I get to have fun and be myself without the stress of winning a fierce competition like "Iron Chef." Being on TV as much as I have been during my career has helped to open doors of opportunity.
What about "Iron Chef" do you wish audiences could see that isn't shown on camera?
The different sides of my personality. As I mentioned earlier, I was under a lot of stress and was singularly focused on winning the challenge at hand when I was competing on "Iron Chef." The viewers didn't always get to see the real me, so being able to laugh and smile more is refreshing.
Chef Morimoto's tips for eating and ordering sushi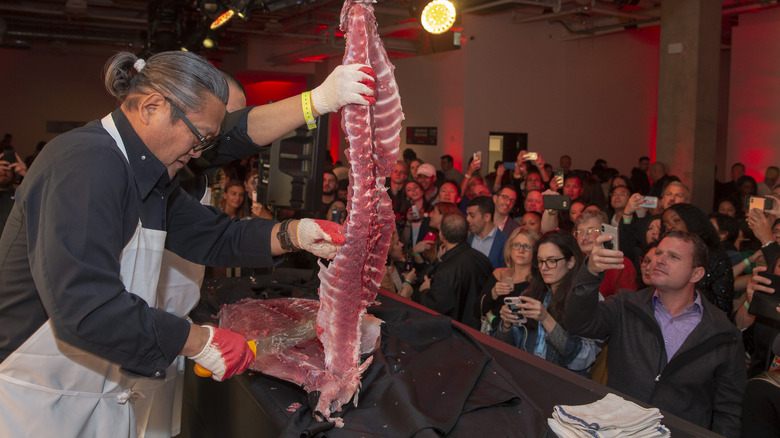 Tasos Katopodis/Getty Images
It takes quite a lot of skill and knowledge to make good sushi and sashimi, but is there a sushi dish that you would recommend for cooks who want to try sushi at home and don't know where to start?
Practice makes perfect. I would suggest an at-home chef try experimenting with making a tuna or salmon roll. The most important piece to this is getting good sushi-grade tuna from a high-quality fresh fish provider. If you don't feel comfortable working with sushi-grade fish or cannot find one, try working with surimi (imitation crab) or vegetables like cucumber, avocado, or carrots, or even cooked shrimp.
Do you have any tips for our readers for when they are cooking Japanese foods at home?
Japanese cuisine has an intimidating reputation and often makes home cooks feel that it should be left to the experts, but that is not the case. I wrote a book, "Mastering the Art of Japanese Home Cooking," in which I take home chefs through the necessary steps to make authentic Japanese meals at home — with only a half dozen easily accessible ingredients at home. I always say that you should always pay attention to the details: take note of the correct ratios of ingredients in the sauce, the proper order of adding seasonings. That makes all the difference in creating truly memorable moments that merge simplicity with exquisite flavor and visual impact.
What are the biggest mistakes people make when eating sushi?
You should always try to consume your sushi in one bite. Each piece of sushi is designed to encapsulate the perfect balance of flavors and textures. Therefore, eating it in multiple bites would almost be like deconstructing the meal into individual ingredients — don't do that. Additionally, you should never dunk your sushi into soy sauce rice side down. The right sushi rice should have enough stickiness to maintain its rectangular structure but won't be solid enough to hold up to a soy sauce dunk. Instead, if you want a little extra soy sauce, dip it fish side down.
What do you think is the most underrated type of sushi that people should order more of?
All sushi is worth trying. Just pay close attention to the chef's hands as they prepare it — it truly is magic.
Chef Morimoto explains why a sharp knife is so important and why whiskey works perfectly with sushi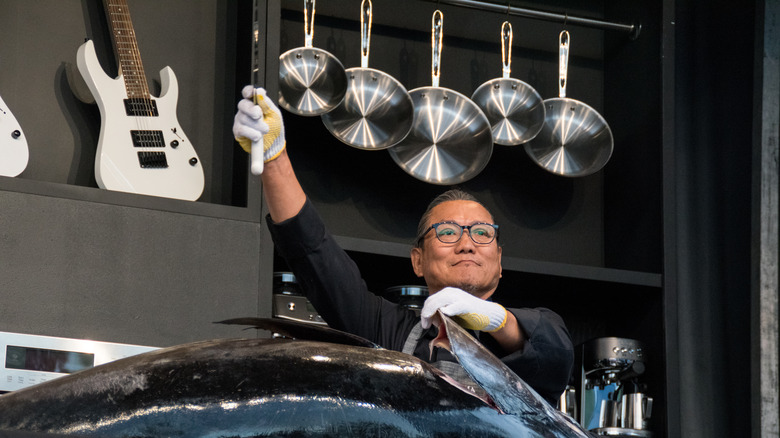 Shutterstock
Do you have a favorite kitchen tool you recommend?
I always say Japanese knives are the perfect weapon for an Iron Chef, and they are my favorite kitchen tool — there is so much versatility when using a good, sharp knife. It is essential to keep them in top shape and always sharpen them regularly. I like using whetstones. I recommend sharpening one side six to eight times before switching to the other side of the blade.
What is your favorite food and drink pairing as of late?
I've been enjoying sushi with my limited-edition whiskey — the Morimoto Single Malt Whiskey — that I partnered with Rogue Ale & Spirits to create. When it comes to pairing whiskey and sushi, some would say that seafood is too subtle to pair with a full-bodied whiskey, but that is not the case. Sushi is not just raw fish; it incorporates a combination of umami-rich flavors like soy sauce, pickled ginger, rice vinegar, and spicy wasabi, adding a very rich and robust taste that pairs very nicely with whiskey. Whiskey has just the right complexity to combine and bring out the more subtle notes and flavors on the palate, which is why it is a very well-suited food pairing.
What is your go-to comfort food on your day off? Is there any dish you love making for friends or family?
Ramen has long been one of my favorite comfort foods in any sort of weather. I opened my first Momosan Ramen & Sake in New York City as a more casual way to enjoy the foods that I love to eat and cook, with a focus on noodles, plus Izakaya-inspired dishes like gyoza and karaage (Japanese fried chicken). I would say any of the foods you can find on my Momosan menu is something I love making for friends and family.

Pick up a bottle of Morimoto Single Malt Whiskey in collaboration with Rogue Spirits. Next time you're in Miami, visit Chef Masaharu Morimoto's newest restaurant, Momosan Ramen Wynwood.