Trader Joe's Fans Are Loving Its New Chickpea Masala Salad
Anyone who loves eating fresh can't help but enjoy all the goodies that Trader Joe's keeps stocked on their shelves. The store has once again outdone itself with its new vegan chickpea masala salad, which combines crispy chopped pickled carrots, cauliflower, and onions, masala spices, and of course, chickpeas (via Trader Joe's). This instant classic can go on top of salads, inside wraps and sandwiches, and can find a place anywhere where you would typically use hummus. This versatility makes the dip perfect for all occasions, and fans on social media couldn't agree more. 
Instagrammer @traderjoeslist found the item on one of their latest grocery runs and posted a picture of the snack alongside the caption, "NEW CHICKPEA MASALA SALAD $4.49 @traderjoesgoesvegan // Just when you thought Trader Joe's was becoming an ice cream shop BAM insert your new favorite chickpea salad! The fact it's topped with pickled vegetables shows the thought that went into this tasty 'salad.' I can not wait to pick this up in next weeks haul!"
A flavorful side that has everyone talking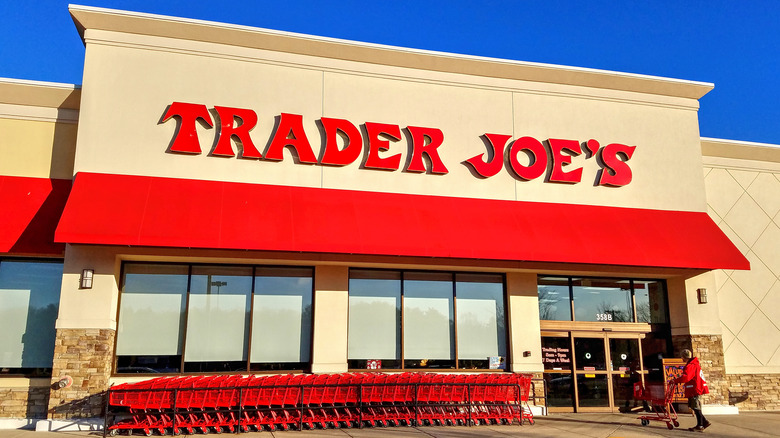 Shutterstock
Trader Joe's fans couldn't hold back their excitement for the dip. Followers have awarded the post almost 5,400 likes, with a ton of glowing comments. Replies have ranged from "You had me at chickpea lol," to "OMMMMMG this is seriously phenomenal." The same Instagrammer made a separate post trying out the dip, and came to the conclusion that the salad tasted amazing. Alongside a video review, @traderjoeslist said, "This new [dip] from #traderjoes is SO delicious! It has a dense chickpea texture with curry/masala flavors highlighted by the tang of the pickled veggies! It has a bit of spice to it so be wary if your [sic] sensitive to [heat]." 
Followers agreed with the review, saying, "Can't wait to make toast with this!" and "I've been having it in jicama wraps for lunch all week! Soooo good!!" With a dish this popular, you need to make sure to get your hands on this salad while you can. With a taste this sensational, this item guarantees to fly off shelves. Don't miss out on the hype and make sure to grab this chickpea masala salad on your next Trader Joe's run to discover a seriously sensational fresh favorite.