The Surprising Reason Chef Boyardee Moved To Pennsylvania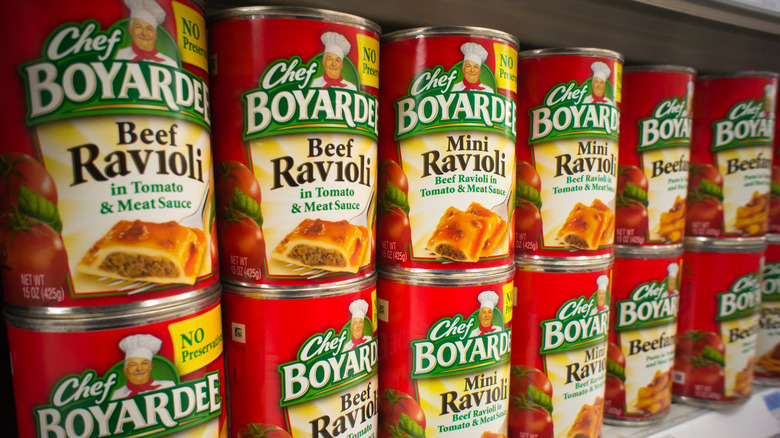 Shutterstock
When one thinks of Chef Boyardee, chances are some nostalgic memories pop up of enjoying the different varieties of canned pasta. Something that isn't as likely to come to mind is fresh produce. When indulging in canned meals, the idea of crisp fruits and vegetables isn't really at the forefront of anyone's mind, but legendary Chef Boyardee always puts tomatoes first. Chef Boyardee, whose real name is actually Ettore "Hector" Boiardi according to NPR, was determined to only use the finest tomatoes. So determined, in fact, that he picked up and jetted off to Pennsylvania from his hometown of Ohio in search of his desired tomatoes.
Many other popular brands have signature labels featuring notorious mascots, but rarely are they the actual chefs behind the prepackaged masterpieces. When it comes to the mustache-rocking chef showcasing Italian dishes, he's the real deal. Boiardi and his brothers were born in Italy and made their way to the U.S. before founding the one and only Chef Boyardee in 1928 (via NPR). The Italian brothers needed to stand out amongst other successful restaurants, and they thought they could wow guests with their tasty Italian cooking in Cleveland. All the fine dining restaurants around were French, Boiardi said, so guests were thrilled to savor hearty pasta dishes.
Guests couldn't get enough Chef Boyardee, and they had to recreate the dishes at home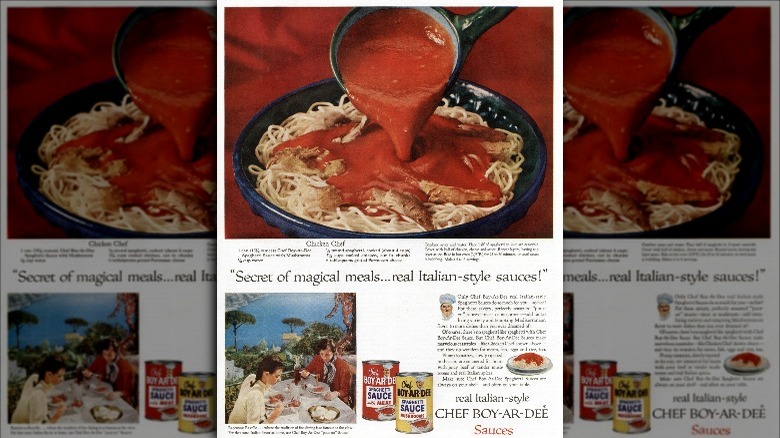 Apic/Getty Images
The restaurant was such a success that diners didn't want their meals to end. Guests began requesting the fixings be wrapped up so they could toss the meal together at home and the Boiardi family jumped on the opportunity without skipping a beat. "That was really this germ of an idea ... that eventually turned into Chef Boyardee," Boiardi tells NPR. They started jarring their trademark sauces and the rest was history. As popularity grew, they had to keep up with the demand so they took production to their own factory and began selling pasta meal kits of sorts. As their company continued to grow, they knew they would eventually need to upgrade their space again.
They decided to trek to Milton, Pennsylvania (via Northcentral PA), and not at random. There were a variety of benefits to moving their headquarters to Milton such as the close proximity to New York City and the vast agricultural land, but most notably, the neighboring tomato crops. Boiardi carefully chose Milton as their new home, knowing that he could have juicy fresh tomatoes harvested close by. Chef Boyardee says that by 1938 they were receiving delicious tomatoes in surplus. The use of crisp, local tomatoes surely helped Chef Boyardee turn into the enterprise it is today.