Why Some BTS Fans Are Disappointed With The McDonald's Collab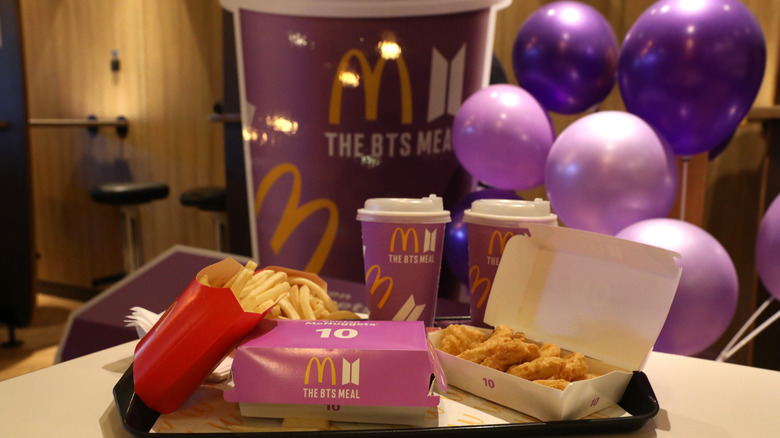 Chung Sung-jun/Getty Images
Last month, BTS and McDonald's announced that they would collaborate to release a special BTS meal worldwide. The meal, as Chew Boom reported, would allow fans to eat the South Korean boyband's favorite order of a 10-piece Chicken McNugget, medium fries, a medium Coke, and, most excitingly, Sweet Chili and Cajun dipping sauces that have never been sold in the United States.
Well, the BTS Meal launched in McDonald's nationwide yesterday. So, just how rapturous was the reception? Not particularly, which, when you consider the hype BTS brings, means essentially no rapture. The issue as fans in the United States have shown and shown (and shown) on Twitter is that despite all the marketing that McDonald's would brand bags and uniforms with BTS, the meals came as unadorned McDonald's meals unless customers specifically asked for the BTS branded packaging.
The perceived slight is that most of the BTS ARMY — the name with which the fanbase identifies — wanted the special bags as a memento and by McDonald's not getting its act together as it had done in other countries, McDonald's U.S. had strung fans along with false promises.
McDonald's really should have seen this coming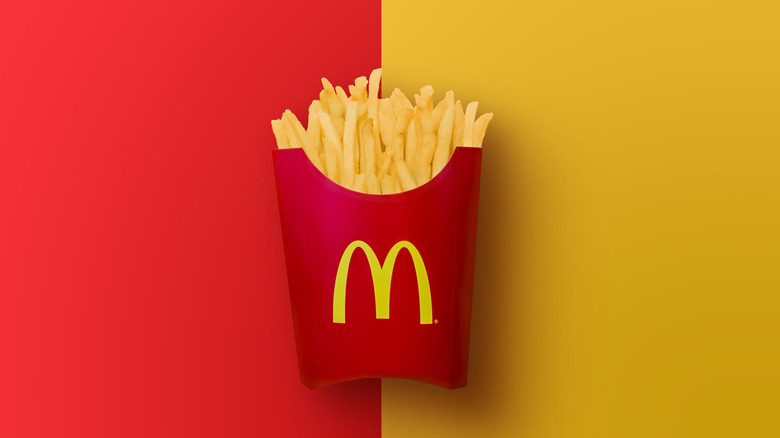 Shutterstock
While it seems unlikely that the disappointment will result in any real fallout for McDonald's, the company should have foreseen the excitement that would surround every aspect of the meal. Not because french fries fire prophetic powers, but because its collaboration with Travis Scott in the fall of 2020 proved overwhelmingly popular.
The meal, which featured Scott's childhood favorite — a quarter pounder, fries with BBQ dipping sauce, and a Sprite — almost sold out. CNN reported at the time that within a month, McDonald's was running out of meals and had to scramble to restock.
With all due respect to Travis Scott, that rush was only for Scott, not BTS, who is consistently called the biggest boyband in the world, as exemplified by a piece from The Guardian. Of course, the collaboration would have a mania for every aspect involved. By not having the promised packaging available, McDonald's dropped the ball. Admittedly, it dropped the ball on what may be an inconsequential issue, but it dropped it nevertheless.