Loaded Baked Potato Totchos Recipe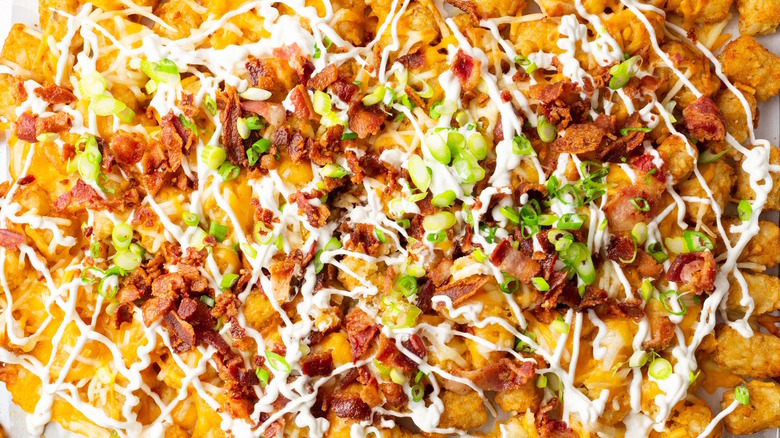 Liz Capozzoli/Mashed
If you're looking to wow your family and friends with a quick and easy recipe that doesn't call for a long list of ingredients — and won't take a lot of time to prepare — this loaded baked potato totchos recipe is just what you need. With just 15 minutes of prep time and about 30 minutes in the oven, you can impress your family and friends with this flavorful, crunchy treat in less than an hour.
Recipe developer Liz Capozzoli's tater tot nachos recipe only calls for five ingredients, and you might even already have them in your kitchen. For these loaded totchos  you will need tater tots, bacon, sour cream, cheddar cheese, and scallions.
"The ingredients are simple, but when combined they work so well together," Capozzoli says, adding that the tots add a crispy texture, the bacon adds a salty crunch, the scallions bring freshness, and the sour cream is the perfect complement with its tang. She also says what she likes most about this dish is how easy and addictive it is.
Gather the ingredients for the loaded potato totchos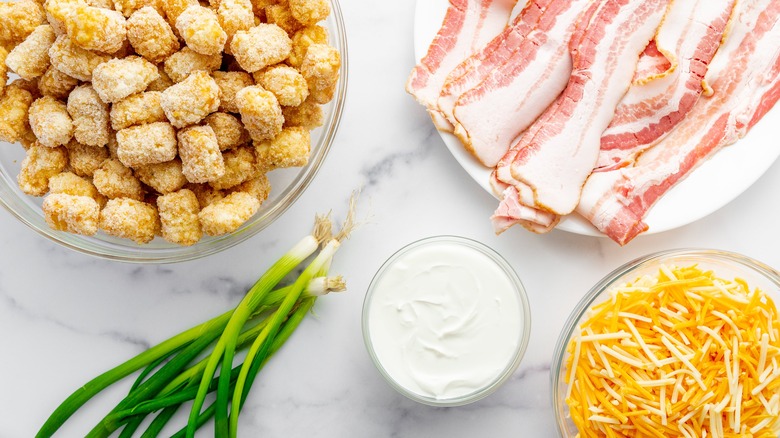 Liz Capozzoli/Mashed
This totcho recipe might consist of just a few ingredients, but don't let that fool you into thinking that it doesn't pack a savory punch. You might be surprised how much flavor this dish brings to the table. To make it, you'll need a 32-ounce bag of plain, frozen tater tots, an 8-ounce bag of shredded cheddar cheese, ⅔ cup sour cream, about 9 to 10 slices of bacon, and 3 or 4 scallions.
Preheat the oven, and prepare the tater tots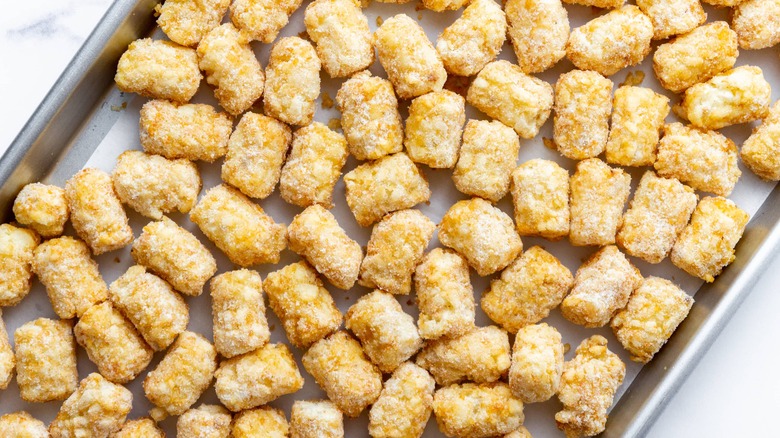 Liz Capozzoli/Mashed
The first thing you'll want to do is get your oven ready for baking. Set the temperature at 400 F, and turn your attention to the tots. Place a piece of parchment paper on a sheet pan. Capozzoli says that a 9x13-inch pan works best with the 32-ounce bag of tater tots because they fit right in, which is important because you'll want each tot to get browned evenly. So make sure they're arranged in a single, even layer. Once the oven is hot, bake the tots for about 25 to 30 minutes.
Cook and chop the bacon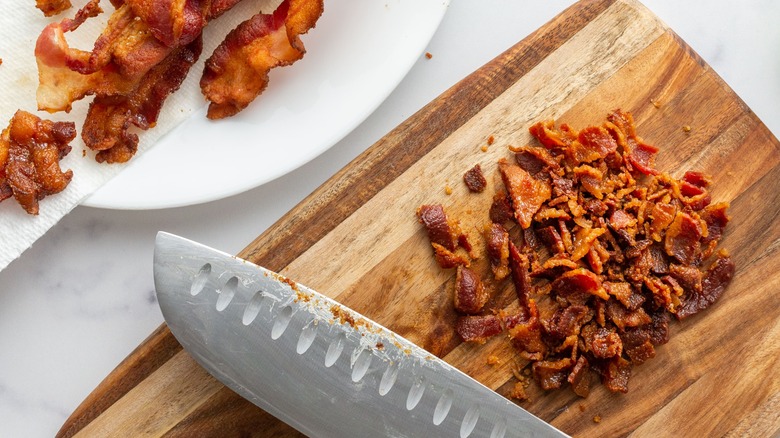 Liz Capozzoli/Mashed
While you're waiting for the tots to brown, cook the bacon in a skillet until it is fully cooked. Once it is crispy, place it on a paper towel to allow it to drain and cool. After it has cooled, chop it into small pieces, and set those pieces aside. If you'd like a substitute for the bacon, ground sausage is an alternative. Capozzoli notes that Italian hot, sweet sausage, or Chorizo sausage would also be amazing with this dish, adding that if you are using sausage, cook it until it is brown and then crumbling it on top of the melted cheese.
Slice the scallions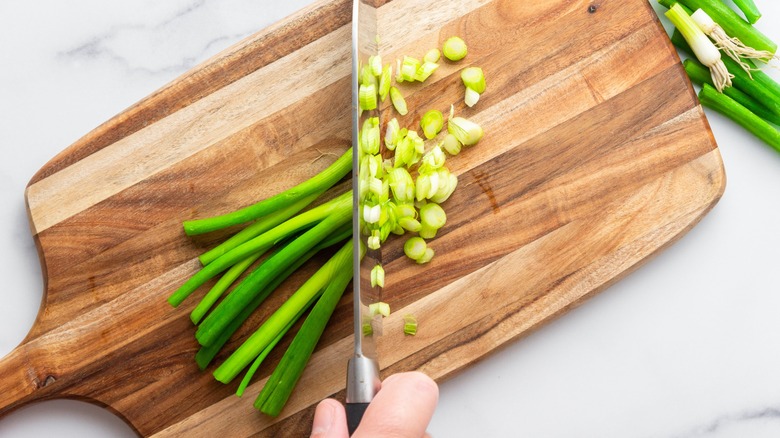 Liz Capozzoli/Mashed
Now, you can move on to preparing the scallions. Scallions are basically young green onions. They're a little thinner than green onions, and they not only add a pop of color to the totchos, but they also add a sharp and spicy flavor. Green onions would be a fine substitute, though. 
Capozzoli recommends cutting the scallions into thin, angled slices because that creates more of a cut surface area, which allows additional freshness to come through. 
Remove the tots and add the cheese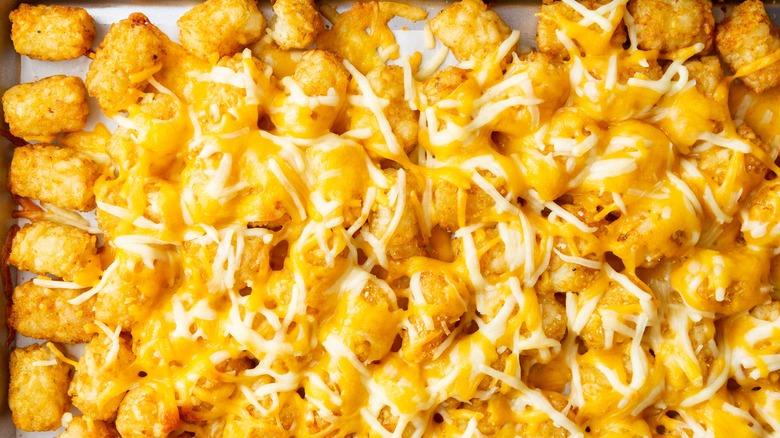 Liz Capozzoli/Mashed
When the tots are nice and golden brown, remove them from the oven and sprinkle the cheddar cheese evenly across the tops. If you're not a fan of the sharpness of cheddar cheese, Capozzoli says shredded mozzarella, Monterey jack, Gruyère, or provolone cheese would make a good alternative. Once the tots are covered with the cheese, place the pan back in the oven for about five minutes or until the cheese melts. Once it's melted, remove the pan from the oven.
Add the rest of the toppings to the loaded potato totchos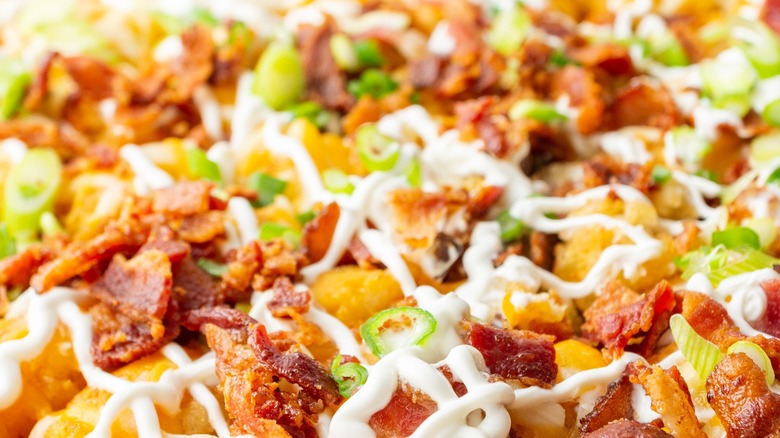 Liz Capozzoli/Mashed
Next up is the bacon, which you should sprinkle evenly over the top of the tots and cheese. Once that's done, you'll want to move on to the sour cream. You can dollop it on with a spoon or, if you're feeling more creative, place it in a piping bag and drizzle it evenly over the tots. The last item to add is the chopped scallions, which should also be sprinkled evenly over the totchos.
Serve and enjoy these loaded potato totchos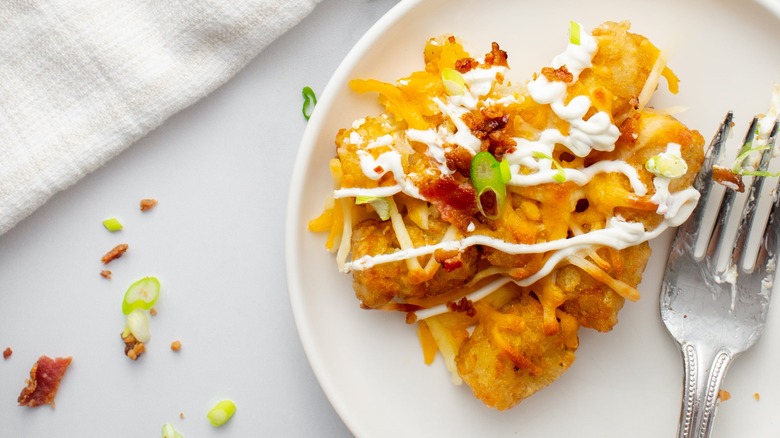 Liz Capozzoli/Mashed
Once you've sprinkled the scallions on your totchos, they are ready to be enjoyed. They're best served warm, maybe as an appetizer or as a game day snack. You could also serve these with most meals as a tasty replacement for a baked potato. Capozzoli recommends pairing it with a juicy steak, baked chicken breast, or even a bowl of soup. And is anyone else thinking breakfast? These would make a great morning meal. 
Loaded Baked Potato Totchos Recipe
Totchos, aka tater tot nachos take just 15 minutes of prep time. This loaded baked potato totchos recipe is the side dish that'll have you begging for more.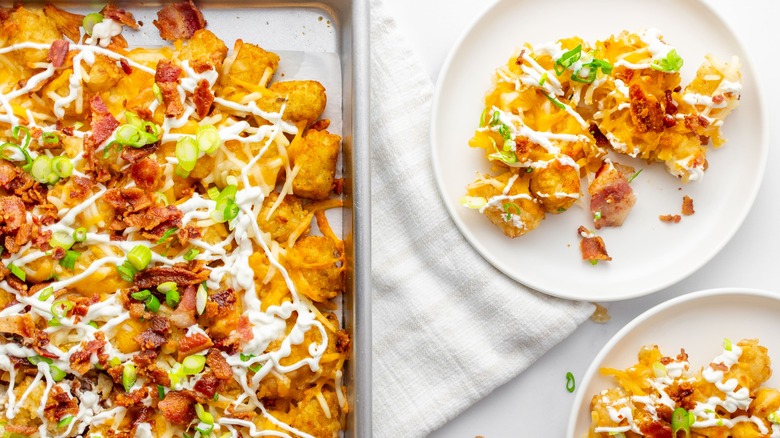 Ingredients
32-ounce bag plain, frozen tator tots
12 ounces bacon, approximately 9 to 10 strips
3 to 4 scallions
⅔ cup sour cream
8-ounce bag shredded cheddar cheese
Directions
Preheat the oven to 400 F.
Place a piece of parchment paper on a baking sheet. A 9x13-inch sheet pan is a good size to fit one bag of tater tots, but any size pan can be used!
Pour the frozen tater tots onto the pan and arrange them into an even layer.
Bake the tots for about 25 to 30 minutes until golden brown and crisp.
Meanwhile, cook the bacon in a large skillet for about 10 minutes, turning occasionally until fully cooked.
Remove the bacon from the pan and drain on a plate lined with a paper towel.
Allow the bacon to cool, then chop it into small pieces with a knife. Set it aside.
Prepare the scallions by cutting into thin, angled slices.
When the tots are ready, add the shredded cheddar cheese on top and bake for about 5 minutes more, or until the cheese is melted.
When ready, remove the tray from the oven and sprinkle the bacon on top.
Drizzle the sour cream evenly over the surface of the tots.
Sprinkle on the chopped scallions.
Serve warm.