Pizza Hut Is Reviving This Popular '90s Menu Item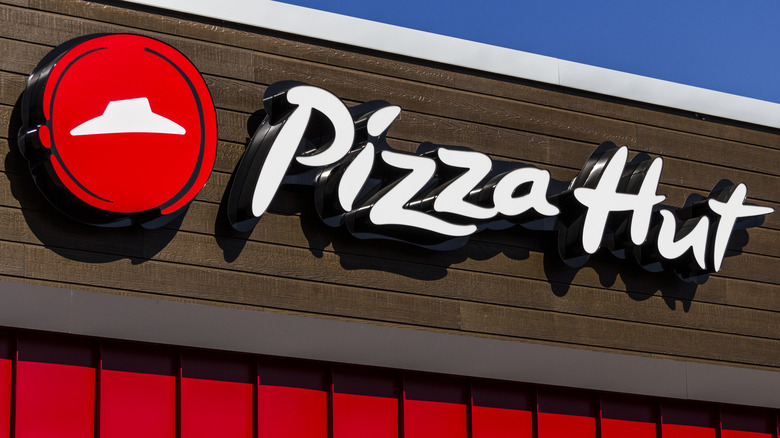 Shutterstock
Pizza Hut is ready to make '90s fans happy with this throwback pizza from 1997: The Edge, as noted by Yahoo! Finance. Available for a limited time (and at limited locations), this throwback pizza is considered tavern style due to it's cracker-thin crust and cut style yielding 16 slices. Toppings go from edge to edge, thus the name. The pizza is available for a suggested retail price of $12.99, although you may see rates slightly higher at some locations. The Edge is available in four pre-set varieties, including The Ultimate with pepperoni, Italian sausage, green bell peppers, red onions, and Roma tomatoes; The Carnivore with pepperoni, ham, Italian sausage, and bacon; The Vegetarian with green bell peppers, red onions, mushrooms, and Roma tomatoes; and The Pepperoni Lover's®, unsurprisingly piled with pepperoni (via Pizza Hut).
As YouTuber Johnny Clyde describes it, "The Edge pizza is unique from other pizzas at the pizza chain, consisting of a 'cracker-thin' Thin 'n Crispy crust, a sweet tomato sauce only available on The Edge, a proprietary blend of garlic and herbs, and is covered from edge to edge with your choice of one of four topping combinations." Clearly more than a simple redistribution of toppings, fans enjoy the extra details that make this pie special.
A tasty campaign of newstalgia
As fellow pizza fan Jason Song comments on YouTube, "I love how Pizza Hut is bringing back this classic — so nostalgic. Memories of the BIG FOOT pizza come to mind too lol! I'm a super supreme kind of guy but gotta hand it to Pizza Hut with this Pepperoni lover pie — looks scrum-diddly-umptious!" Song's comment on nostalgia demonstrates the new marketing campaign by Pizza Hut titled "Newstalgia" (via Pizza Hut Blog). 
The "Newstalgia" campaign is breathing life back into our '90s favorites, launching a retro Pac-Man promotion last month, bringing back our beloved "Book it," and now adding "The Edge" from 1997. Pizza Hut is not alone in tapping this '90s nostalgia market, although they are definitely doing it well. In food we're also seeing throwbacks from brands such as Burger King, Taco Bell, and McDonald's (hello Hi-C!). These retro items are also coming back in the toy department, in fashion, and more because Millennials now have buying power as 30 and 40 year olds, often have kids of their own, and honestly simply appreciate a sweet trip down memory lane (per Forbes).
Take advantage of this limited time offer before it's gone! We can't wait to see what the next throwback will be.