Pizza Hut Is Reviving Its Popular Book It! Deal For Summer
In the latest installment of their "Newstalgia campaign," Pizza Hut is bringing back the popular Camp BOOK IT! program as part of a new promotion.
A spin off of the uber popular '80s and '90s push to get kids to read more, the new (and now digital) summer program runs from June to August and allows children in Pre-K to 6th grade (ages 4 to 12) to track all the books they read. If they hit certain targets each month, they'll get rewarded with a free one-topping Personal Pan Pizza. Pizza Hut will also offer reading recommendations and other activities on the official website to keep the little ones — and their parents — engaged. Throwback T-shirts are also available.
"The BOOK IT! Program was such an integral part of the heyday of Pizza Hut and the childhoods of those we're reaching with our Newstalgia campaign," Lindsay Morgan, Pizza Hut's Chief Marketing Officer, said in an official press release. "It's amazing to now be able to make reading fun for the next generation with great pizza, great books, and engaging activities to fill their summer break, especially as uncertainties remain in the coming months."
The Book It! Program hits heavy with nostalgia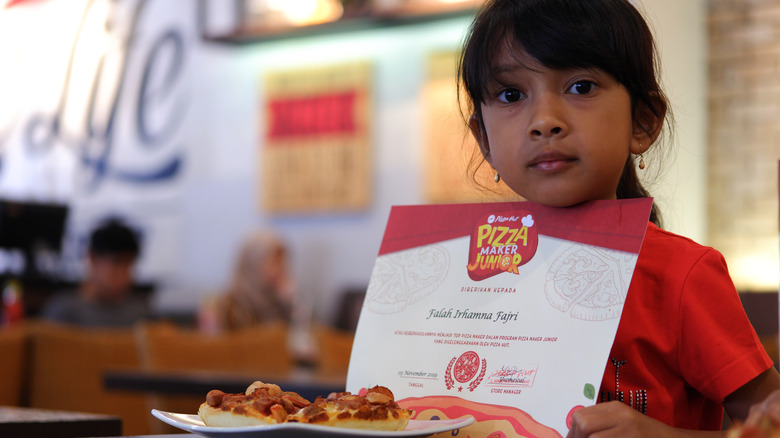 Shutterstock
As the title of the campaign might suggest, the Newstalgia roll-out repackages Pizza Hut's nostalgic hits from yesteryear to play on the childhood memories of now fully grown adults — who may have kids of their own. While the amount of people that have the fond memories of the BOOK IT! program may or may not be as large as Pizza Hut assumes, simple digging finds a good number of memories, like this Twitter thread. In 2020, Food & Wine published a piece by journalist Kim Kelly who reminisced on how their family continuously scammed Pizza Hut out of personal pan pizzas with all the books they read. 
In 2014, Pizza Hut claimed on Twitter that between 1984 and that year, about 20% of Americans participated in the program. So, even with a little variation, a horde awaits. Pizza Hut also previously announced that anyone who had participated previously can still engage as an alumni to receive a personal pan pizza for old time's sake. If you need something a little extra, the chain is also offering a new $10 Tastemaker deal as part of the new promotion, allowing you to choose up to 3 toppings on a large pie and show off your individuality.