Trader Joe's Fans Are So Excited For The Return Of Its Halloumi Cheese
From the grill to the air fryer, Trader Joe's fans are ready to get cooking because halloumi cheese has been spotted on store shelves. According to @tradersjoeslist on Instagram, it has returned to store shelves and is priced at just $5.99 for an 8 ounce bag. Referred to as the cheese that grills, the texture can seem meaty or heartier after getting that touch of char on the outside, but the cheese doesn't melt completely. Not quite a food wonder, but it is definitely a flavor to remember.
Many Instagram comments shared how to use the halloumi cheese. From a simple salad topping to an appetizer with red chili oil, the options are many. Some summer recipe ideas included pairing the cheese with watermelon and various herbs. It seems that the slightly salty cheese and the sweet watermelon compliment each other, similar to the idea of watermelon and feta. Others shared ideas about seasonings for the cheese, like zatar or oregano. However, some wondered what exactly halloumi cheese is.
The ingredients found in Halloumi cheese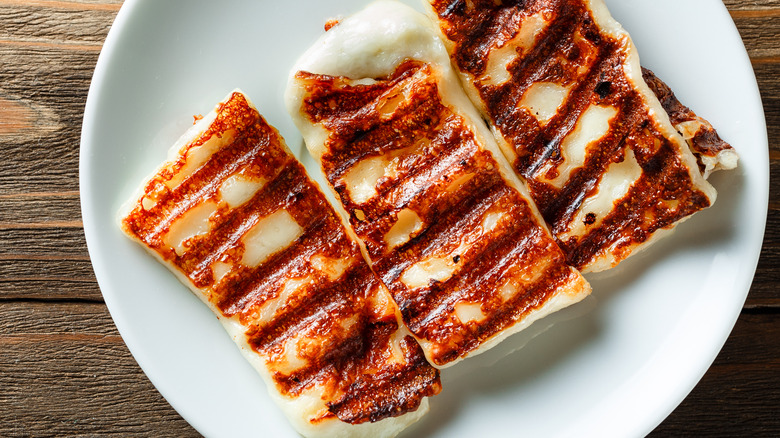 Shutterstock
This style of cheese is usually a combination of goat and sheep's milk. Since it has a high fat content, it is usually served grilled, but can be eaten raw. When consumed raw, the texture is more crumby, similar to a feta. But the grilling aspect is why many people are drawn to this variety, since the high melting point and firm texture make the halloumi cheese produce a crisp edge and gooey center. Some even say the texture is like that of a perfectly charred marshmallow.
When serving this type of cheese, there are also a variety of recipes. From a simple grilled cheese sandwich to an ingredient in a salad to just grilled with a little jam, there are plenty of choices. Like any recipe, the idea is to play off the saltiness of the flavor and the contrasting textures. When everyone else is putting burgers on the grill, why not cook a piece of halloumi cheese and impress everyone with a flavor that is heavenly.