Here's How Martha Stewart Prefers To Be Served At A Restaurant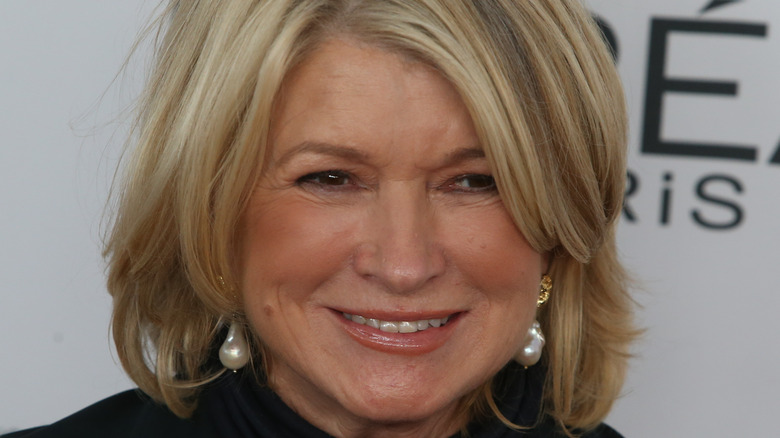 Shutterstock
Martha Stewart is not a regular domestic goddess. She's a cool domestic goddess. Just a laid-back, easy-going, totally casual kind of lady. She chills with Snoop. She has her own line of CBD products. And if you're a restaurant server who thinks that standing at attention next to Martha Stewart's table is going to put you in the goddess' good graces, you've got another thing coming, mister. "I like attentive service," Stewart explained in an interview with Geoffrey Zakarian, per Food52, "but not too attentive, not hovering." The queen of clean and tidy may love a perfectly made bed, and miscounting her peacocks (like someone at the New York Post did recently) is sure to ruffle her feathers (via Town and Country). But when it comes to restaurant service, Stewart likes everyone to just be cool.
Perhaps this is because Stewart is such a busy woman that she is often grabbing food on the go. In a recent interview with Town and Country, Stewart listed some of her favorite spots for a quick bite to eat while she's running around Manhattan, and not once did she mention sitting down for a leisurely lunch. "I can run the whole gamut up and down Manhattan," Stewart says, crediting a sandwich shop in the West Village, a café near Fifth Avenue, and Papaya King, the famous hotdog stand, at 86th Street, for keeping her fueled as she takes on the world. No wonder she likes to be left alone when she finally gets to sit down to a meal.
If Stewart is starting to slow down, it's hard to tell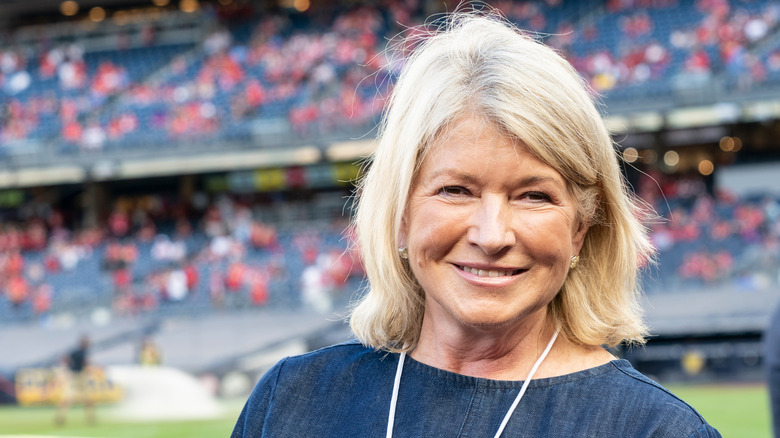 Shutterstock
Perhaps the staff of Martha's coffee shop were instructed on the proper anti-hovering etiquette before her café opened in New York a few years back (via People). The café, now closed, was just one of the media mogul's multiple business endeavors; in addition to dipping a toe into the world of restaurants, Stewart has founded magazines, starred in television shows, partnered with Michaels and Kmart on her own brand of products, and launched a meal-kit service (via Martha Stewart).
Is it the attention to detail — the "be attentive, but don't hover-"ness — of Stewart's personality that makes her so successful? Or is it that zen, chilled-out, lady of leisure that lives inside the busy businesswoman that Stewart credits for her success? She once told Entrepreneur, "My life is my job, and my job is my life." And while not everyone wants to achieve that particular work-life balance paradigm, it's undeniable that whatever Stewart is doing, it works for her. At 79 years old, Stewart is as proud of her Instagram photos as she is of the empire she's built, per Today, and rightfully so. After all, as she says on her own website, "The more you adapt, the more interesting you are." 
Write that down, restaurant server. And then scram.