The Mysterious Origins Of Penne Alla Vodka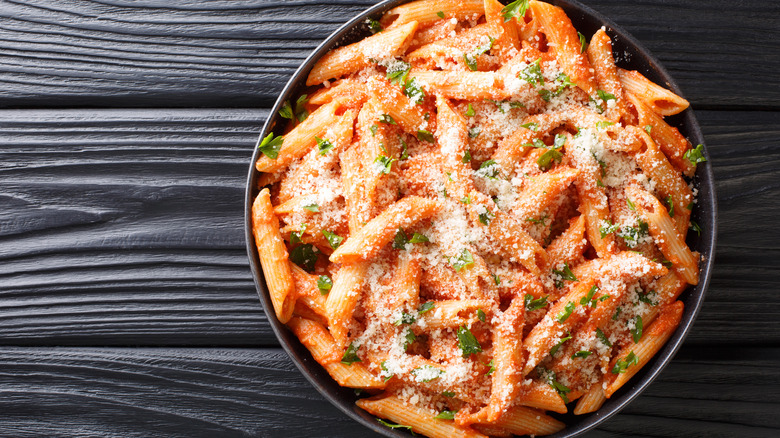 Shutterstock
Many Italian restaurants in the US include penne alla vodka on their menu. Penne all vodka is made with penne pasta and a vodka sauce. The vodka sauce is usually made of vodka, of course, along with tomatoes, heavy cream, herbs, and occasionally some flour to thicken the sauce (via Strega By Nick Varano). So, a vodka sauce is that creamy pink sauce with a splash of booze that sits somewhere between a tomato sauce and an Alfredo sauce.
According to Taste Atlas, penne alla vodka is so common in America that it happens to be the fourth most popular pasta dish in North America, next only to spaghetti and meatballs, ziti, and the good ol' bowl of Mac and cheese. Considering it is a pasta dish, many believe it to be a no-brainer that penne all vodka originated in Italy. However, because of its popularity in America, some assert that penne alla vodka was actually invented in New York. In the states, two people lay claim to its invention (via Foodicles).
Many people claim to have invented penne alla vodka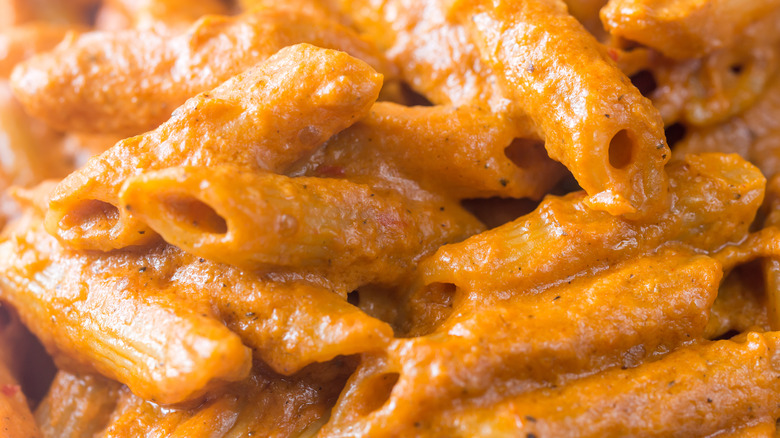 Shutterstock
The first is Chef Luigi Franzese, who worked at Orsini Restaurant in New York. His daughter, Paula Franzese, claims that it was her father who invented penne alla vodka while working at Orsini in the 1970s (via The Kitchn). He supposedly needed to thin a sauce and used some vodka that he had in his flask to do so. The second claim, and the more popularly believed by food historians one, is that James Doty, a Columbia University graduate, invented penne alla vodka in the 1980s.
Italy, too, has two chefs who claim to have invented the saucy pasta dish. In "The Ultimate Pasta Cookbook," Pasquale Bruno Jr. says that penne alla vodka was invented in Bologna at a restaurant called Dante. On the flip side, the cookbook "Williams-Sonoma Essentials of Italian" claims that it was a chef in Rome who invented the dish for a brand of vodka that wanted to popularize the drink in the country. What better way to do that than by adding the alcohol to a pasta sauce? To substantiate Italy's claim to having created the dish, Barbara Kafka, in her book "Food for Friends," writes that penne alla vodka was already very common in Italy before it gained its fan following in America.
Regardless of its mysterious origins, there is no doubt that penne alla vodka is loved by just about everyone. Mashed even offers a recipe for the best penne alla vodka, if you'd like to make it at home.