This Is The True Origin Of Buffalo Wings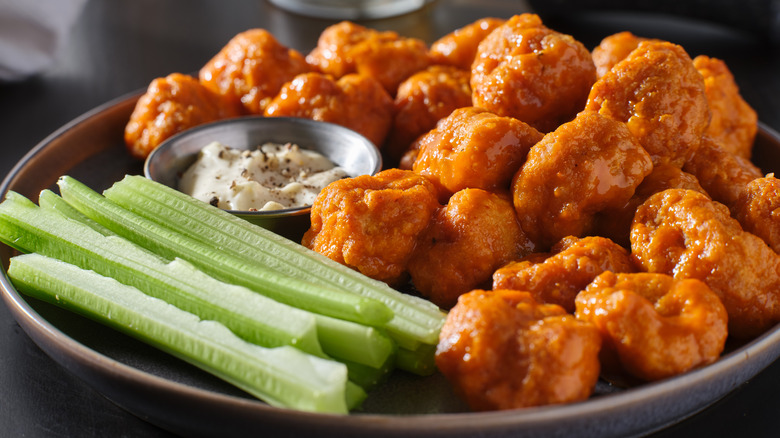 Shutterstock
When it comes to crowd-pleasing, all-American game day comfort cuisine, Buffalo wings are at the top of the list. Whether you prefer them baked or fried, dry-rubbed in savory seasonings or spun in succulent sauces, dunked in ranch or bleu cheese dressing, bone-in or boneless, or in the shape of flappers or drumsticks, wings pretty much always hit the spot. Buffalo wings can be found on gastropub menus all around the world, and each eatery typically puts its own twist on the appetizing dish. Wings have also become a pop culture sensation over the years, as they are the stars of spicy food eating contests, including a certain famous YouTube series featuring daring celebrities, Hot Ones.
Like several origin stories of popular foods, the birth of the Buffalo wing is one that's serendipitous, clever, and seriously heartwarming. And it's all thanks to a mom who wanted to feed her son and his hungry friends in the city of — you guessed it — Buffalo, New York (via Insider). Here's how this fan-favorite got its start.
How and where were Buffalo wings invented?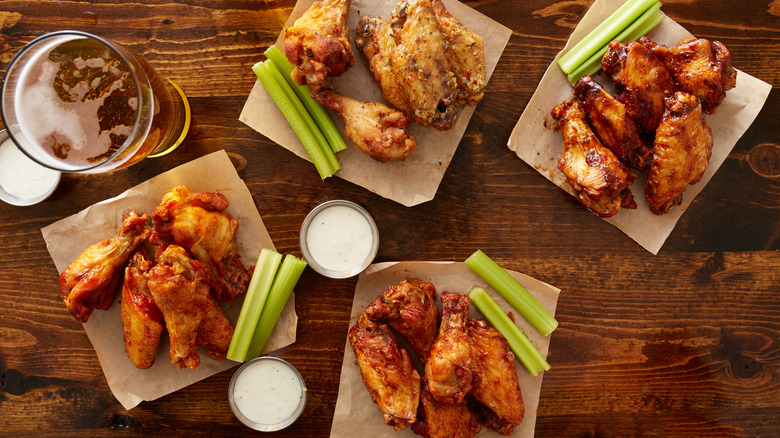 Shutterstock
Let's get saucy, shall we? The real life culinary legend started at Anchor Bar, located at 1047 Main Street, Buffalo, New York (per Insider). An Italian-American woman named Teressa Bellissimo co-owned and co-founded the bar in the 1930s with her husband Frank. When he reached the legal age to work, their son Dominic also worked there as a bartender.
One night, in 1964, Dominic and a few friends stopped by the bar around 2:00 a.m., inching toward closing time. Dominic asked his mother Teressa if she could so kindly whip up a quick meal for him and his hungry pals. She entered the kitchen and noticed a stockpile of extra chicken wings. (It's good to keep in mind that chicken wings were traditionally used to flavor stocks and broths and were tossed out afterwards.) Realizing that the wings were still in perfectly good condition, Teressa cooked a tasty meal from the would-be scraps. She doused the wings in her own sauce recipe and served them with a side of bleu cheese dip and celery — basically the only edible noshes she had on hand at the end of the night (via Time). And, of course, the boys happily gobbled them up! At that moment, Buffalo wings were born. Since that very night, they have become a customary staple.
One last fun fact: According to Michelle Buchholz, the current marketing director at Anchor Bar, "Buffalo wings" is a term only used by out-of-towners. To locals, they are simply known as chicken wings.