These Are Bobby Flay's Dream Dinner Party Guests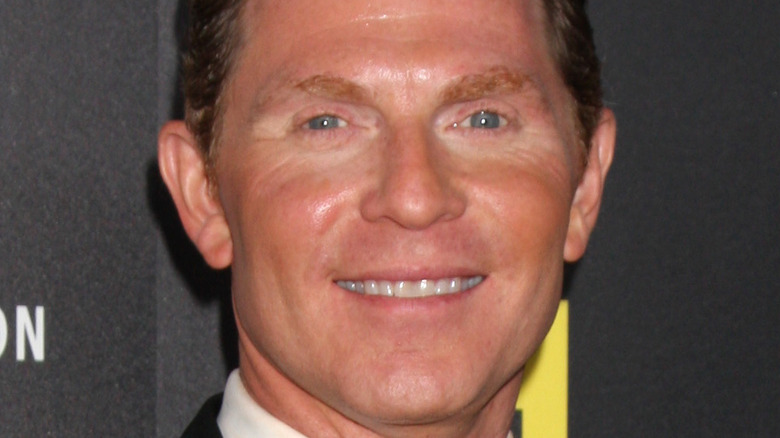 Shutterstock
Good ol' Bobby Flay. The chef, restaurateur, podcast host, and occasional thrower-downer just isn't happy until there are bums in seats and food on plates. As his popular television shows "Beat Bobby Flay" and "Bobby and Giada in Italy" have proven, Flay will do whatever it takes to bring people the best the food world has to offer, including challenging peasants to duels and traveling to romantic culinary hotspots on the network's dime, respectively. According to People, he and his Maine Coon cat, Nacho, are even working on a line of cat food and treats for any furry feline friends who might've felt a little left out by Flay's feeding fanaticism.
For a man so busy setting the scene and serving the goods for everyone else, one can't help but wonder: When the grilling guru finally sits down to dinner at his own table, who does he want sitting next to him? Rachael Ray pondered the same thing aloud in 2005, when she pressed Flay for his dream dinner party guest list. "I'd ask Bill Clinton, Muhammad Ali, Marilyn Monroe, Bruce Springsteen and Bono," Flay replied. "That would be a fun conversation because we'd cover so many topics."
Though it's certainly not a guest list to sneeze at, it did seem very reflective of the times we lived in in the early aughts. And also, perhaps, slightly hurtful? "Of course, I'd want you to come, too," Flay added, assuaging Ray's concerns (and our own) about the solidity of their friendship. "You could bring the eggs!" So, that's nice.
Bobby Flay's dream home gets him one step closer to his dream dinner party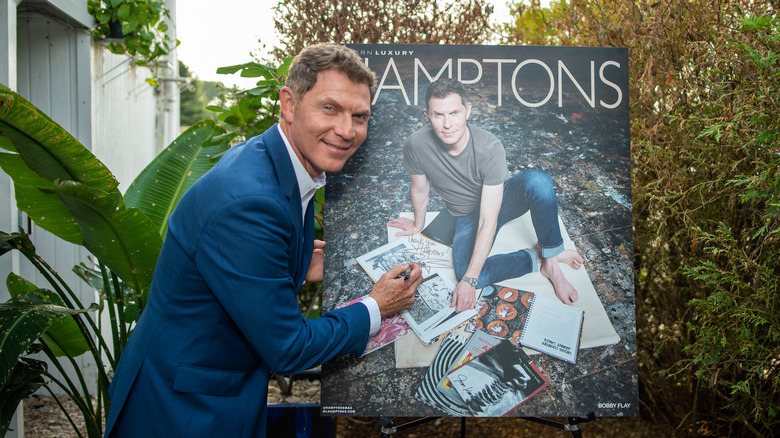 Mark Sagliocco/Getty Images
More recently, Bobby Flay made strides towards his dream dinner party. People reports the celebrity chef purchased a $7.6 million home in the Bird Streets neighborhood of Los Angeles earlier this year and worked closely with an architect to create an outdoor kitchen fit for the gods. Or, at least, fit for Bono. "The state-of-the-art kitchen now includes a pizza oven and an Argentinian-style grill to enhance the already majestic outdoor deck and pool area," Flay's spokesperson said.
Now that the dream is becoming a reality, is Flay having second thoughts about the guest list? In an interview with Hamptons in 2018, Flay's invitations showed signs of evolution: "I'd love to make a plate for President Obama and Michelle Obama," he said, "so we could continue to discuss getting kids to eat better."
He kept his late, great favorite Muhammad Ali on the list, but when asked to set a fantasy holiday table, the rest changed significantly since he first discussed it with Rachael Ray. "Willem de Kooning and Joan Mitchell so we could hear about the Hamptons in the 60s, Julia Child and Wolfgang Puck because I know they'd bring a delicious dish or two, and Walter Cronkite. He'd have some great stories," he said.
Perhaps Flay has gotten wiser as he's matured, perhaps he's just pandering to the crowd with the Hamptons reference. Either way, the name "Rachael Ray" was noticeably absent from the list. So, if you don't get an invite to the housewarming party, Rach, maybe get those eggs ready anyway ... Wink wink.