3-Ingredient Banana Pancakes Recipe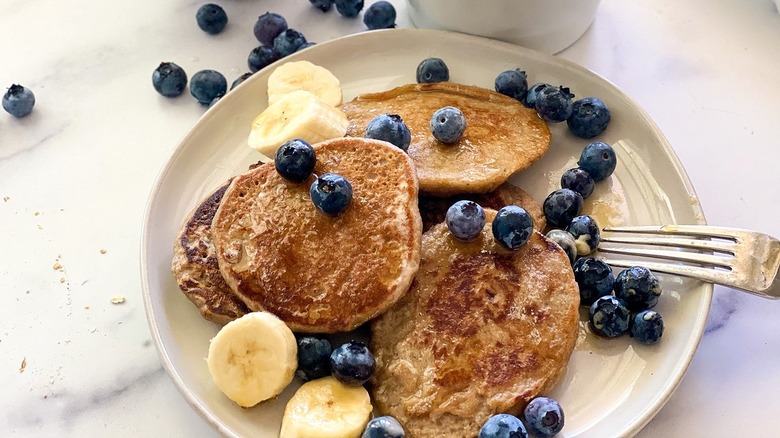 Miriam Hahn/Mashed
When it comes to breakfast, pancakes are a classic and delicious option. There's nothing quite like a hearty, wholesome, and filling stack of pancakes, and the dish is truly a breakfast classic. But while pancakes are delicious, they aren't always the healthiest option, and many people prefer to have a slightly lighter, more nutrient-dense meal. Well, what if you could transform pancakes into a nutritious meal without sacrificing any of the flavor?
Thanks to recipe developer and wellness coach Miriam Hahn's 3-ingredient banana pancake recipe, it's never been easier to enjoy pancakes while also packing in delicious flavors and nutrition. "They are very healthy," Hahn explains of these pancakes, which include a banana, rolled oats, and almond milk as the main ingredients. "The oats are loaded with protein, fiber, and minerals as compared to flour, which usually is stripped of nutrients. The banana offers antioxidants and fiber as well. So much better than a pre-made processed pancake mix with unwanted additives."
The best thing of all? These pancakes are a breeze to make, coming together in less than 15 minutes and only taking minimal ingredients to prepare. If you're looking for a healthy and easy alternative to traditional pancakes, give these 3-ingredient banana pancakes a try to transform your mornings!
Gather your ingredients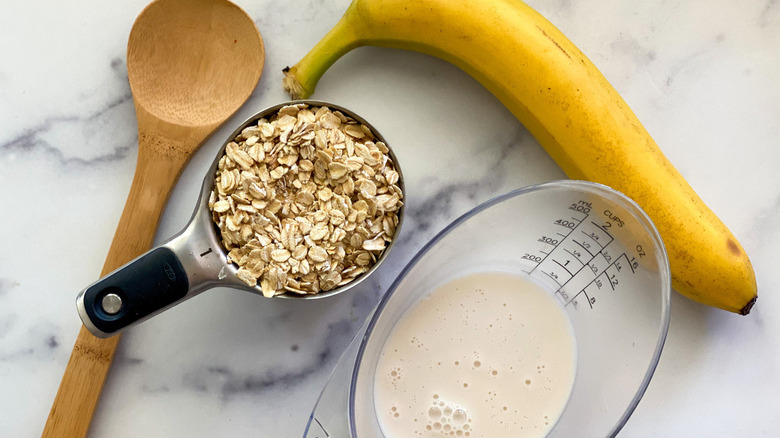 Miriam Hahn/Mashed
To get started on your 3-ingredient banana pancakes, you'll need to gather the necessary ingredients. Luckily, the ingredients for these pancakes are incredibly simple — you'll need just one banana, rolled oats, and almond milk. Hahn notes that you can use any type of milk that you'd like, and you may need a few extra ingredients like butter, syrup, or fresh fruit to add on top of your cooked pancakes. You can also add in cinnamon or vanilla to the batter, if you have them on hand, to add extra oomph. You'll also need a blender, a pan, and some cooking spray to combine the ingredients and then cook them into pancakes. 
Blend your rolled oats, banana, and almond milk together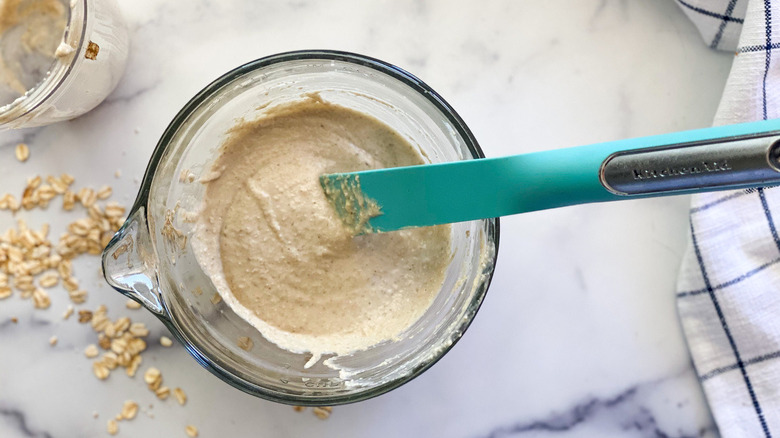 Miriam Hahn/Mashed
Once you have your ingredients measured out, you can get started on preparing your pancake mixture. In a blender, go ahead and add your banana, rolled oats, and almond milk (or whatever milk you prefer to use). Blend these ingredients until you have a nice, thick, and smooth texture. By blending the raw oats, you'll notice the wonderful oat flavor in the pancakes once you cook them. And, combined with the banana and almond milk, this pancake batter is packed with healthy yet delicious flavors.
Heat your skillet and add the pancake mixture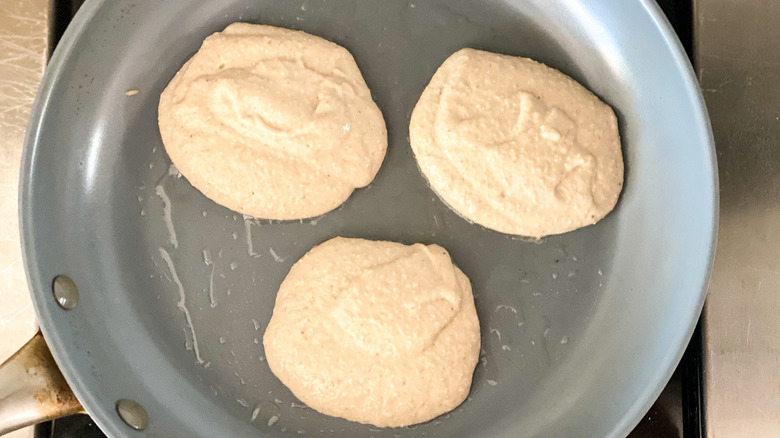 Miriam Hahn/Mashed
Once you've blended your batter, you can get started on cooking your pancakes. First, spray a pan or skillet with nonstick cooking spray and then heat it up over medium heat. Then, using a ladle, pour some of your pancake batter onto the pan, forming a couple of 4- to 5-inch wide pancakes (depending on the size of your pan, you may need to do two rounds). You can also make larger pancakes, and you'll have enough batter to make about three of those. Allow your pancakes to cook for about five minutes, and then you can get ready to flip them.
Flip your pancakes and allow them to cook on the other side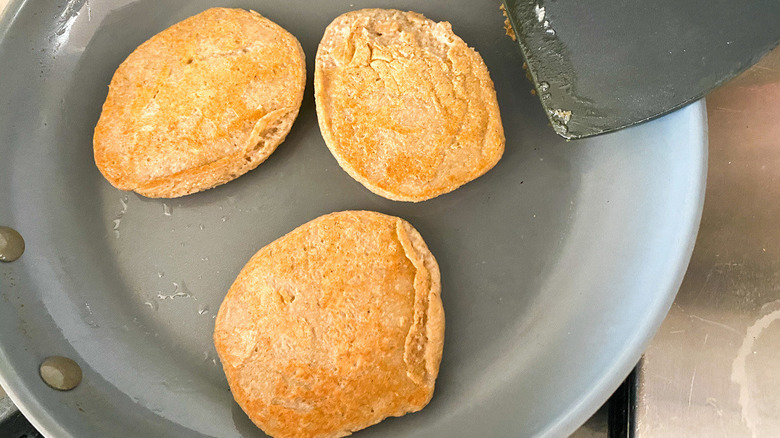 Miriam Hahn/Mashed
After your pancakes have cooked on one side for about five minutes, they're likely ready to be flipped. You'll know that the initial side is done cooking once the edges start lifting and turn golden brown. At that point, you can go ahead and flip your pancakes to allow the other side to cook. You'll notice that the pancakes have a beautiful golden brown color, and the scent of banana and oats will infuse your kitchen. Allow the other side of the pancakes to cook for another 4 to 5 minutes, and then go ahead and remove them from the heat.
Top your pancakes with butter, syrup, and fruit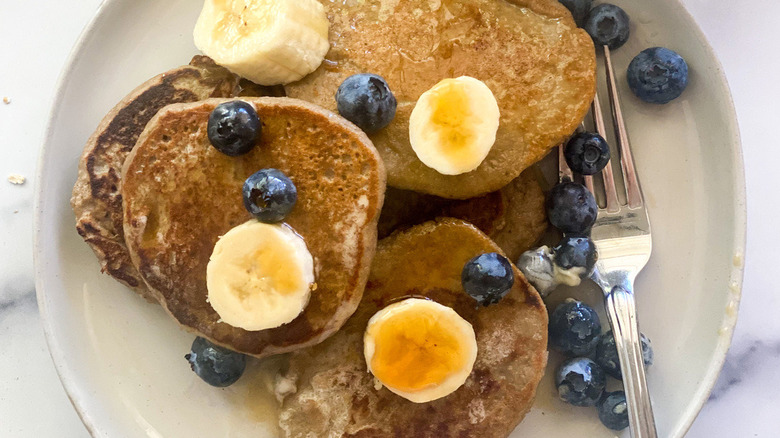 Miriam Hahn/Mashed
Once you're finished cooking your pancakes, you're ready to serve and enjoy them! Hahn notes that butter, syrup, and fruit toppings like sliced bananas and blueberries are great on these pancakes, and they pair wonderfully with a cup of coffee. Also, you can prep these ahead of time and store them in the fridge for up three days for an easily re-heatable breakfast or snack. If you're looking for a quick, easy, and nutritious alternative to traditional pancakes, these 3-ingredient banana pancakes will quickly become your go-to for busy mornings!
3-Ingredient Banana Pancakes Recipe
Looking for a tasty, healthy breakfast that's also super easy to put together? Look no further than these 3-ingredient pancakes for a nutritious meal!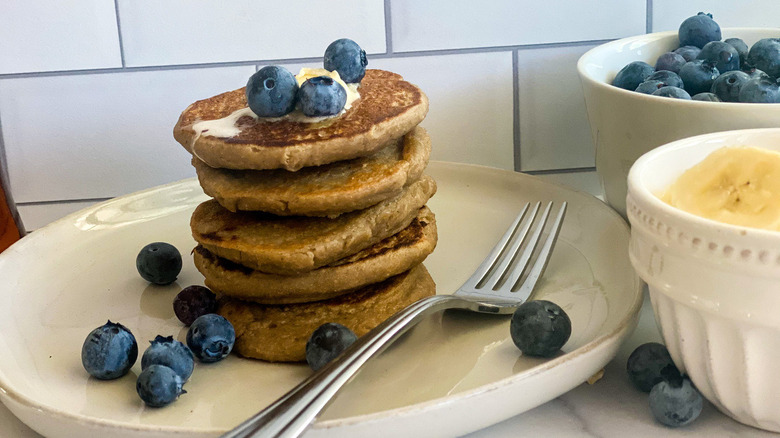 Ingredients
1 banana, cut into pieces
1 cup rolled oats
½ cup almond milk (or any type of milk)
Directions
Add all 3 ingredients to a blender. Blend for about a minute until the mixture is smooth.
Spray a frying pan with cooking spray and heat the pan over medium heat. Ladle out some of the pancake mixture to form a 4- to 5-inch wide pancake (or you can make 3 larger pancakes). Cook until the edges are lifting and getting golden brown. This takes about 5 minutes. Flip and cook 4 to5 minutes on the other side.
Top with butter, syrup, and fruit and enjoy!
Nutrition
| | |
| --- | --- |
| Calories per Serving | 83 |
| Total Fat | 1.4 g |
| Saturated Fat | 0.3 g |
| Trans Fat | 0.0 g |
| Cholesterol | 0.0 mg |
| | |
| --- | --- |
| Total Carbohydrates | 16.5 g |
| Dietary Fiber | 2.2 g |
| Total Sugars | 3.1 g |
| Sodium | 17.8 mg |
| Protein | 2.6 g |