This Cereal Dispenser Set At Costco Is Perfect For Families
Many families appreciate that food storage is a pantry essential and Costco has a cereal dispenser set that shoppers are loving. As seen on the @CostcoBuys Instagram account, the OXO 2-piece POP cereal dispenser set is available in warehouses for just $19.99. While the account equates the size to approximately "the size of a family-sized cereal box," the containers seal tight and have pop-open lids. For cereal lovers who want fresh cereal or for people who prefer an organized pantry, this OXO cereal dispenser set will be a must buy. A quick search on the Costco website does not show this cereal dispenser set available online. But there is a 9-piece OXO POP container set available for $59.99. It might be best to check with local warehouses for exact availability.
According to OXO, this storage container has an airtight silicone seal which helps to keep cereal or other snacks fresh. Designed for ease of use, the pop-open lid, with its specifically designed spout, are meant to create a "smooth-pour." Comfortable to grab even when full, this cereal container balances function and style. While not exactly modular, it can help to streamline pantry storage. When not purchased via the Costco deal, OXO has a suggested retail price for the single 4.5QT storage containers of $22.99.
Can a cereal dispenser be used for other storage purposes?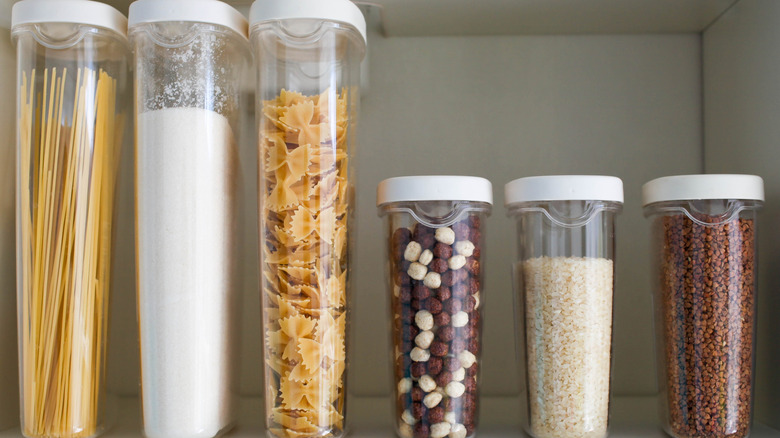 Shutterstock
Some parents have experienced the moment when they open the cereal box only to find that the kids have left only crumbs behind. While a cereal dispenser can help families visually see the amount of cereal available on the pantry shelf, the reality is that those storage containers are not limited to storing Cheerios.
While the Chicago Tribune ranked its best cereal storage containers, it raised the concept of other uses for those dispensers. Since many of the lids offer airtight storage, the containers are perfect for keeping food fresh, humidity out, and simply keeping items organized. For example, that cereal dispenser can be used for pasta, flour, or even candy. And, since sometimes a bigger container set comes with little containers that can be impractical for food, those items can be used for crafting or even keeping things dry by the beach or lake. In the end, just because the name on the box says cereal, does not mean that cereal is the only thing that can be stored within.