Easy Chicken Egg Roll Recipe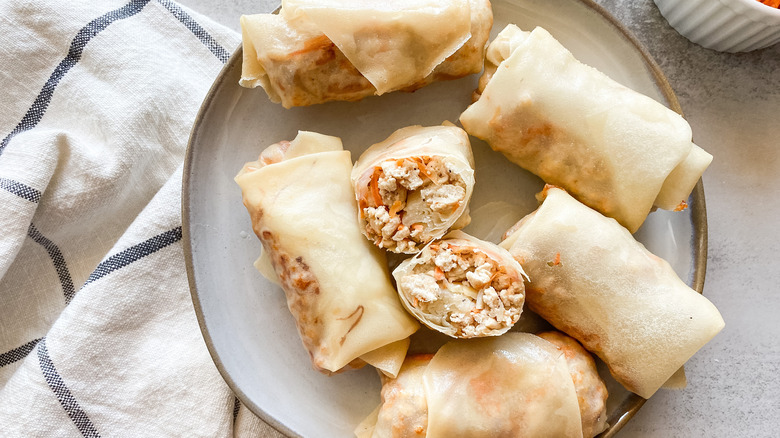 Kristen Carli/Mashed
Everybody loves egg rolls, and chicken egg rolls are the perfect appetizer or accompaniment to many Asian-themed meals you may want to prepare. This easy chicken egg roll recipe is so simple, you'll be wondering if you need takeout egg rolls ever again. There is nothing fresher or tastier than an egg roll you fry up yourself. 
This chicken egg roll recipe is brought to you by recipe developer and private practice registered dietitian Kristen Carli of Camelback Nutrition & Wellness. "Egg rolls are a favorite in my house! I like using ground chicken to use a more lean protein option," says Carli. And we're guessing this recipe will be a new favorite in your house, too.
What you'll need for this recipe is a saucepan deep enough to drop these babies in some oil for frying, as well as a relatively large skillet for sautéing the egg roll filling. The rolling part is basically just like wrapping up a burrito, so you won't need anything but excitement for that step in the recipe.
Read on for more details on how to make these perfect, easy, beginner-chef-friendly chicken egg rolls for your next Asian-inspired lunch or dinner. They are not only something to make as an app or side with a delicious meal, but they are a wonderful finger food to prepare for any party, buffet, or cocktail gathering you may be planning at your home. This is also a great dish to bring to a potluck or picnic.
Gather the ingredients to prepare these easy chicken egg rolls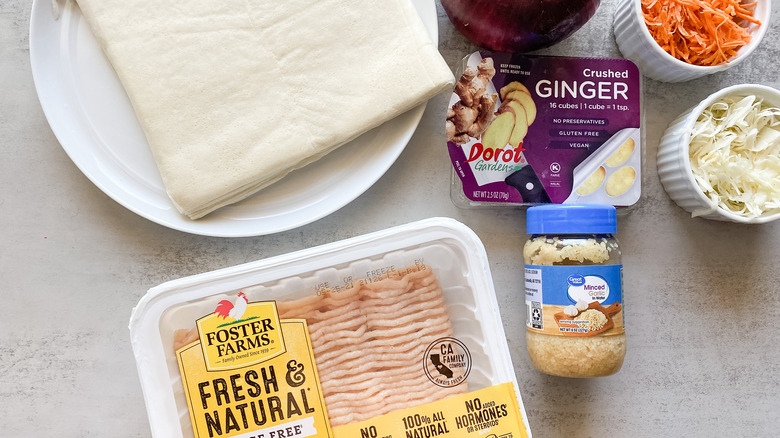 Kristen Carli/Mashed
To get started preparing tasty recipe, make sure that you have all the ingredients you will need prior to beginning the cooking process. For these easy chicken egg rolls, you will need to gather olive oil, minced garlic, crushed ginger, diced red onion, ground chicken, salt, pepper, shredded cabbage, shredded carrots, egg roll wrappers, and canola oil for frying. There's a pretty good chance you already have quite a few of these items in your kitchen, which is a major plus to this recipe.
As a little cheat, you can buy both the garlic and ginger that's pre-mashed and pre-minced to save yourself some time. You should also be able to purchase bagged shredded carrots and bagged shredded cabbage. None of your guests will be the wiser, and we are certainly not going to tell them that you made a few shortcuts. The egg roll wrappers are usually found in the refrigerated part of the produce section of most major grocery stores, so you should not have any difficulty finding them. 
Now you're ready to get started putting this fun dish together!
Sauté the garlic, ginger, and onion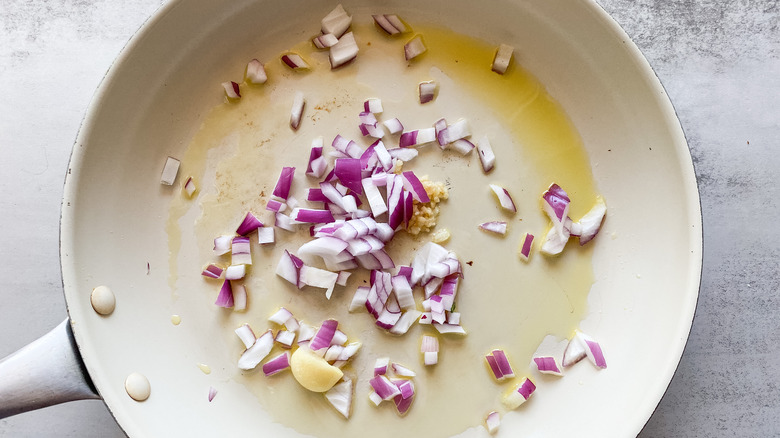 Kristen Carli/Mashed
Once you have all of your ingredients assembled, the first thing you need to do for your easy chicken egg rolls is to start cooking the filling. You're going to heat the olive oil on medium in the skillet over the stove. Like most recipes involving these ingredients, you will add the diced red onion, minced garlic, and crushed ginger to the skillet first. Sauté these items for about five minutes. You'll know these ingredients are done when the onion becomes translucent, and the ginger and garlic are fragrant. Make sure to keep stirring so they do not start to burn.
Your kitchen is going to start to smell pretty amazing at this point in time. If anyone is home, they will be very excited for dinner!
Cook the ground chicken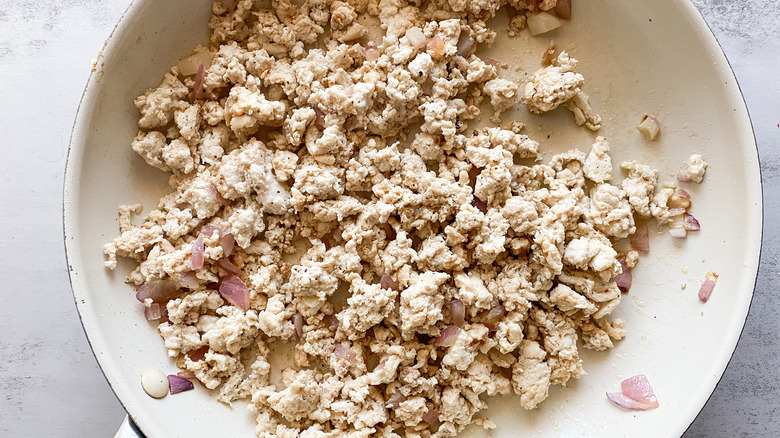 Kristen Carli/Mashed
After you've cooked the onion, garlic, and ginger for about five minutes and everything is done to perfection, put the pound of ground chicken into the skillet. Add the salt and pepper to the chicken meat. Using a wooden spoon, break the chicken up into pieces, and cook the poultry until it is no longer pink. The chicken should be browned on all sides before you proceed to the next step of the recipe.
If chicken is not really your favorite choice, or maybe you're in the mood for something else, you can make a few tweaks. According to Carli, "This [egg roll recipe] would be excellent with ground pork." So if you'd rather sub that in for the chicken, go right ahead. And if you have any vegetarian members in the family, you can consider putting your egg rolls together without any of the meat, and they will still be very tasty and much appreciated.
Add the cabbage and carrots to the skillet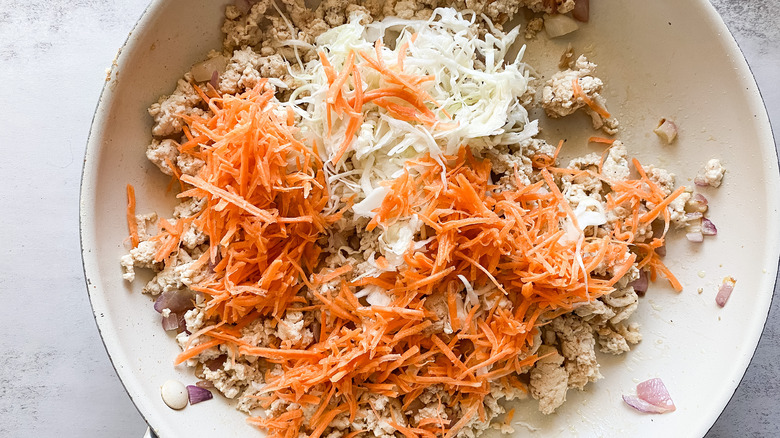 Kristen Carli/Mashed
Once you've cooked up the onion, garlic, ginger, and chicken (or ground pork), you have one more step to take care of before adding ingredients to the egg roll wrappers. The final components of the chicken egg roll filling will be the shredded cabbage and carrots. Add the carrots and cabbage to the skillet, then stir everything together for another five minutes. These items are going to add really pretty color to the mix and quite a lot of taste. In addition, cabbage and carrots are healthy!
All of the ingredients should be well-combined. Turn down the heat to medium-low if necessary so nothing burns. Add salt and pepper to taste if you think you need a bit more seasoning. Just make sure the carrots and cabbage are thoroughly cooked and softened before you turn off the heat and move on to the next step.
Assemble the chicken egg rolls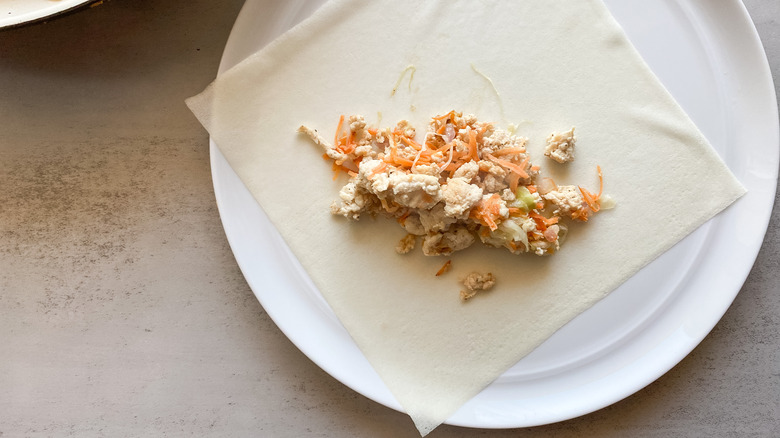 Kristen Carli/Mashed
Once the filling is done cooking and everything is mixed together well, it's time to take out the egg roll wrappers. You can create a mini assembly line with the wrappers, the filling, and a platter to put them on before frying. Assemble your chicken egg rolls by scooping about 1 to 2 tablespoons of the filling into the center of each egg roll wrapper that you put together. Fold both sides of the wrapper in, and roll everything up like you're making a burrito. They will look awfully adorable. Repeat this step with all of the egg roll wrappers until your filling is done.
As far as tips on wrapping up your egg rolls are concerned, Carli offers some suggestions. She says, "My best advice is to roll up the egg roll and place seam side down on a plate. When you are ready to fry, be sure to carefully load these in keeping the seam attached. Sometimes, a touch of water and an extra press helps keep these together." So, if you follow these tips, use your own common sense and don't fret at all — your egg rolls are in good hands and will come out amazing.
Fry up the egg rolls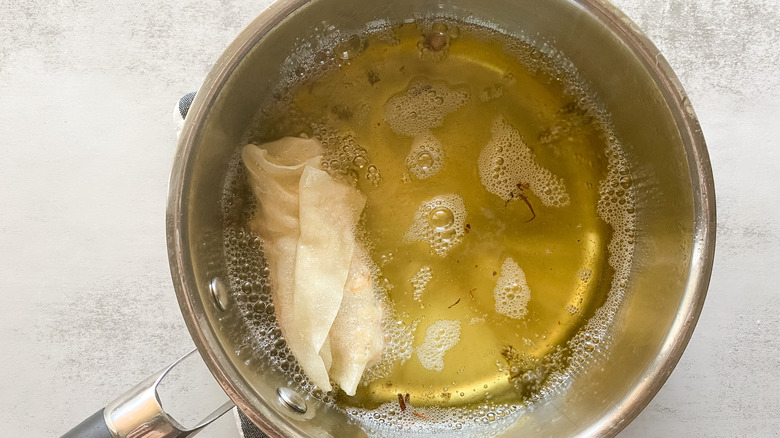 Kristen Carli/Mashed
The final step to this recipe is frying the egg rolls. In a medium saucepan, heat the canola oil until it's sizzling. Add in your egg rolls about three at a time. You are going to cook them for about five minutes until they're lightly browned. Remove your egg rolls from the oil, and set them aside on a paper towel-lined plate to absorb some of the oil. Repeat this step with the remaining egg rolls until you are all done.
It might be a good idea to line the stove around the saucepan's burner with foil, or use a splatter screen, in case any of the hot oil starts to jump out of the pan while you're cooking. It can create a mess, so you can be prepared.
These egg rolls are delicious on their own, but if you want a sauce to complement them, Carli says, "I love dipping these in sriracha mayo or honey mustard with soy sauce." If you want to be creative, you can create little bowls of each of these dipping sauce suggestions, and put them in the middle of your table when serving. This dish is sure to be a major crowd-pleaser and a recipe you will want to make many times in the future.
Easy Chicken Egg Roll Recipe
This easy chicken egg roll recipe is so simple to prepare, you'll be wondering if you need to order takeout egg rolls ever again.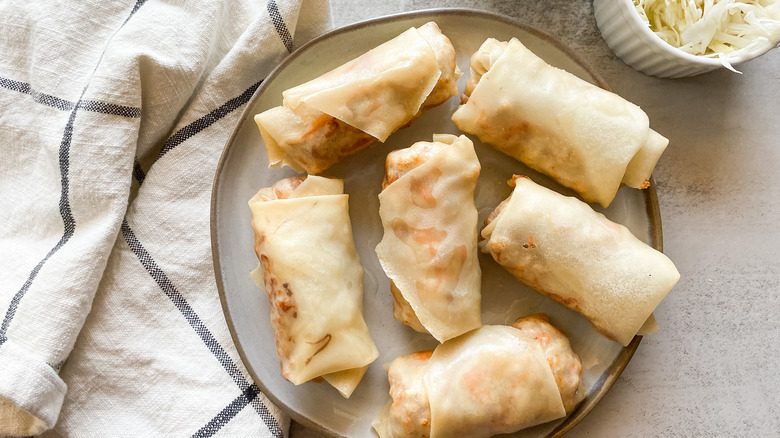 Ingredients
1 tablespoon olive oil
1 teaspoon minced garlic
1 teaspoon crushed ginger
¼ red onion, diced
1 pound ground chicken
1 teaspoon salt
½ teaspoon pepper
½ cup shredded cabbage
½ cup shredded carrots
8 egg roll wrappers
1 quart canola oil, for frying
Directions
In a large skillet over medium heat, add the olive oil. Add the minced garlic, crushed ginger, and diced red onion. Sauté until the onion is translucent, about 5 minutes.
Add the ground chicken, salt, and pepper. Break up the chicken with a wooden spoon. Cook until it's no longer pink.
Add the shredded cabbage and shredded carrots. Cook for 5 minutes, stirring.
Assemble the egg rolls by scooping about 1 to 2 tablespoons into the center of an egg roll wrapper. Fold both sides in, and roll up like a burrito. Repeat with all egg roll wrappers.
In a medium saucepan, heat the canola oil until it's sizzling. Add the egg rolls about 3 at a time, and cook for about 5 minutes.
Remove egg rolls from the oil, and set aside on a paper towel-lined plate. Repeat with remaining egg rolls.
Nutrition
| | |
| --- | --- |
| Calories per Serving | 674 |
| Total Fat | 45.4 g |
| Saturated Fat | 5.6 g |
| Trans Fat | 0.2 g |
| Cholesterol | 103.3 mg |
| | |
| --- | --- |
| Total Carbohydrates | 40.4 g |
| Dietary Fiber | 2.0 g |
| Total Sugars | 1.4 g |
| Sodium | 572.0 mg |
| Protein | 26.5 g |