TikTok Can't Get Enough Of These 2-Ingredient Oreo Sushi Rolls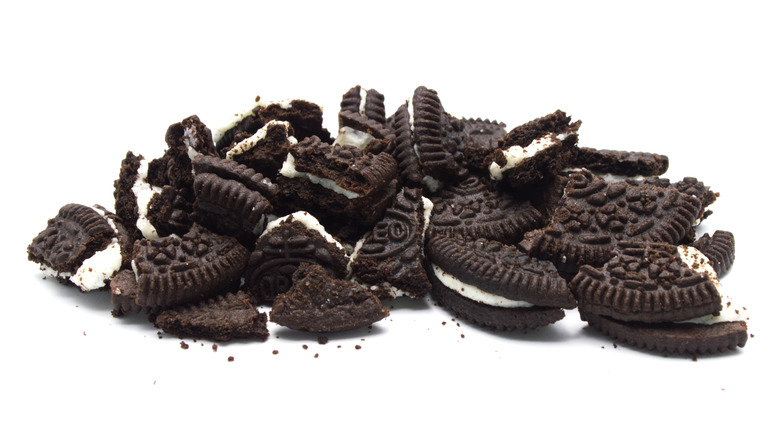 Shutterstock
It looks like your next cookie dunk moment might require chopsticks. Oreo sushi rolls have become the must-have two-ingredient, no-bake dessert trend. Before anyone thinks that there is something a little fishy about this TikTok food phenomena, the reality is that transforming an iconic sandwich cookie into this rolled treat could be the best dessert hack to come from the popular social media platform yet. With millions of people rolling in this sweetness, the dessert trend has unlimited possibilities.
A quick search for Oreo Sushi on TikTok produces numerous videos, including the one that started it all. According to a Fox News report, Cheese or Desserts posted its recipe for Oreo sushi rolls on January 21. Over time, the video has been viewed millions of times and people have become obsessed. Whether it is the idea of a simple no-bake dessert option, a sushi-style cookie, or simply having fun with food, this dessert might have surpassed all those whipped coffees and pancake cereal posts. 
As recent search spikes prove, everyone wants to get a taste — even if they skip the chopsticks . Although no one quite understands why people have developed an infatuation with this idea, it appears more and more people will be twisting, pounding, and rolling their way to enjoy some Oreo sushi rolls.
How do you make Oreo sushi rolls?
As shared in Cheese or Desserts' TikTok video, the concept of Oreo sushi rolls is easy. First, the Oreo cookie is divided between the wafer cookie and the creme center. The wafer cookies are then crushed into a fine consistency and "three tablespoons of condensed milk" is added to create a pliable, almost dough-like consistency. The creme center is mixed with a tablespoon of condensed milk, too. Then, the wafer cookie mixture is rolled thin, the creme mixture is spread over the top, and the combined parts are rolled together, much like the process for a jelly roll cake.
Thinking about this dessert, it begs the question: Does the recipe have to be limited to classic Oreos? Many other sandwich cookies could use the same method to make other "sushi desserts." From Nutter Butters to golden Oreos, the possibilities are endless. While some dessert fans have suggested filling alternatives, there seems to be many ways to modify this recipe concept. Because sometimes it's the most simple no-bake dessert ideas that leave everyone craving another bite.