Easy Homemade Instant Pot Apple Butter Recipe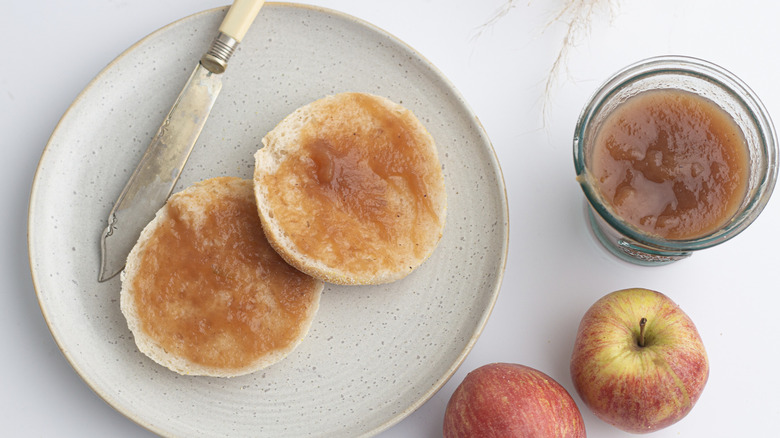 Susan Olayinka/Mashed
Apple butter is a decadent treat that can be topped on toast, ice cream, or cake. It's seriously sweet and really easy to make at home. Contrary to what the name suggests, apple butter is made by slowly cooking the apples until they're pureed, sticky, and treacly. However, if you're tight on time but want to replicate your favorite spread Susan Olayinka from the Flexible Fridge has developed an apple butter recipe using your Instant Pot which is to die for.
Baking A Moment notes that apple butter really is the embodiment of fall. With its warm spices and sticky apple flavor, it's so comforting. However, apple butter is great to have in your fridge all year round as it's quick to make, uses very basic ingredients, and goes with just about anything. This recipe calls for apples but Olayinka notes that "Pink lady apples would work a treat as they are super flavourful and sweet. If you don't have that it is totally fine. The spices in this apple butter and the sugar make it great to taste."
So, if you have an Instant Pot at home and want to make a super quick and delicious spread for just about any snack or dessert, here's how to make quick and easy apple butter.
Gather the apple butter ingredients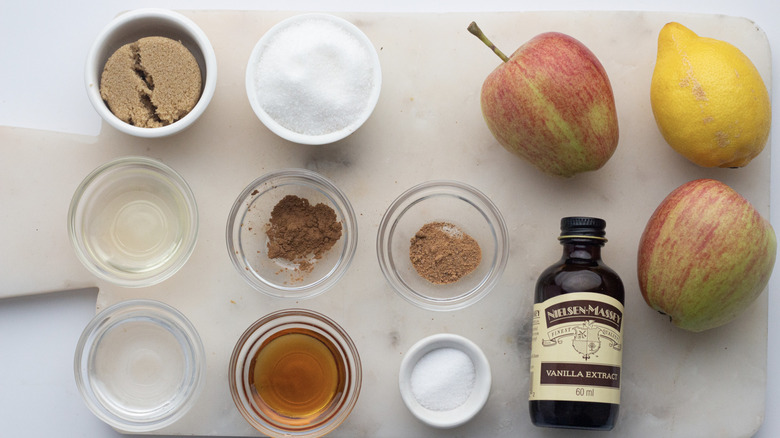 Susan Olayinka/Mashed
Apple butter may not include actual butter but it's likely you'll find all the ingredients for this recipe in your cupboards or local food store. Before you begin, ensure that you have nine apples. You'll also need both white and brown sugar, as well as vanilla extract for taste.
Spices are everything in this recipe and really give the apple butter its signature warming flavor. You'll need nutmeg, cinnamon, and maple syrup to add an extra sweet kick. Finally, to balance the spread out, you'll need apple cider vinegar, water, and the juice of one lemon. Tasting your final product, after the apples are cooked, will help give you an idea of what your spread will taste like, and in order to get a perfectly flavored product, you'll need to follow the measurements on the recipe.
Peel and core the apples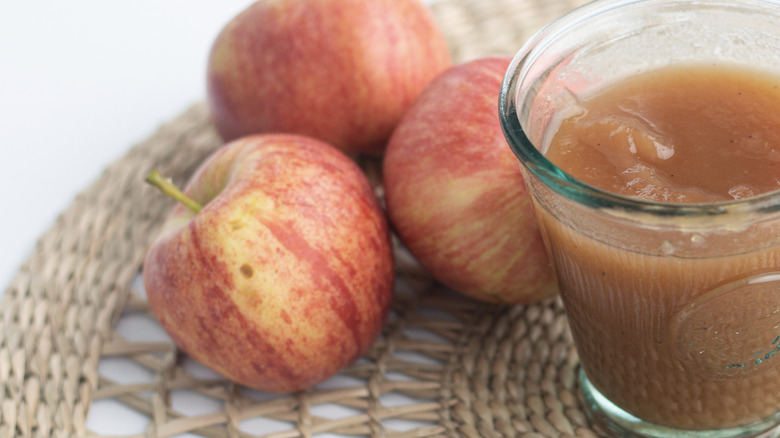 Susan Olayinka/Mashed
To begin with, take your nine apples and peel and core them. It's good to use a peeler at this stage to ensure that you don't lose too much of the apples themselves but aren't left with any peel. Core them using a knife or corer.
Then cut the apples up into horizontal thin slivers. You want to cut your apple into fairly narrow slices as the thicker they are, the longer they'll take to cook. Similarly, ensure that all of your apple slices are pretty evenly sliced so they have the same cooking time.
Put your ingredients in the Instant Pot and cook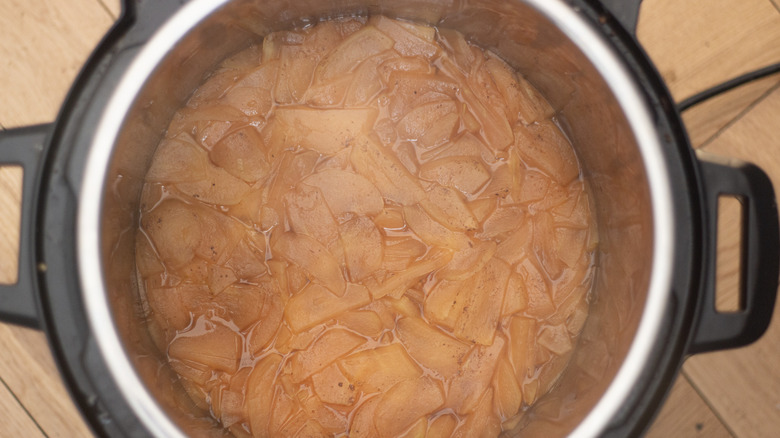 Susan Olayinka/Mashed
Measure out your white and brown sugar, vanilla extract, nutmeg, cinnamon, maple syrup, water, apple cider vinegar, and juice of one lemon. When all of your ingredients are ready, place your apples in the Instant Pot. Apple butter isn't an exact art, and you have a little bit of flexibility in time, but keep an eye on your Instant Pot once you've put your ingredients in. You want to ensure that the pressure is turned up high for around 20 minutes.
Instant Pot's are generally super reliable but once the 20 minutes is up, release the pressure on your Instant Pot. Be sure to release the pressure in the Instant Pot immediately as even if it's left there for a minute it will yield more moisture and water making it runnier than apple butter. At this point, you can turn it off.
Blend the apple butter ingredients together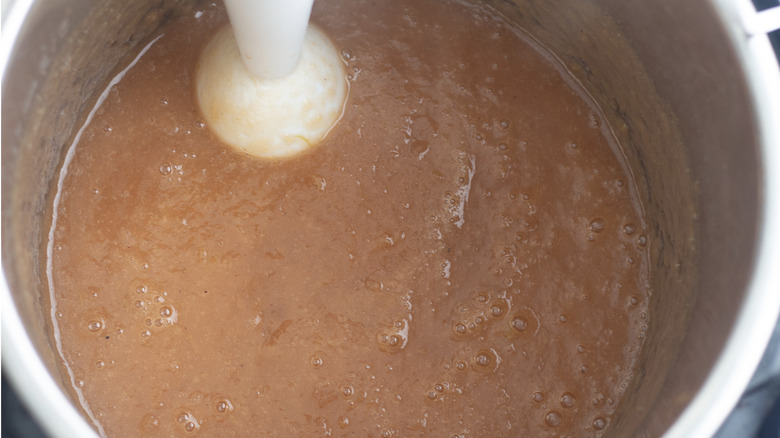 Susan Olayinka/Mashed
Once you've turned your Instant Pot off you can take your blender and blend the ingredients together until smooth. Be careful as the ingredients are hot. This recipe calls for a stick blender as it will allow you to ensure that all of the apples are pulverized down and the consistency is silky. Using a stick blender also allows you to leave the ingredients in the Instant Pot that you originally cooked them in, saving you a little bit of washing up at the end.
Sauté your apple butter spread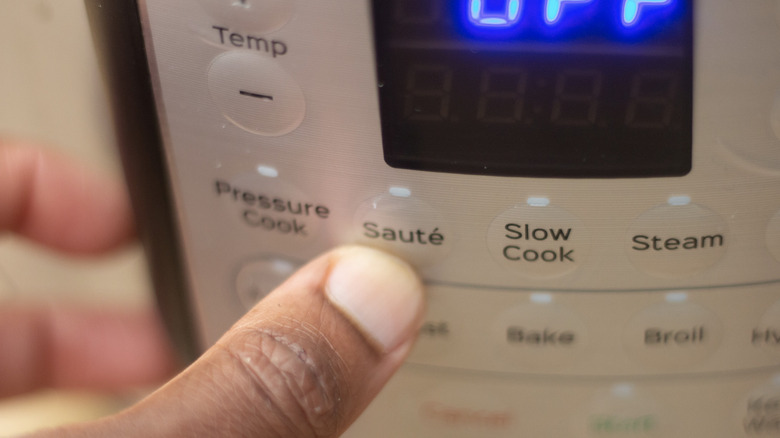 Susan Olayinka/Mashed
Once you're happy that you've got a consistency that is free of lumps, you can switch your Instant Pot to sauté. This is the time to make sure that all of your ingredients are incorporated together and are starting to look golden and delicious.
Allow your spread to sauté for five minutes. This will cook off any remaining water and begin to thicken it up. It should begin to look extra sticky and thick. You want it to end up being a spreadable texture, not so thick that it's hard to eat but not so watery that it doesn't hold its shape.
Store your apple butter for later or eat it right away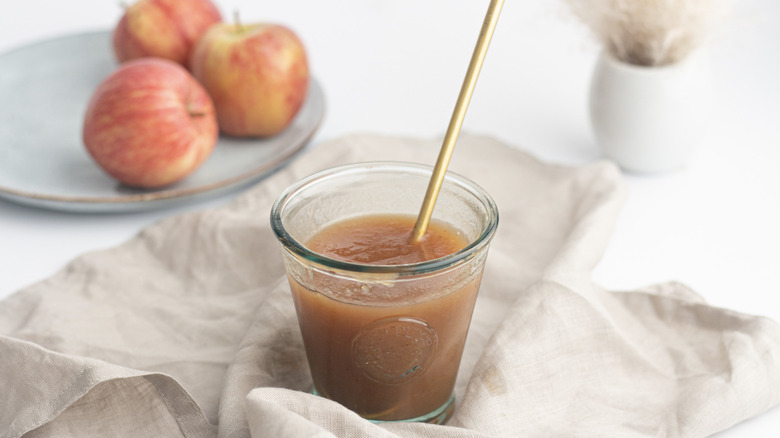 Susan Olayinka/Mashed
Once you've got the jammy texture you're looking for you can take your spread off the heat and transfer it to an airtight container. If you're not going to eat the apple butter immediately then make sure you store it in the refrigerator in a jar or container with a good seal.
Olayinka explains that one of the greatest things about apple butter is its versatility. It makes a great accompaniment for toast in the morning. You could also swirl it into porridge or oatmeal. If you want to put a twist on your favorite cake recipe then you can swap it in. And it makes for a great sweet topping on pancakes.
Easy Homemade Instant Pot Apple Butter Recipe
Upgrade your jam and jelly game with this recipe for apple butter that comes together quickly and easily with an Instant Pot.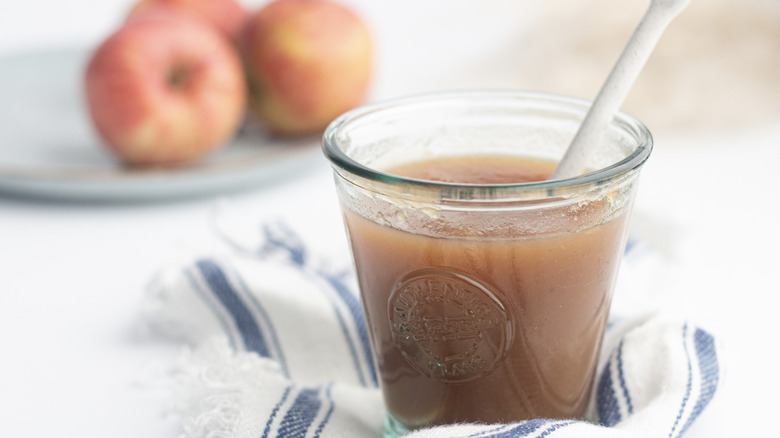 Ingredients
9 apples
¼ cup white sugar
¼ cup brown sugar
½ teaspoon vanilla extract
⅛ teaspoon nutmeg
¼ teaspoon cinnamon
¼ cup maple syrup
1 cup water
3 tablespoon apple cider vinegar
1 lemon (juice)
Directions
Start by peeling all the apples.
Core all the apples and slice them horizontally into thin slivers.
Place all the chopped apples inside the Instant Pot along with the white sugar, brown sugar, vanilla extract, nutmeg, cinnamon, maple syrup, water, apple cider vinegar, and the juice of one lemon.
Cook on high pressure for 20 minutes.
When the 20 minutes are done, release the pressure in the Instant Pot immediately.
Turn the Instant Pot off and blend the contents of the pot for 2 minutes until it is smooth.
Turn on the Instant Pot to sauté for 5 minutes to cook any remaining water out.
Transfer to an airtight container and enjoy.
Nutrition
| | |
| --- | --- |
| Calories per Serving | 354 |
| Total Fat | 0.8 g |
| Saturated Fat | 0.1 g |
| Trans Fat | 0.0 g |
| Cholesterol | 0.0 mg |
| | |
| --- | --- |
| Total Carbohydrates | 92.3 g |
| Dietary Fiber | 10.0 g |
| Total Sugars | 76.1 g |
| Sodium | 12.2 mg |
| Protein | 1.1 g |