Simple Porridge Recipe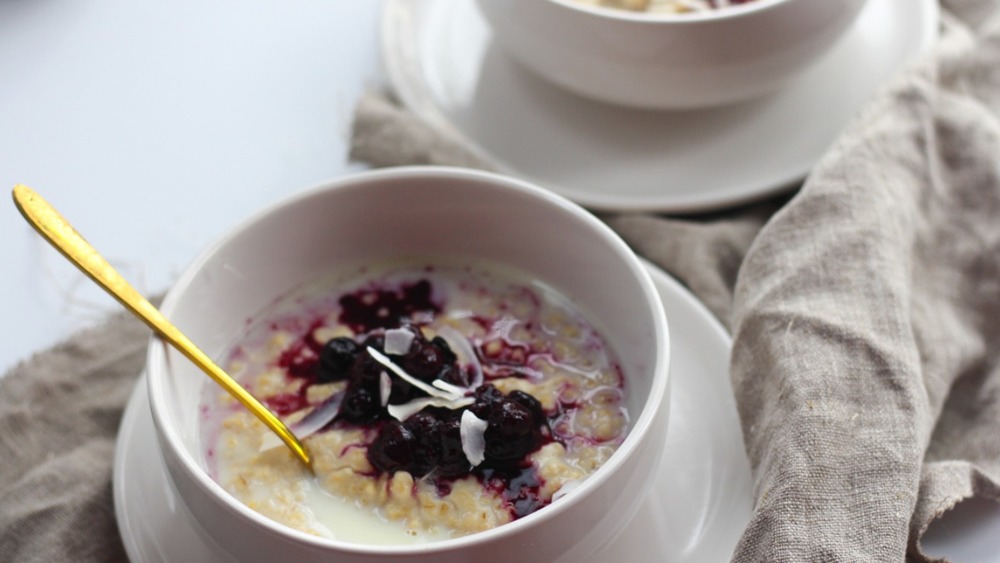 Susan Olayinka/Mashed
Cozy. Warm. Cottagecore. If these words are conjuring up images of a hearty meal enjoyed by the fireplace, cuddled under a favorite blanket, you've come to the right place. Because along with Mashed, family-friendly, passionate cook Susan Olayinka, who blogs at The Flexible Fridge, has developed a recipe for porridge, which she describes as "the best comforting and nourishing breakfast to have." 
The best part of this porridge recipe is that, as Olayinka told us, "Changing the toppings makes you feel like you are having a different breakfast each time." And while the UK-based easy recipe advocate says about this meal, "I love to make this during the wintertime," it doesn't necessarily have to be cold outside for you to enjoy porridge. Adding fresh, seasonal toppings modifies the breakfast for any season.
You'll also love how easy porridge is to pull off, requiring very few ingredients and just a few minutes carved out of a busy morning. 
Shop for your porridge ingredients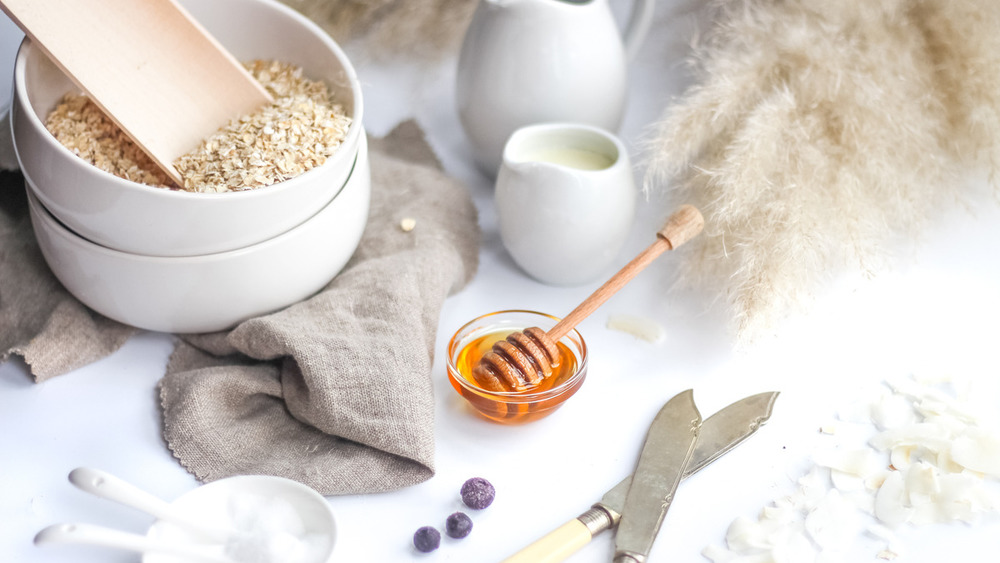 Susan Olayinka/Mashed
First, shop for and gather your porridge ingredients. Don't worry — it's a short list! Most importantly, you'll look for porridge oats at the store. "People can find porridge oats in any big supermarkets or health stores," advises Olayinka. If you can't find porridge oats, pick up rolled oats. "Rolled oats actually work the same!" Olayinka told Mashed, adding the main difference between the two is that "porridge oats are smaller than regular rolled oats, allowing them to absorb the water or milk quicker. This allows the porridge to cook faster and also allows for a perfectly smooth and creamy porridge."
So, got your oats, either way? Good. Now, quickly check your kitchen for milk, salt, and toppings like coconut flakes and honey. Olayinka also suggests adding stewed blueberries to the top of your porridge bowl. She shared with us how to create these at home. 
Add your porridge oats to the pot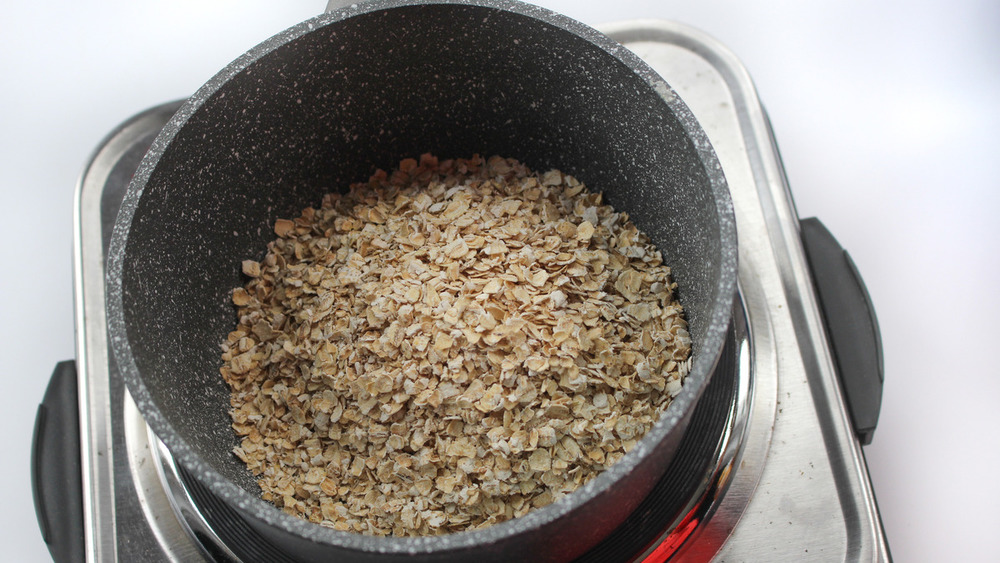 Susan Olayinka/Mashed
The first step is to add your oats to a pot on the stove. If you are using rolled oats instead of porridge oats, as you cook them up, just know that as Olayinka told Mashed, "Porridge and oatmeal do not differ in consistency. However," she said, "the oats do differ in what they are. Porridge is a mixture of a grain — like oats, corn, rice, and barley — and a hot liquid like broth, milk, or water. Oatmeal, on the other hand, is limited to just being made with oats and hot liquid."
So, now that we are up to speed there, let's move on to adding our liquid to the oats, which means we are well on the way to turning out a nutritious, filling, and deliciously hearty breakfast that will make any morning feel like a warm hug. 
Add the liquid to your porridge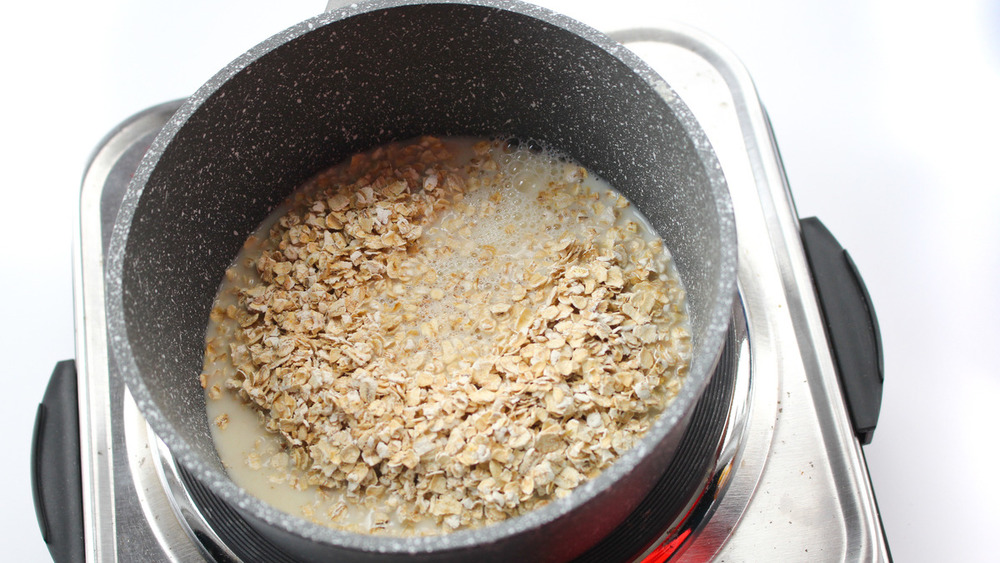 Susan Olayinka/Mashed
At this stage, you will add your liquid. Olayinka notes that "any milk can be used for porridge — dairy or non-dairy." So, this is to your preference. Meanwhile, you need both water and milk to create the right consistency, plus some salt. Turn the heat up to medium now, and you will look for small bubbles to start to form around the edge of your pot. This is your signal to turn down the heat to a low setting and start stirring your porridge. Do this for five to six minutes, and look for the porridge to form into a thicker mixture. 
Cook your porridge to perfection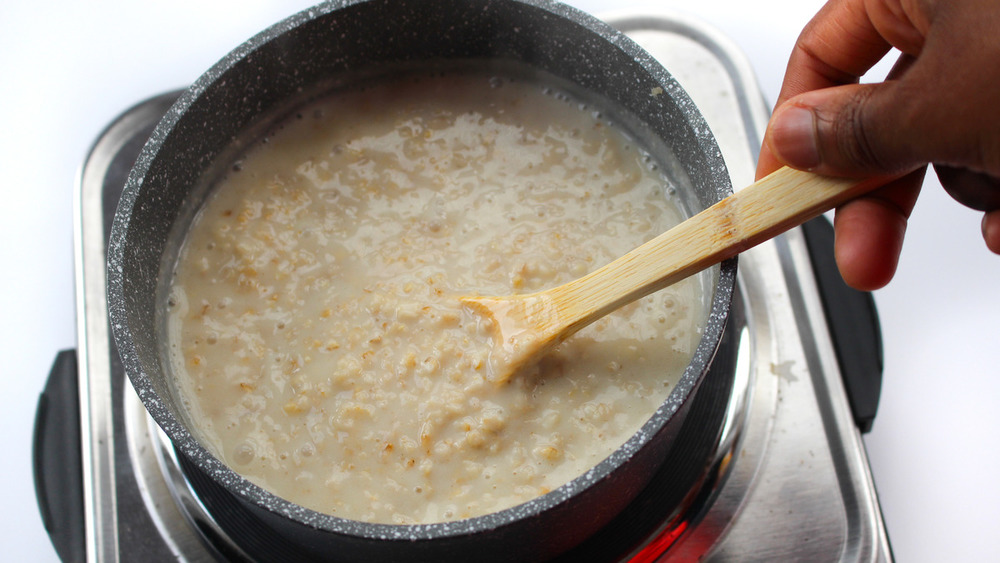 Susan Olayinka/Mashed
So, you are aiming for a fairytale breakfast, right? With that goal in mind, the key is to look at your liquid. Olayinka told Mashed, "You would know the porridge is undercooked, as there will be a lot of liquid in the pot." She adds, "The liquid would be the consistency of tap water" if you happened to under-cook your breakfast. On the flip side, you have gone too far with your cooking if, well, your breakfast is turning to stone. "You would know the porridge is over-cooked, as the porridge will appear stodgy, and the wooden spoon would be hard to stir," Olayinka told us.
The best thing you can do to avoid a rock-solid porridge is to stay by the stove during the cooking process. You may want to text a friend or tend to a cluttered sink, but those things can wait. You are about to achieve breakfast greatness here!
Serve up your porridge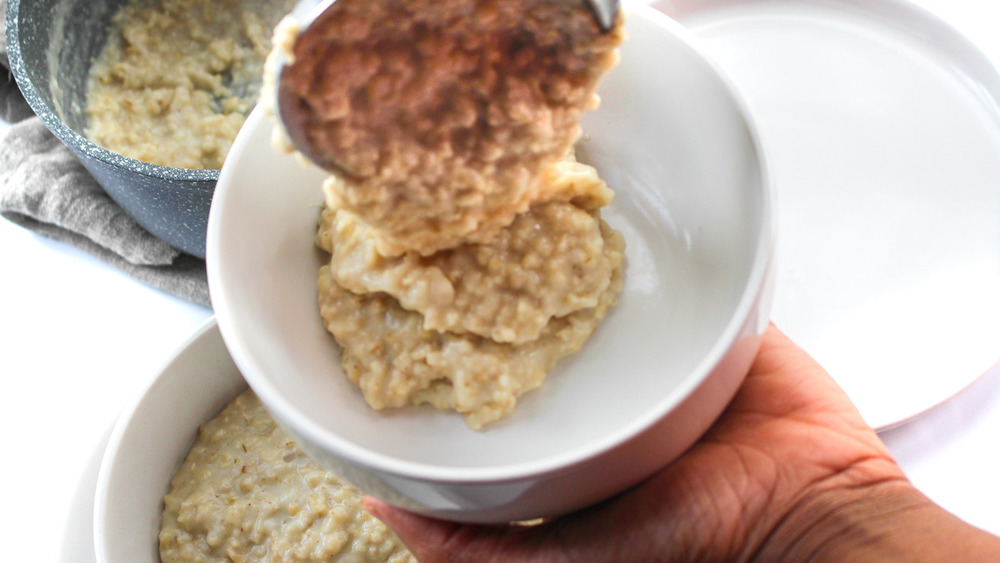 Susan Olayinka/Mashed
With your porridge looking creamy and mouthwateringly ready to eat, it's time to pour the meal in serving bowls. Olayinka advises home cooks to top each bowl with a dash of milk. 
But that is not all! Oh no. The customization is perhaps the most important step of the porridge-making process. Achieving the right consistency for your meal is important too, but once you have that mastered and your breakfast is awaiting you in a bowl, you can add nearly whatever your heart desires to make this meal your own. From sweet to savory, as Olayinka told Mashed, it is almost as if you can make a new breakfast each time you prepare porridge, depending on your toppings. So scour your cabinets and fridge — this is about to get epic.
Customize your porridge toppings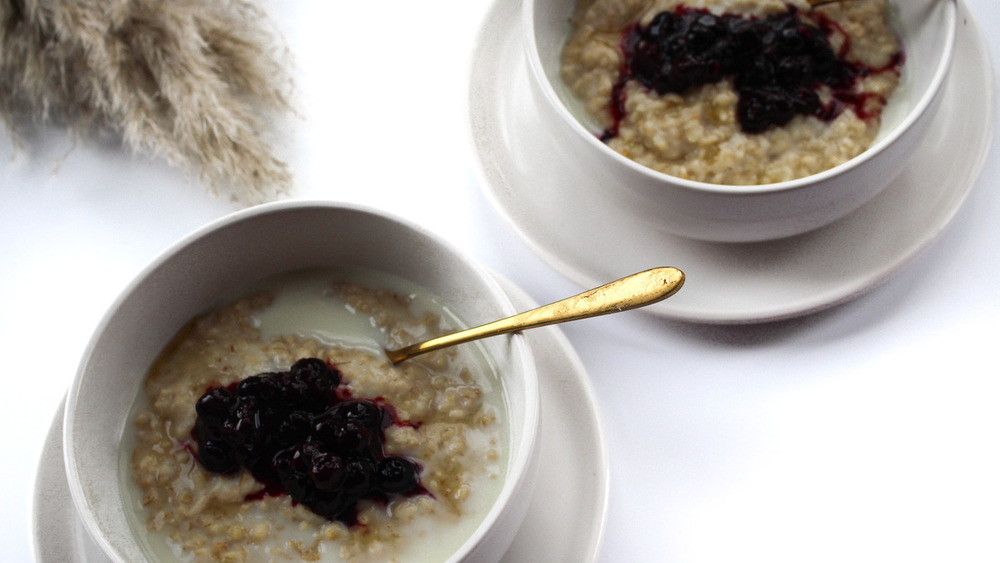 Susan Olayinka/Mashed
You will see that Olayinka topped this version of porridge with stewed berries. As she explained to Mashed, "Stewed berries are berries that have been cooked down, usually in a liquid, and has an added sweetener." She also explained, "Adding fruit to porridge adds a great healthy spin, and using stewed fruit like berries allows it to be a nice warming breakfast." To make your own stewed berries, she said, "I simply put frozen blueberries in the microwave for around a minute." We can do that!
If stewed berries aren't your thing, try adding coconut flakes and honey. Or toss all three toppings in your steaming hot bowl. Other toppings Olayinka suggests are apples, pecans, orange zest, grated carrots, raisins, bananas, chocolate chips, peanut butter, pistachios, dates, and tahini. But really, the sky's the limit with toppings. Experiment. Have fun with your breakfast! Cozy blanket and fireplace optional. 
Simple Porridge Recipe
You'll love how easy porridge is to pull off, requiring very few ingredients and just a few minutes carved out of a busy morning.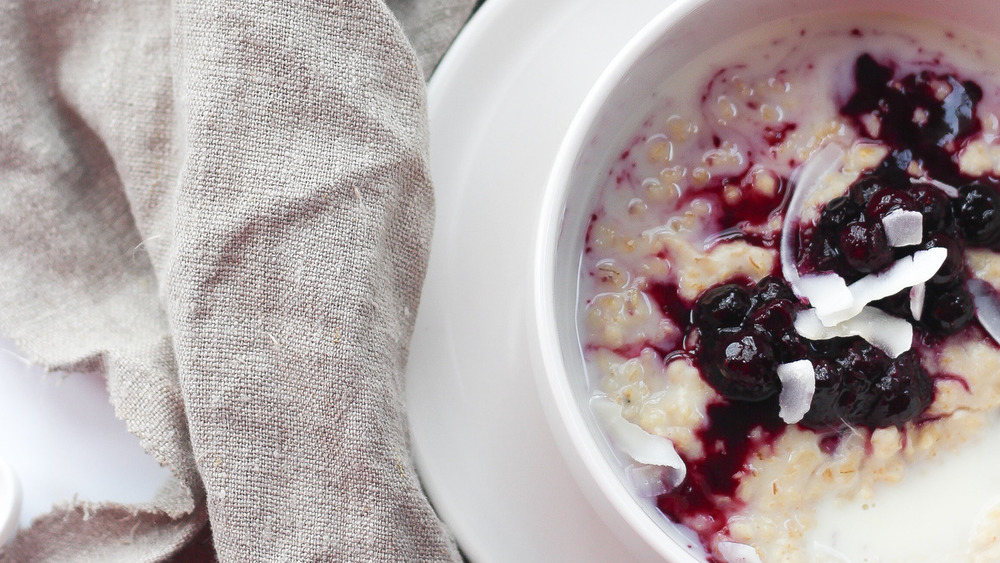 Ingredients
1 cup of porridge oats
1 cup of milk (plus ¼ cup for dash of milk on the porridge bowls at the end)
1-½ cups of water
pinch of salt
Optional Ingredients
Toppings like stewed blueberries, coconut flakes, and honey
Directions
Add oats, milk, water, and salt to the pot.
Turn the heat up to medium heat.
As small bubbles start to form around the edge of the pot, turn down the heat to low and start stirring.
After 5 to 6 minutes of stirring, the porridge should be a thicker consistency.
Pour in serving bowls.
Top with a dash of milk.
Top with desired toppings.
Nutrition
| | |
| --- | --- |
| Calories per Serving | 378 |
| Total Fat | 9.3 g |
| Saturated Fat | 3.2 g |
| Trans Fat | 0.0 |
| Cholesterol | 12.2 mg |
| | |
| --- | --- |
| Total Carbohydrates | 57.5 g |
| Dietary Fiber | 8.3 g |
| Total Sugars | 6.2 g |
| Sodium | 134.8 mg |
| Protein | 17.0 g |