Easy Baked Rice Pilaf Recipe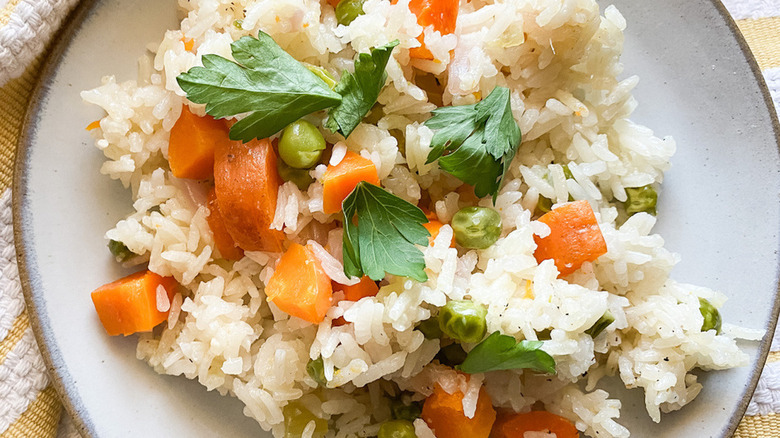 Kristen Carli/Mashed
Rice pilaf is a real classic. Seriously. The origins of rice pilaf are believed to lie somewhere in India after rice cultivation made its way into the region, according to Smart Kitchen. Yet its history likely goes back far earlier than what's in the written historical record, which means there will always be some mystique around the early days of rice pilaf. What chefs and cooks do know is that the widely known and beloved Spanish-born paella owes its existence to this rice meal. Pilaf has since made its way across the world to practically everywhere, from Central Asia and Iran to the United States. It's since become a favorite for its versatility as much as its simplicity.
The template for this widespread dish is rice that is baked in meat or vegetable stock with spices, vegetables, and meat. In this version of rice pilaf, recipe developer Kristen Carli uses a chicken broth stock along with some choice veggies for a simple dish that takes just 15 minutes to prepare and 1 hour of mostly hands-off time to cook. So, if you're ready to dive in to this easy and simply delicious meal, let's take a look at the ingredients you need to get started.
Gather the baked rice pilaf ingredients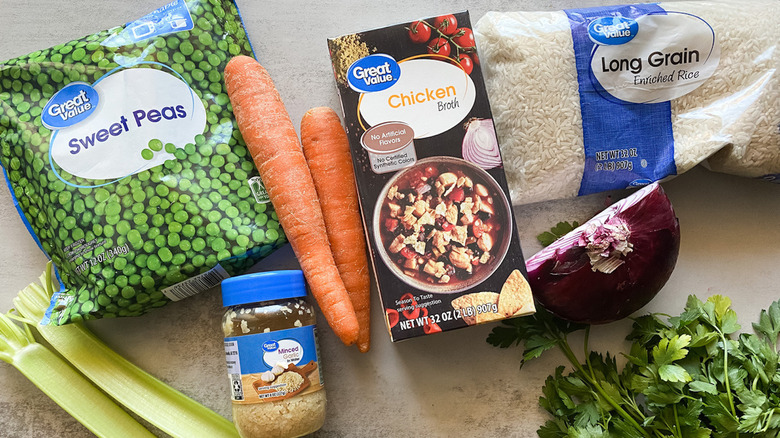 Kristen Carli/Mashed
To make this rice pilaf, you'll need olive oil, red onions, celery, carrots, and garlic for the base of this recipe. Take a few minutes to dice your onions, celery, and carrots, then mince the garlic.
Of course, you'll also need some white rice, as well as chicken broth. If you want a vegetarian or vegan variation, simply substitute vegetable broth instead. Also, get some frozen peas, salt, pepper, and parsley for garnish. If you want some protein with your baked rice pilaf, you can also purchase some ham or chicken to be cooked separately and then added to the pilaf at the end.
Heat your base vegetables in olive oil
Kristen Carli/Mashed
Start by preheating your oven to 375 degrees Fahrenheit. Now, add the olive oil into a cast iron Dutch oven and let it warm up over medium heat. You'll know the oil is properly heated when it quickly and smoothly drifts over the surface of the pan as you tilt it.
Once the oil is up to temperature, add your base vegetables: garlic, onions, carrots, and celery. By the way, the combo of sauteed onion, carrot, and celery is a classic and highly flavorful combo known as mirepoix (just in case you want to expand your culinary vocabulary). Cook the veggies for about 5 minutes or until the onion is translucent and the whole mixture is fragrant.
Add the remaining ingredients and bake your pilaf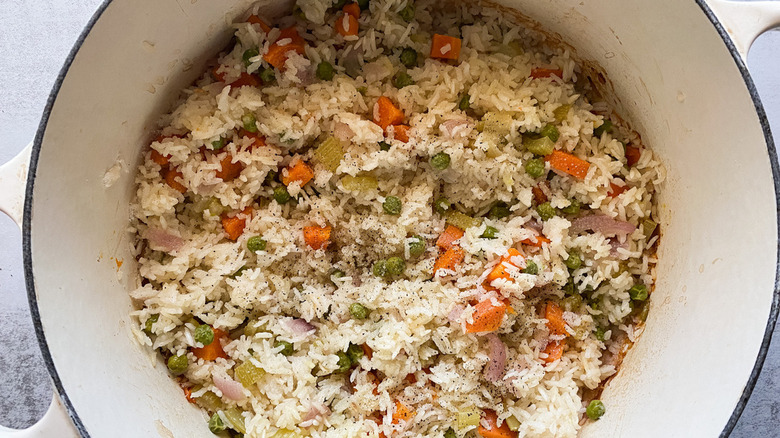 Kristen Carli/Mashed
Once your veggies and aromatics are cooked, add the rice, peas, salt, pepper, and 2 ½ cups chicken or vegetable broth to the Dutch oven. Stir them into the veggie base until all of the ingredients are evenly combined. Now, cover the Dutch oven with its lid and bake it in the fully heated oven for 25 minutes. 
After the initial 25 minutes, remove the cooking pot from the oven and add the remaining 1 cup of chicken broth. If you bought ham or chicken, cook your choice of meat first (make sure to dice the ham for ease of cooking and eating later) and then throw it into the mix so it can be heated through. Put the pot back in the oven with the lid securely on top and cook your pilaf for another 30 minutes.
Serve your baked rice pilaf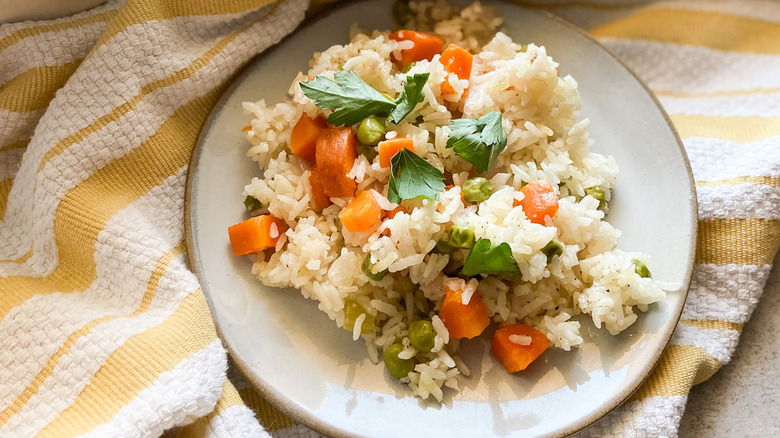 Kristen Carli/Mashed
If you plan to eat your baked rice pilaf as a main course, Carli recommends pairing it was some baked beans on the side to give you some protein. This combo of rice and beans is a staple of many diets for a really good reason: it provides you with all of the nine essential amino acids, according to Healthline. That can help to make the meal a whole protein source, collectively speaking. And, given how many people enjoy the rich, savory taste of rice pilaf, it's perfectly acceptable (even welcome!) to eat this on its own as the main feature on your dinner table.
You can also use this recipe as a side to compliment a main dish. "I love serving this alongside any main protein such as roasted salmon, baked halibut, or honey garlic chicken," Carli says. A pilaf might be especially well suited to work with lighter proteins like fish and chicken.
If you have any leftovers — though, given how tasty this is, you may not have to worry about that so much — this rice pilaf can be refrigerated in an airtight container for up to 5 days
Easy Baked Rice Pilaf Recipe
This rice pilaf recipe uses savory broth and some choice veggies for a simple yet flavorful dish that can be ready to grace your dinner table this very night.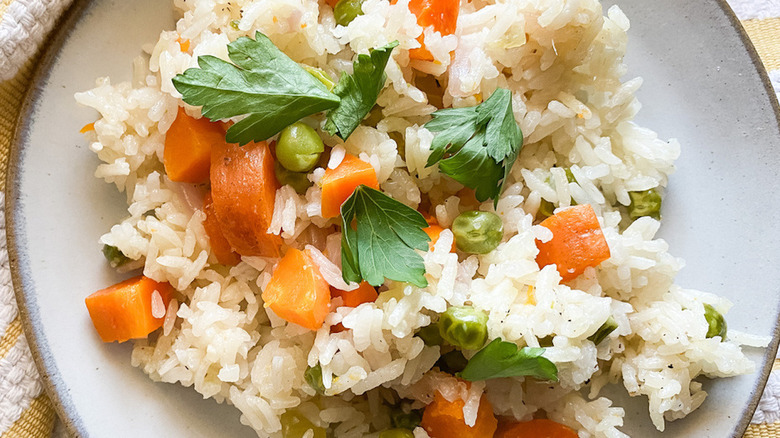 Ingredients
1 tablespoon olive oil
½ red onion, diced
2 celery stalks, diced
2 carrots, diced
1 teaspoon minced garlic
2 cups white rice
3 ½ cups chicken broth, divided
½ cup frozen peas
1 teaspoon salt
½ teaspoon pepper
Parsley, for garnish
Optional Ingredients
Directions
Preheat oven to 375 degrees Fahrenheit.
Add olive oil to a cast iron Dutch oven over medium heat. Once hot, add garlic, onion, carrots, and celery.
Cook veggies until onion is translucent, which should take about 5 minutes.
Add rice, 2 ½ cups chicken broth, peas, salt, and pepper. Stir to combine.
Cover with lid and bake in the oven for 25 minutes.
Remove from oven and add remaining 1 cup of broth. Stir to combine.
Return to oven, covered, for another 30 minutes.
Nutrition
| | |
| --- | --- |
| Calories per Serving | 330 |
| Total Fat | 4.5 g |
| Saturated Fat | 0.9 g |
| Trans Fat | 0.0 g |
| Cholesterol | 4.2 mg |
| | |
| --- | --- |
| Total Carbohydrates | 61.8 g |
| Dietary Fiber | 1.6 g |
| Total Sugars | 4.4 g |
| Sodium | 618.2 mg |
| Protein | 8.9 g |