Best Bang Bang Shrimp Recipe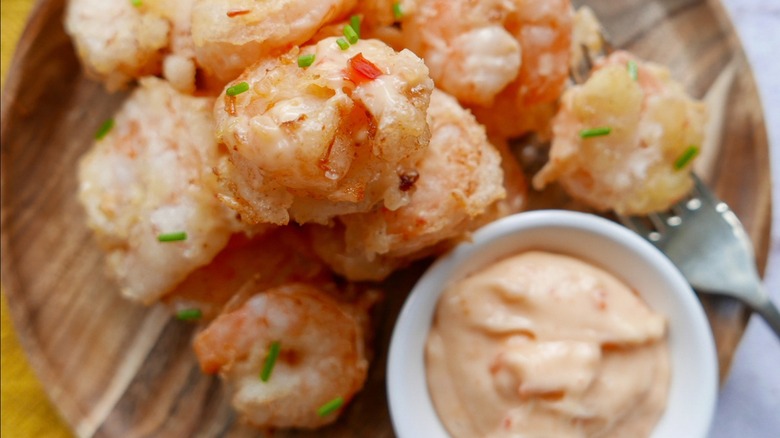 Ting Dalton/Mashed
If you've ever eaten at Bonefish Grill before, there's a pretty good chance you've been tempted by one of their specialties: bang bang shrimp. And once you have it, you're hooked for good. Why "bang bang" shrimp, might you ask? While the shrimp have a tiny bit of spice to them, the heat level is far from explosive. According to Chattanooga Times Free Press, bang bang shrimp's name is apparently inspired by the Thai sweet chili sauce that's a key player in this delicious dish.

Recipe developer Ting Dalton of Cook Simply is serving up this tasty bang bang shrimp recipe you'll want to have at the ready whenever you're looking to whip up an awesome appetizer. In keeping with the name of Dalton's blog, this recipe couldn't be much simpler. It takes five minutes to prep and only a couple of minutes to fry up a batch of this tasty shrimp. The recipe calls for 10 ingredients, but this includes salt, pepper, and oil for frying. As for the taste? We'll give that a 10 out of 10 as well!
If you're eager to replicate this scrumptious bang bang shrimp recipe at home, we can't say we blame you. That's why we put together this step-by-step guide to help you move through the cooking process. You'll have a hot batch of bang bang shrimp ready to serve up to the family or hungry guests in just about no time. Now, it's time to get started!
Gather the ingredients to prepare bang bang shrimp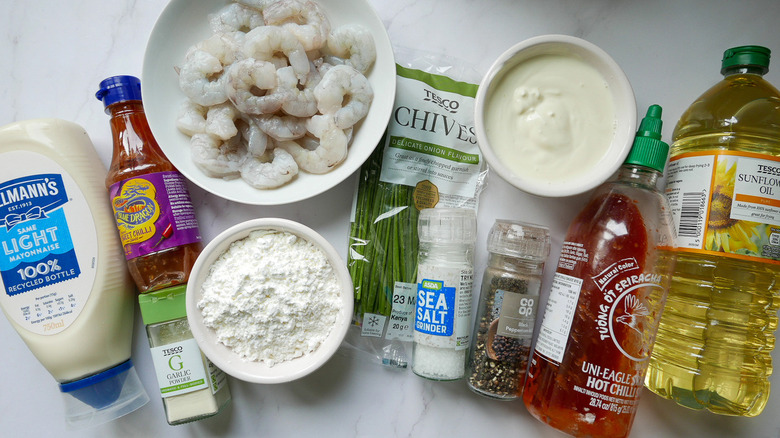 Ting Dalton/Mashed
First things first: You'll want to make sure you have all the necessary ingredients lined up and ready to go. In order to cook this dish, you're of course going to need some shrimp. Dalton uses raw shrimp, but she got them already shelled and de-veined. You can, of course, do the shelling and deveining yourself if you have some extra time to kill and don't mind adding another step to the prep work. 
To make the coating for the shrimp, you'll need buttermilk, cornstarch, and garlic powder, while the sauce ingredients include mayonnaise, Thai-style sweet chili sauce, and Sriracha sauce. You're also going to need vegetable oil for frying, and if you want to make this dish absolutely picture-perfect, you could also sprinkle some chopped chives on top of the bang bang shrimp before you serve it.
Make the sauce for the bang bang shrimp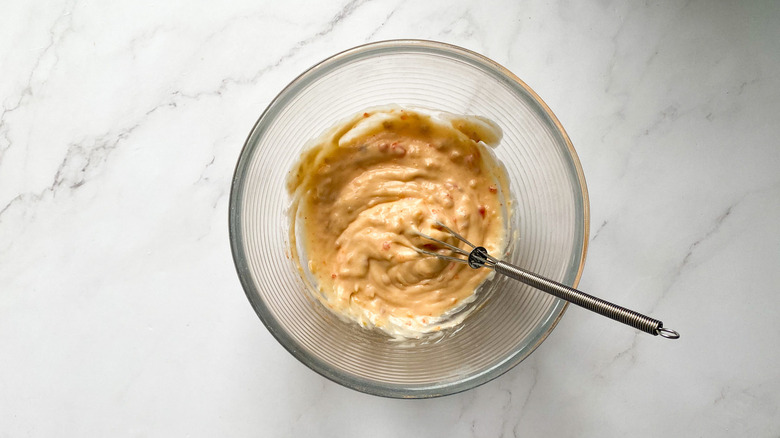 Ting Dalton/Mashed
Scoop the mayonnaise out into a small bowl, then stir in the sweet chili sauce and the Sriracha until all three condiments are thoroughly combined. Feel free to tweak the sauce recipe if you like. As Dalton puts it, "You can add much more Sriracha sauce if you want more of a fiery kick." If you're worried about all that mayo, Dalton also suggests cutting down on the amount or leaving it out altogether. You could also replace the mayo with crème fraîche or plain yogurt for a sauce that will be just as delicious.
Coat the shrimp before you fry them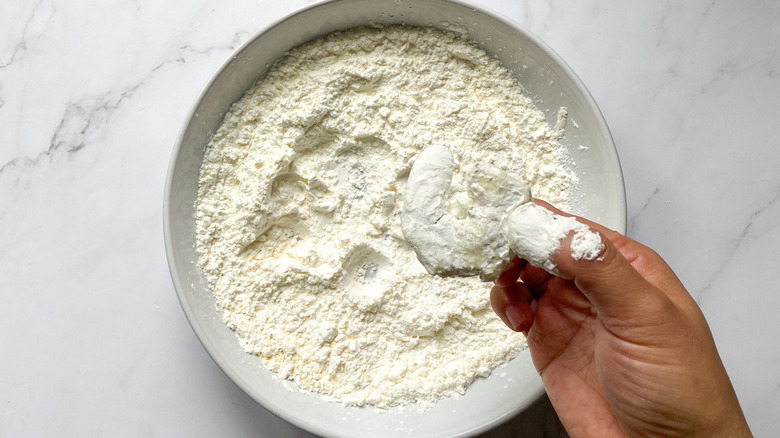 Ting Dalton/Mashed
Shrimp all deveined, peeled, and ready to go? Great, but you might want to pat them dry if they're still damp from thawing out. Then, pour the buttermilk into a large bowl, then add the shrimp and turn each piece until they're all coated. Let the shrimp sit and soak for a second while you mix the cornstarch and the garlic powder in another bowl. 
Take each shrimp out of the buttermilk bath, give it a shake to remove any excess moisture, then roll it in the cornstarch until coated. "You can use panko breadcrumbs instead of cornstarch," Dalton says, saying the crumb coating provides "more of a crispy texture" than the cornstarch does.
Be careful as you deep-fry the shrimp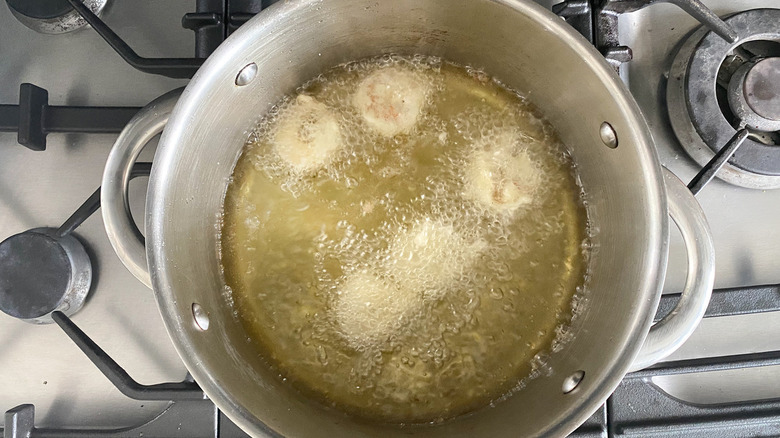 Ting Dalton/Mashed
Heat 3 inches of vegetable oil in a wok or a deep skillet until it reaches 350 F. You'll probably need a cooking thermometer to make sure the oil is at just the right temperature, neither too low (soggy shrimp) or too high (burnt shrimp plus the possibility of a dangerous kitchen fire). 
When the oil is hot enough, add the shrimp, but don't crowd it. You may need to fry in batches, but this shouldn't be too much of a chore, considering the shrimp are done in just a minute or two. Dalton shares the following tip: "I like to use chopsticks as I find these move the shrimp around well in the oil." If you don't have any chopsticks on hand, don't fret. Dalton says you can use a slotted spoon instead. When the shrimp turn golden brown, remove them from the pan, and drain them on paper towels to remove any excess oil.
Serve the shrimp with the sauce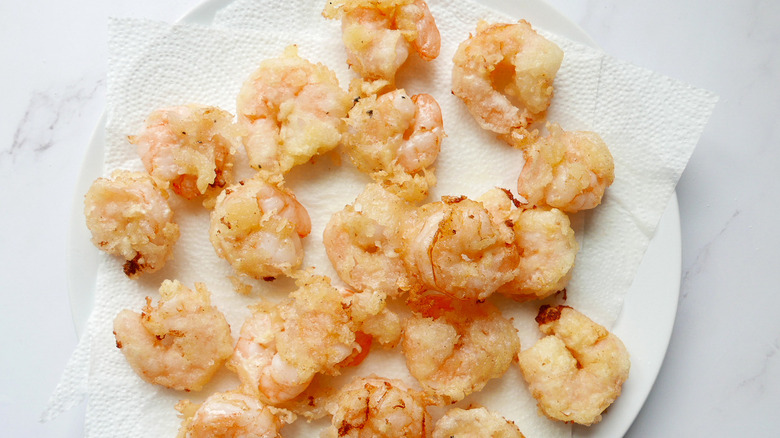 Ting Dalton/Mashed
Once the shrimp have drained a little bit and are cool enough to handle, you can mix them with the sauce prior to serving. If you prefer to control the amount of sauce you eat, you can instead keep it on the side for dipping. Sprinkle the shrimp with chopped chives if you'd like, as these add a nice touch of bright green and make for a truly picture-worthy plate.
While these bang bang shrimp make a great appetizer, Dalton says you can make a meal out of them by serving them with rice and/or a fresh green salad. She also adds that you can enjoy them with some crispy French fries. However you decide to eat your bang bang shrimp, though, be absolutely sure to display them on a nice serving platter to give this recipe the presentation it truly deserves.
Best Bang Bang Shrimp Recipe
This bang bang shrimp is the best appetizer to prepare for your next dinner gathering. You can also turn it into a full meal with rice or a fresh green salad.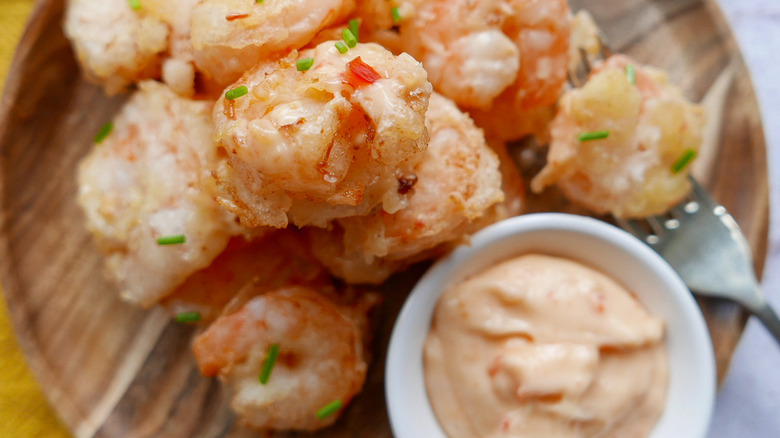 Ingredients
½ cup of mayonnaise
¼ cup of sweet chili sauce
½ teaspoon hot sauce (Sriracha)
½ pound of raw medium shrimp, shelled and deveined
½ cup of buttermilk
½ cup of cornstarch
1 teaspoon of garlic powder
salt, to taste
pepper, to taste
Optional Ingredients
chopped chives, for garnish
Directions
In a bowl, mix the mayonnaise, sweet chili sauce, and Sriracha sauce together.
In another bowl, add the shrimp to the buttermilk, and make sure they are all coated.
Mix the cornstarch and the garlic powder, and season with salt and pepper. Then, coat the shrimp in the cornstarch, first making sure to shake off any excess buttermilk.
In a large wok or deep pan, heat 3 inches of vegetable oil to 350 F. (Check the temperature with a cooking thermometer.)
Fry the shrimp carefully for 1 to 2 minutes until they're golden in color. You may want to do this in batches. Once cooked, put the cooked shrimp on kitchen paper to let the oil drain.
Coat the shrimp in the sauce, and sprinkle with chives, if desired.
Nutrition
| | |
| --- | --- |
| Calories per Serving | 670 |
| Total Fat | 46.3 g |
| Saturated Fat | 7.3 g |
| Trans Fat | 0.0 g |
| Cholesterol | 167.9 mg |
| | |
| --- | --- |
| Total Carbohydrates | 41.7 g |
| Dietary Fiber | 2.7 g |
| Total Sugars | 6.6 g |
| Sodium | 1,583.1 mg |
| Protein | 18.8 g |