Copycat Olive Garden Minestrone Soup Recipe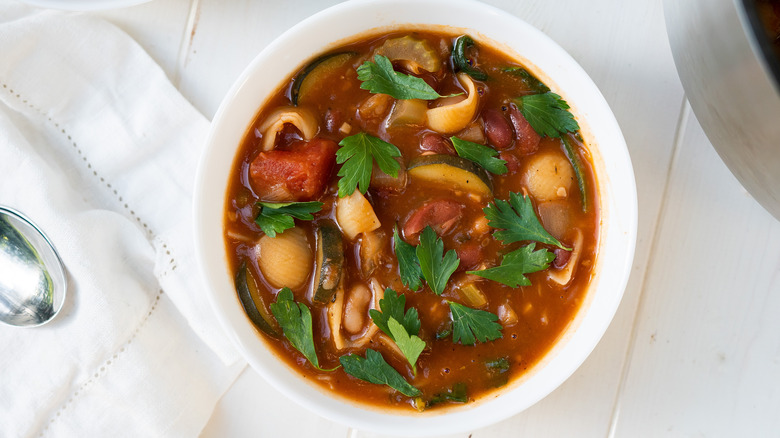 Jamie Monkkonen/Mashed
When going out to eat, we love to choose dishes that sum up a restaurant's vibe. Take Olive Garden's minestrone soup — a comforting dish to soak up countless baskets of breadsticks. Whether you devour it as an appetizer or savor it as your main course, there's nothing quite like a heartwarming bowl of minestrone. Thanks to Jamie Monkkonen, recipe developer and blogger at Vibrantly G-Free, you can make your own version of the wholesome soup at home. 
Monkkonen confirms that a bit of trial and error was necessary. "I did try a few variations before reaching this combination!" she says. Monkkonen explains that the restaurant website left a hint, "They even have a notice saying that the soup contains alcohol," she says, so using red wine and a lower proportion of pasta was key. With this information in hand, she set to work experimenting. The result? "[It] tastes just like the Olive Garden soup," she says.
There's no need for fancy equipment or complicated ingredients for this copycat recipe. Monkkonen sticks to fresh vegetables, pantry staples, and a large pot, so you can enjoy your homemade minestrone in less than half an hour. While we admit you won't have access to endless breadsticks, you could plan ahead and make them yourself with this copycat Olive Garden breadsticks recipe. Whatever you choose, this minestrone recipe alone itself is worth pulling your apron on and getting to work. And unless you're feeding a group of six, you'll even have leftovers!
Gather the ingredients for your minestrone soup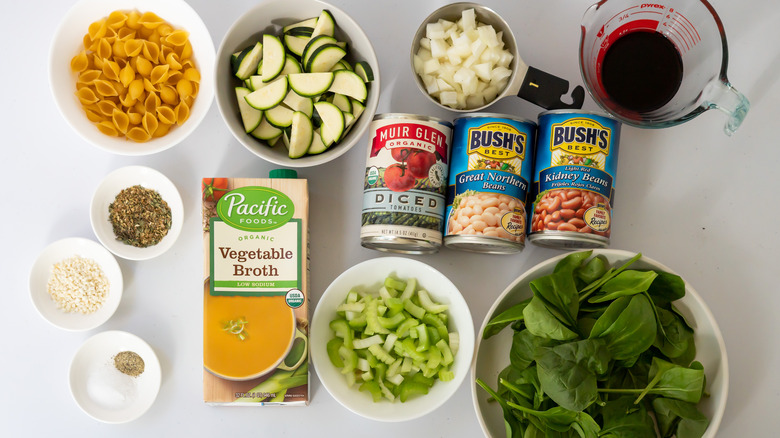 Jamie Monkkonen/Mashed
To start, you'll need olive oil or whatever you use for sautéing vegetables. As far as vegetables go, Monkkonen sticks with onion, zucchini, celery, and garlic to add consistency to the soup, but she says, "I would use whichever vegetables I have on hand. I love the flexibility!" 
Using red wine for cooking adds acidity as well as plenty of complexity for a multilayered flavor (here's how to choose the right red wine for cooking). Vegetable broth is a good option for this vegetable based soup, but if you only have chicken stock, the flavor profile will be similar. Next, tomatoes: canned diced tomatoes are rich and hearty, and tomato paste adds some extra concentrated tomato flavor without watering down the soup. 
In terms of seasoning, Monkkonen goes with the classics for minestrone — salt, ground pepper, and Italian seasoning. The latter usually includes a combination of basil, oregano, rosemary, thyme, so if you don't have the ready-made blend, you can use any or all of these herbs. 
White beans and kidney beans add protein and create a hearty texture characteristic of minestrone. Don't forget the pasta! Monkkonen uses small shell pasta, but most small shapes should work. Since the pasta will be cooked in the soup broth, be sure to use uncooked pasta or only add it at service if it's already cooked. Finally, to add a bit of bright green, stir in fresh spinach and garnish with Italian flat leaf parsley. 
Cook the onion, zucchini, and celery in a large pot with olive oil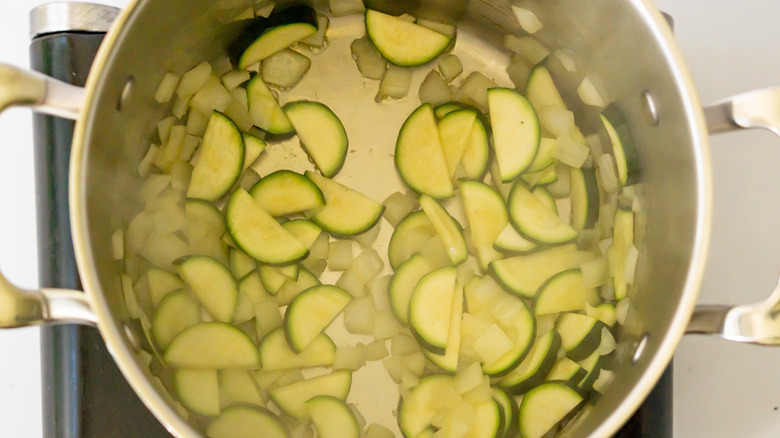 Jamie Monkkonen/Mashed
To start, place a large pot on the stovetop and turn the burner to medium-high heat. Pour in the olive oil, and then add in the diced onion, celery, and sliced zucchini. Monkkonen recommends cutting the vegetables thinly in order for them to completely cook in the soup. 
The vegetables will need to cook with the cover on for 5 to 7 minutes, and you'll need to stir occasionally to prevent any sticking. Once the vegetables have softened, you can remove the lid for the next step. 
Add the garlic and red wine to the pot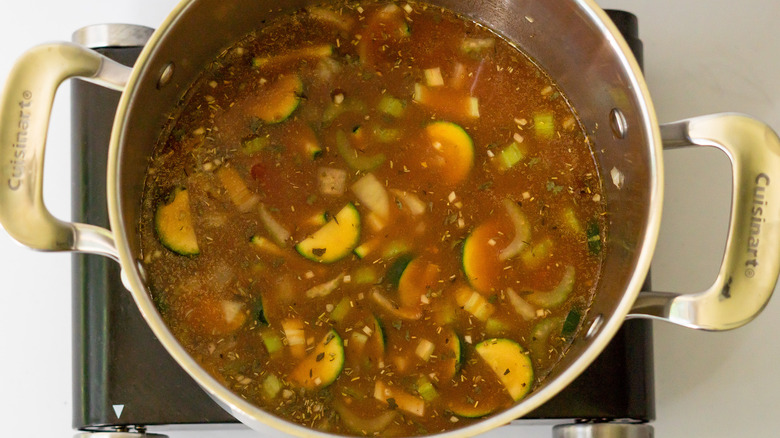 Jamie Monkkonen/Mashed
Add the minced garlic to the pot, and cook for 30 seconds until it starts to brown and become fragrant. Be sure to stir constantly to prevent it from burning. Next, pour the red wine on top of the vegetables and allow it to cook for a couple of minutes. During this time the alcohol in the wine will evaporate — this isn't a boozy soup! Once the alcohol evaporates, the flavor will remain. 
And you'll still have some wine left in the bottle to serve once the soup is ready.
Add the broth, tomatoes, seasonings, beans, and pasta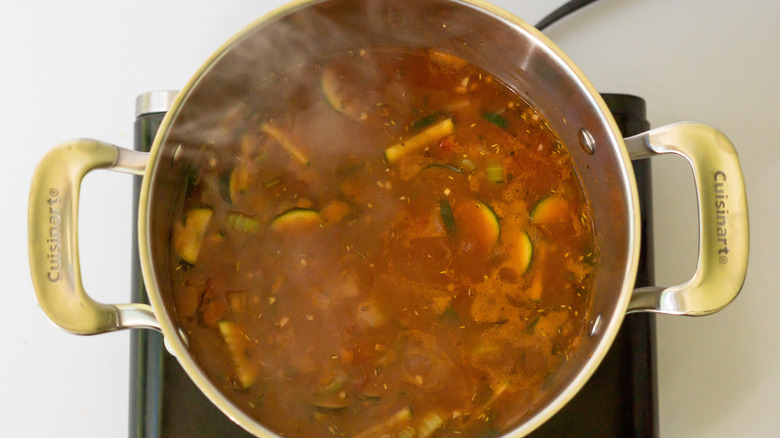 Jamie Monkkonen/Mashed
Next, it's time to add the rest of the liquid contents to the soup so that they can absorb the flavors from the sautéed vegetables. Pour in the vegetable broth, canned tomatoes, and tomato paste. 
It's also time to add in the rest of the seasonings so that the aromas can blend into the soup. Sprinkle in the salt, ground pepper, and Italian seasoning blend. Give everything in the pot a good stir so that the ingredients are well distributed and simmer the contents for five minutes. 
Once the liquid has had the chance to simmer, add in the white beans, kidney beans, and the dried pasta shells. Simmer everything for 10 to 15 minutes until the vegetables, beans, and pasta are soft. Monkkonen says, "The trick is to make sure to cook the soup long enough for all the vegetables to soften." When the time is nearing an end, Monkkonen recommends "testing the softness of each type of vegetable before serving," and notes, "celery is often the last to cook through."
Remove the pot from the heat and add the spinach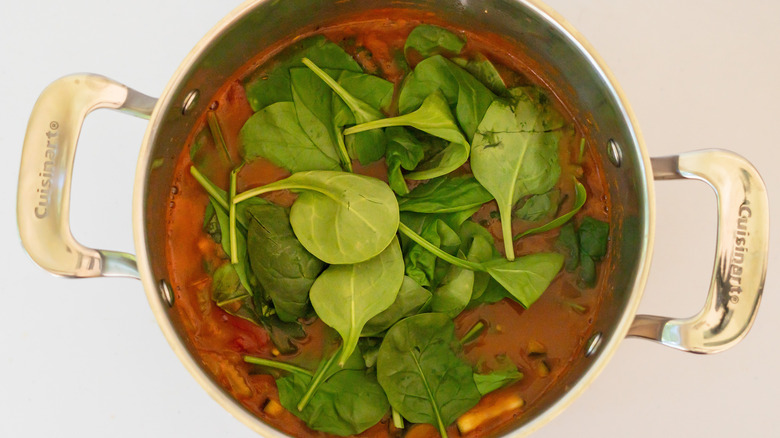 Jamie Monkkonen/Mashed
Once the ingredients have all softened, remove the pot from the heat. Stir in the fresh spinach so that it wilts in the hot soup. Removing the pot from the heat first and adding the spinach at the end prevents it from becoming too limp, and gives the minestrone added texture and a bright green color. It's a great way to incorporate greens into a dish without any effort. If you're a fan of other greens, they can be substituted, but baby spinach has a pleasant and subtle taste. 
Serve the soup with chopped parsley to garnish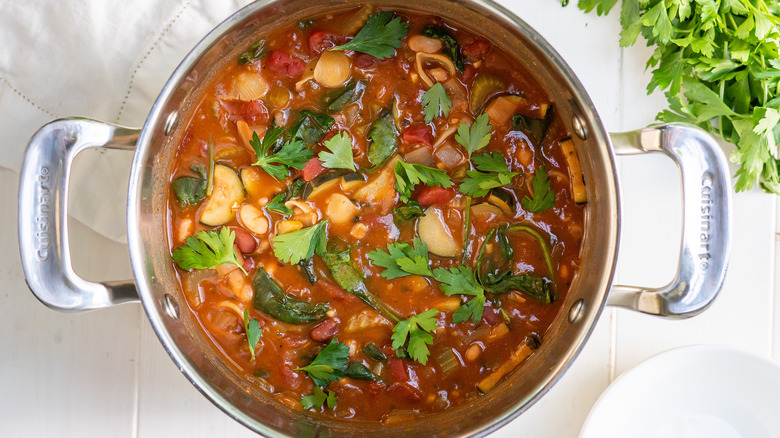 Jamie Monkkonen/Mashed
This delicious minestrone is definitely one to serve hot. Ladle it into serving bowls, being sure to scoop up a good mix of beans, pasta, vegetables, and broth. Top the minestrone with chopped fresh flat-leaf Italian parsley for a fresh and vibrant garnish. 
We love this option for a quick weeknight dinner, and Monkkonen vouches that "this minestrone soup is very easy to make!"
Monkkonen notes, "This soup is hearty enough to serve as a main with breadsticks or crusty bread on the side." If you've been to Olive Garden for the original, this won't be news! As Monkkonen points out, minestrone is great as a one-pot meal since it contains a balance of protein, starches, and vegetables. For a complete Italian meal, follow Monkkonen's recommendation and have it "as an appetizer before a traditional Italian pasta dish." 
You can store any leftover soup in the refrigerator in an airtight container up to three days, or freeze it for a later meal. 
Copycat Olive Garden Minestrone Soup Recipe
While it doesn't come with endless breadsticks, this copycat Olive Garden minestrone soup recipe is comforting, heartwarming, healthy -- and easy to make.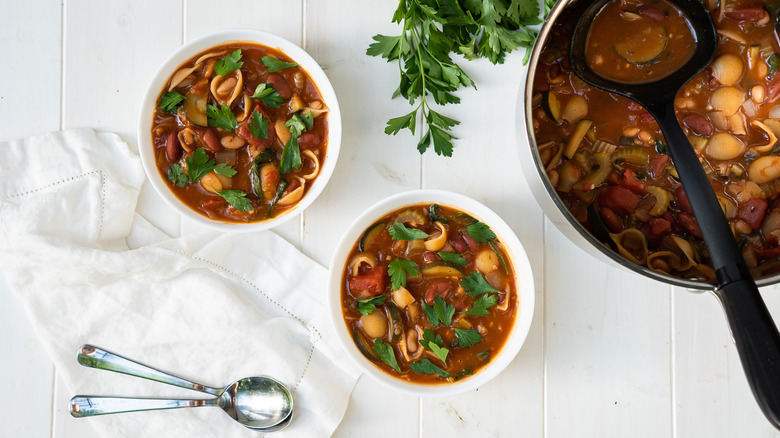 Ingredients
2 tablespoons olive oil
1 medium yellow onion, diced
1 medium zucchini, halved lengthwise and sliced thinly
1 cup celery, diced
3 cloves garlic, minced
⅓ cup dry red wine
4 cups vegetable broth
1 (14-ounce) can diced tomatoes
3 tablespoons tomato paste
1½ teaspoons salt
½ teaspoons ground pepper
2 teaspoons Italian seasoning
1 (14-ounce) can white beans
1 (14-ounce) can kidney beans
1 cup small shell pasta, uncooked
2 cups spinach, packed
Optional Ingredients
Italian flat-leaf parsley to garnish, chopped
Directions
In a large pot on medium-high heat, add the olive oil, onion, zucchini, and celery.
Cook the vegetables, covered, for 5 to 7 minutes, stirring occasionally until the vegetables begin to soften.
Add the garlic and cook, stirring constantly for 30 seconds to 1 minute, or until the garlic begins to brown and become fragrant.
Add the red wine and allow the alcohol to sizzle out.
Add the broth, canned diced tomatoes, tomato paste, salt, pepper, and Italian seasoning, and simmer for 5 minutes.
Add the white beans, kidney beans, and pasta. Simmer for 10 to 15 minutes or until all the vegetables, beans, and pasta are soft.
Remove the pot from the heat and stir in the spinach.
Serve the soup hot with freshly chopped parsley to garnish.
Nutrition
| | |
| --- | --- |
| Calories per Serving | 287 |
| Total Fat | 5.8 g |
| Saturated Fat | 0.9 g |
| Trans Fat | 0.0 g |
| Cholesterol | 0.0 mg |
| | |
| --- | --- |
| Total Carbohydrates | 45.5 g |
| Dietary Fiber | 9.6 g |
| Total Sugars | 6.6 g |
| Sodium | 901.1 mg |
| Protein | 12.6 g |