This Is What President Biden Eats At His Favorite Restaurants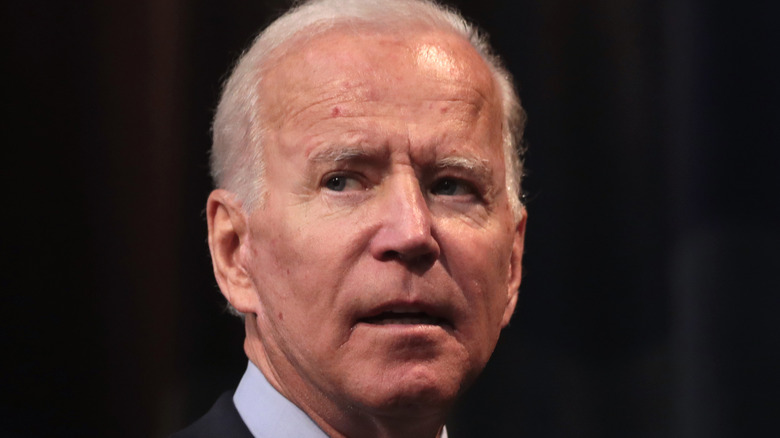 Shutterstock
To the public, President Joe Biden is known for his endearing ice cream eating habits, but to his hometown of Wilmington, Delaware, his go-to eats are a bit more specific. According to Wilmington natives that have often dined near him or served him, Biden is known for liking his milkshakes from The Charcoal Pit made "thick and lumpy" and enjoyed alongside a cheeseburger covered in pickle chips, as noted by Food & Wine who went on a presidential-sized food tour of the town.
Over at Capriotti's, Biden's favorite sub shop, he likes the meal known as "The Bobbie," a turkey sandwich with stuffing, mayo, and cranberry sauce, on a soft hero roll. The menu item, according to the writer of the article, is not all that impressive, though it's what made Biden once proclaim, "The best sandwich in America is out of Wilmington, Delaware," while ordering it on camera in 2013 (via CBS). 
Perhaps Biden has a simple palate when it comes to sandwiches, but considering his affable style and that everyone in his hometown refers to him as "Uncle Joe," his unpretentious taste in food comes as no surprise. Lupe Avilez, the cook and manager at The Charcoal Pit for the past 24 years told the magazine, "We just see him as a regular customer." The 64-year-old malt shop has been a regular for Biden since his high school football playing days, and since then, his order hasn't changed — much like his other in-town favorites.
President Biden also loves Italian food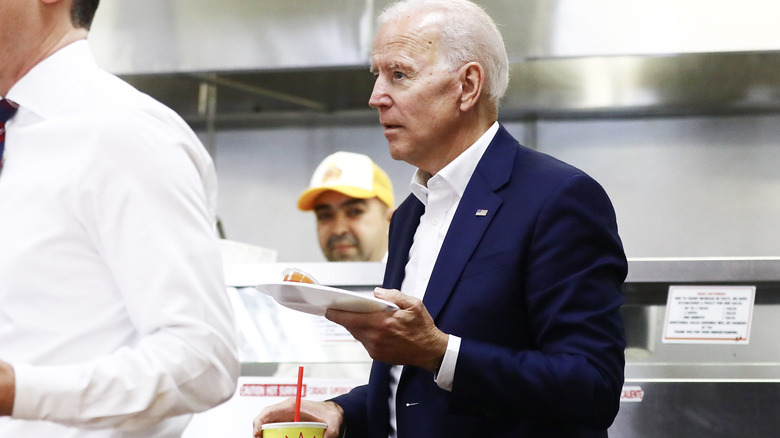 Mario Tama/Getty Images
Whenever President Biden is in the Trolley Square neighborhood of Wilmington, he always grabs a bite at Cafe Verdi, and like clockwork, he orders the chicken parmigiana every time. The unassuming spot might not be the place you'd expect a president to dine at, but the Wilmington Visitors Bureau reports that it's been a go-to spot for the Biden family for years. His daughter Ashley even used to waitress there, and when his son Beau started having his own brood, they became regulars too.
Biden is also a frequent diner at Piccolina Toscana, an Italian eatery off of Route 52. He and his family love the food there so much that they used the restaurant to cater daughter Ashley's wedding reception. As for Biden's order, "It's capellini al pomodoro. If he's feeling racy, it's penne al pomodoro," chef and owner Dan Butler shared with Food & Wine, adding, "I'd rather he eat more adventurously, but he's always effusive about how good the meal is, so I can't complain."
When in downtown Greenville, Biden can't turn down a slice from Pizza by Elizabeths. "When he was Vice President, he could be found here eating fairly regularly with his Secret Service detail," the Wilmington Visitors Bureau reports. His favorite type of pizza is one you can pretty much only get here: grilled cheese pizza, with a side of tomato soup. Though Biden's campaign trail often included multiple pizzerias (via Washington Examiner), clearly there's no place like home. And while he may be a self-proclaimed "ice cream guy," according to Today, it seems Biden is an Italian food guy too.