Amazing Ways To Use All That Leftover Turkey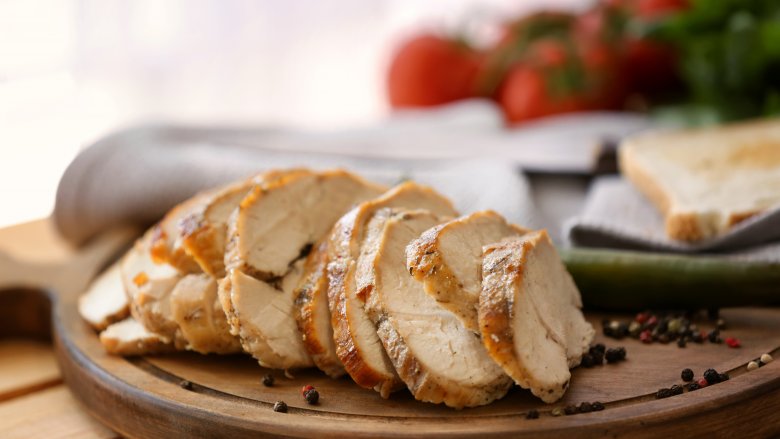 Shutterstock
The turkey's been cut, the meal has been eaten, and all the guests have gone home armed with tins of lovely leftovers. But there's always more turkey left, because when you're picking out your bird, you always get the biggest bird your oven can handle, right? Then leftover reality sets in, and you're thinking there's only so much turkey soup and turkey-and-mayo sandwiches a person can handle. Fortunately, we have a ton of ideas for using up those turkey leftovers that don't involve any of the same old standards.
For a fun, homemade pizza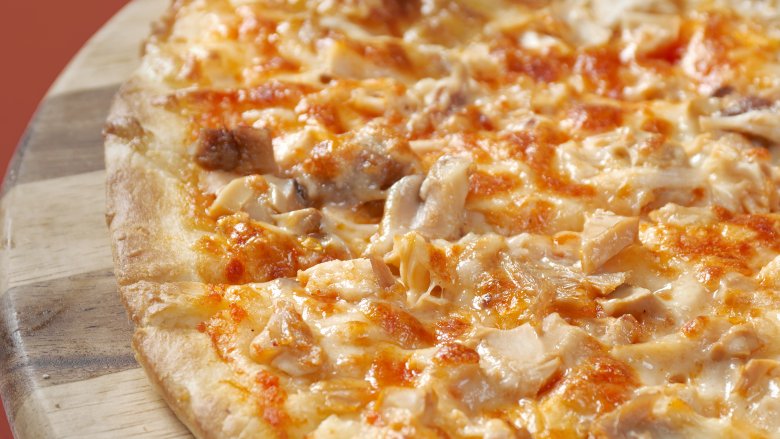 Shutterstock
Everyone loves pizza, and let's face it, the last thing you want to do the day after cooking a massive turkey dinner is to spend more time in the kitchen. Pizzas can be super-easy, and there are plenty of ways you can use up a good bit of turkey that way. Dice up some turkey, and use it just like you would use chicken on a white pizza, or lather on that tomato sauce, pile high with turkey and cheese, and add some of your favorite veggies. If you're planning this one ahead of time, pick up a few packages of naan bread so you don't even need to invest time in making dough and crust for some seriously simple individual pizzas.
In some hot and hearty chili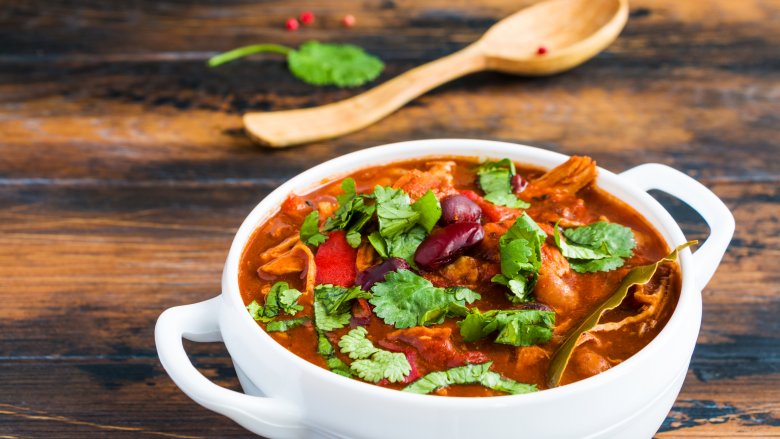 Shutterstock
Turkey dinners are the stuff of those long autumn and winter months, and that's the same time of the year you'll be craving something hot, hearty, and filling. We don't have to tell you how well a burbling pot of chili checks all those boxes, but we will tell you using some leftover turkey is going to work just as well as beef in your favorite, go-to chili recipe. Just shred some of your leftover turkey, and use that instead. Even better, chili freezes great. Make a whole pot, freeze what you don't use right away, and all your leftovers are taken care of with no waste and you have a stash of super-easy meals ready whenever you grab them out of the freezer.
To freshen up your grilled cheese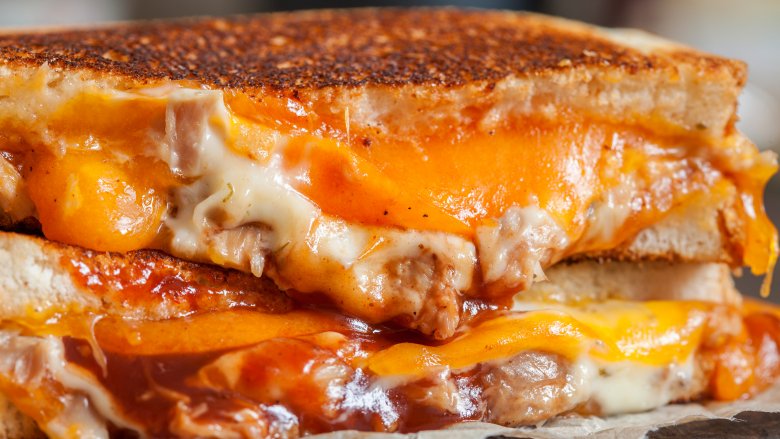 Shutterstock
You're not alone if grilled cheese is one of the first things you learned how to make. It's great in a pinch and, even better, it's so versatile you can add almost anything to it — including some leftover turkey for a lunch that's even better. Mix it up with a dash of leftover cranberry sauce along with the turkey and Monterey jack cheese, if you want to keep that Thanksgiving flavor going just a little bit longer. If you're sick of cranberry sauce, just see what else is in your fridge. Salsa, maybe? Some hot sauce? Sounds damn delicious, we know!
On a hot breakfast sandwich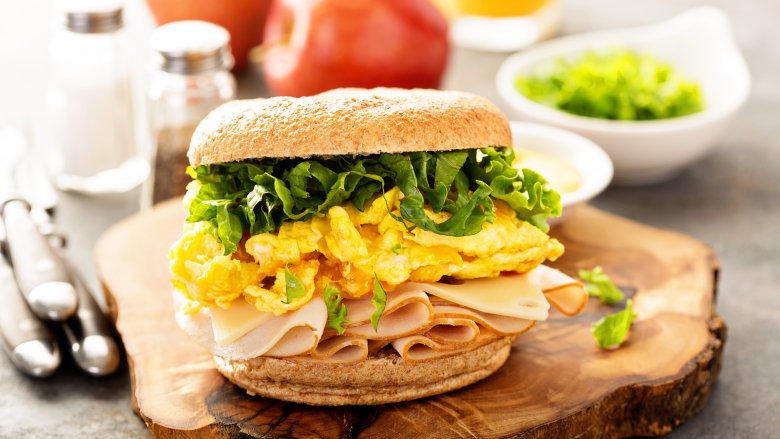 Shutterstock
How about giving the drive-thru a miss and whipping up a hot breakfast sandwich or two at home? If you love getting a sausage, egg, and cheese sandwich with your morning coffee, save some cash and make them at home using a few slices of leftover turkey. You can even make them ahead of time and pile them in the fridge to warm up any time, whether it's as you're heading out the door or if you're hungry at 2 in the morning. Use croissants or bagels (or even one of those leftover rolls from dinner), some turkey, eggs, and whatever other goodies you have in the fridge. A slice of cheese and a dash of mustard will go a long way, or you could use a dollop of leftover cranberry sauce to hold the whole thing together.
For a totally different take on shepherd's pie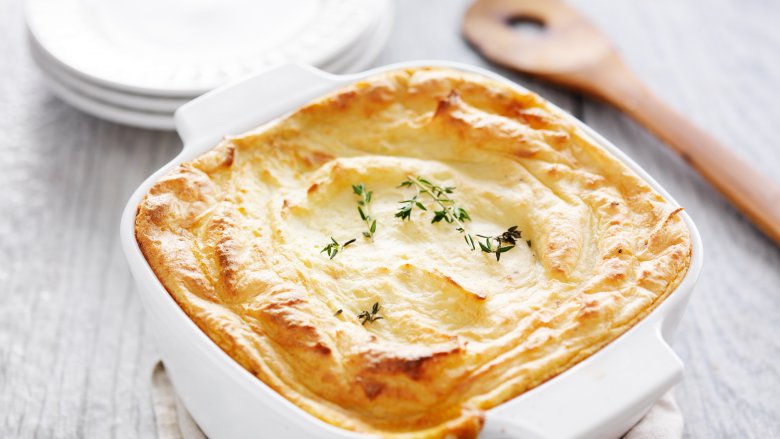 Shutterstock
Shepherd's pie is another delicious winter dish you can totally jazz up with turkey. Since shepherd's pie is technically made with lamb and cottage pie is the same idea made with beef, what's it called when it's made with turkey? We're not sure, but it's a dish worthy of a name. Load up your baking dish with shredded turkey, a light gravy, and top with mashed potatoes in a traditional British fashion, and trust us when we say this one is even better the next day. If you've only got a bit of leftover turkey you're trying to use, this one's perfect for you — and it's a great reason to use those single-serve crocks you got for things like French onion soup. Fill in the gaps with your favorite veggies, and you'll have a warm, hearty dinner everyone will love.
For quick-and-easy gyros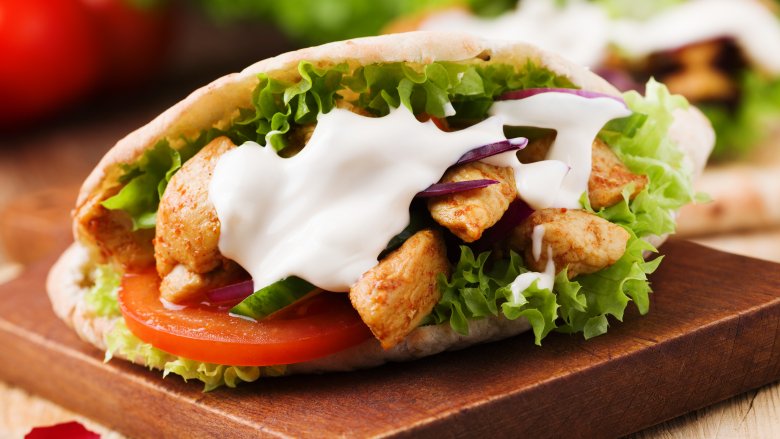 Shutterstock
How about going Greek for a night with some turkey gyros? Just use turkey where you'd normally use chicken, and you'll have a new flavor that's just as delicious — and way  more fun than a boring old turkey sandwich. Add your shredded turkey to a pita, and pile on your veggies, like cucumbers and peppers. Top it was a tasty dressing, and this one is going to hit the spot.
In a quesadilla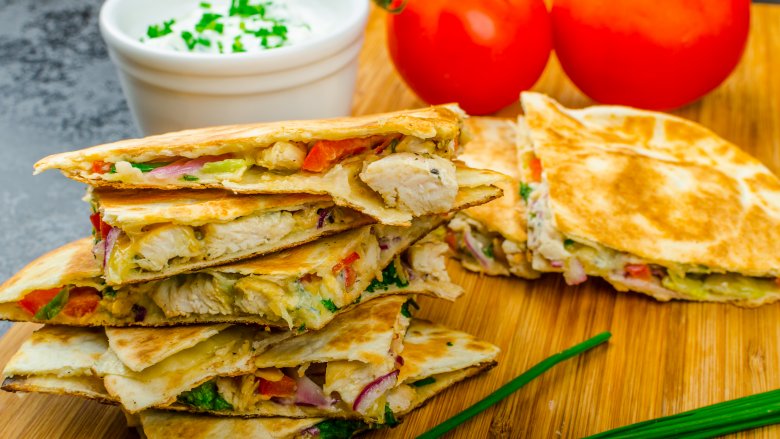 Shutterstock
A pack of tortillas — big or small — is another must-have item in any kitchen. Not only are they great for lunchtime when no one feels like soup or a sandwich, but they're perfect for using up some of those leftovers, too. Pile on the turkey and cheese, add some salsa, hot sauce, and melt everything into gooey goodness right on your stove top. There's another bonus to this one, and that's the fact that it's not as heavy as other options might be. If you're still reeling from stuffing yourself on the original turkey dinner, this is the light, quick fix you need. You can even add some veggies to make sure you've got that food group covered.
Turkey salad sandwiches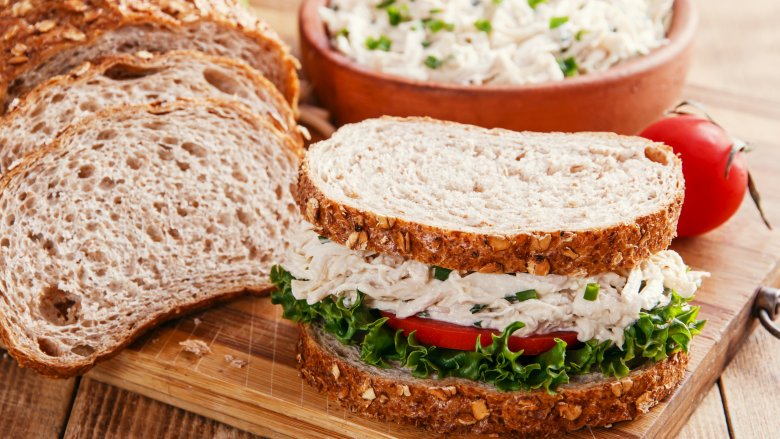 Shutterstock
Tuna salad and chicken salad are classic staple sandwiches, because they not only taste good, but they're versatile, too. They're so versatile you don't even have to use tuna or chicken — use that leftover turkey! Use your got-to recipe, but swap your protein for turkey — we promise you won't regret it. If you want to mix things up a bit, add some hard-boiled eggs, diced pickles, or even replace some of that mayo for avocado for a version that's not your typical fat-filled classic, but tasty enough to become a new one.
On top of a pile of nachos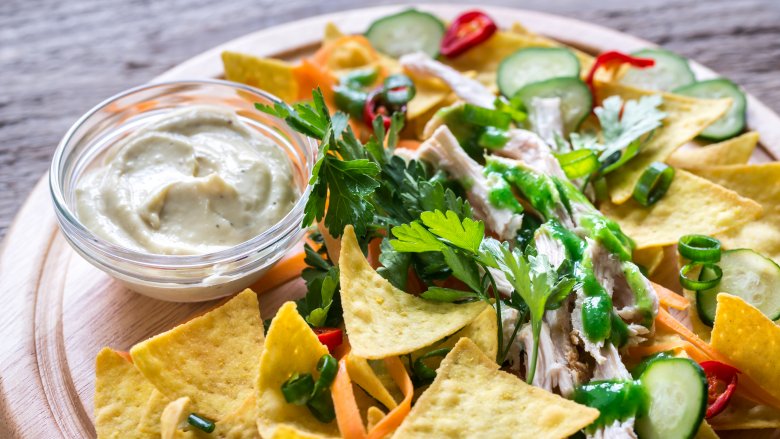 Shutterstock
Everyone loves nachos, and no matter how picky a family member you have to try to please, there's a way to make nachos a 100 percent win for everyone. You probably have your favorite, and whether that's using a homemade cheese sauce over tortillas baked to perfection or cheese out of a jar poured over some Doritos, no one is going to judge, because all nachos are awesome. They're also great with some sliced or diced turkey in lieu of hamburger, and it's so different you're not even going to get complaints of, "Turkey again?"
To fill some stuffed potato skins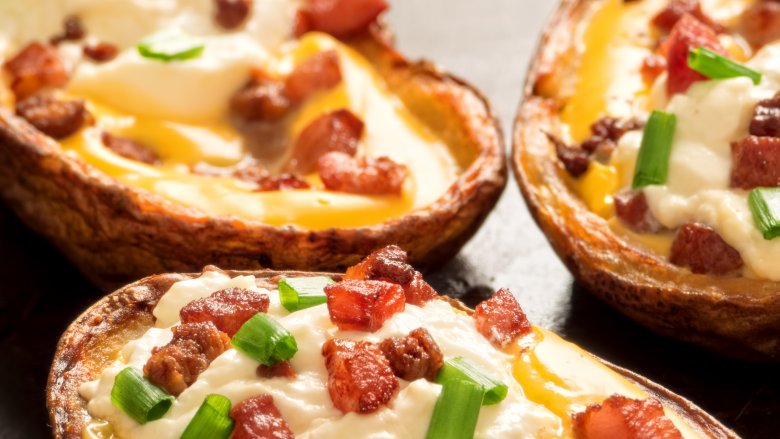 Shutterstock
It's not like you need an excuse to make potato skins, but using up leftover turkey is actually a great one! No matter how you make them, they'd even be a great appetizer to alongside one of those turkey pizzas, we're just saying.
You can use turkey and cranberry leftovers to stuff your sweet potato skins if you're looking to keep with the Thanksgiving dinner theme. But if you're looking for something different, it works for that, too. Use regular potatoes, and if you usually use something like bacon on your skins, substitute in diced turkey. There's no wrong way to make potato skins, after all, and one of your new family favorites might just be some diced turkey, cheese, and Frank's Hot Sauce for a thrifty twist on Buffalo chicken skins. This can be turned into a breakfast favorite, too, with an egg, diced turkey, and some hot sauce. Boring breakfast, be gone!
To make a lunch of tasty, savory tarts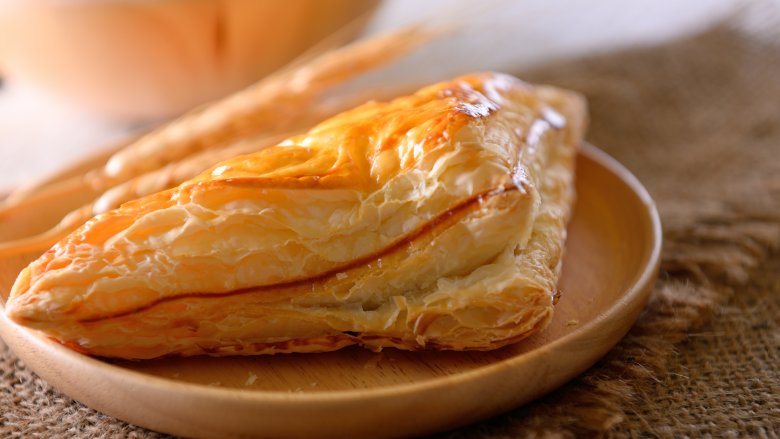 Shutterstock
Puff pastry is amazing stuff, and once you start using it, you'll find it ends up a staple item for your fridge. Use some to make up a batch of hand pies or tarts for your lunch, and when you use leftover turkey, there are all kinds of flavors you can experiment with. Use some of that leftover gravy for a pot pie-type tart, or use your favorite pizza ingredients for a turkey calzone. Those are good cold, too, and they'll be a lunch that will make everyone jealous. Just wrap the filling in pastry, bake until brown, and dig in!
In mac & cheese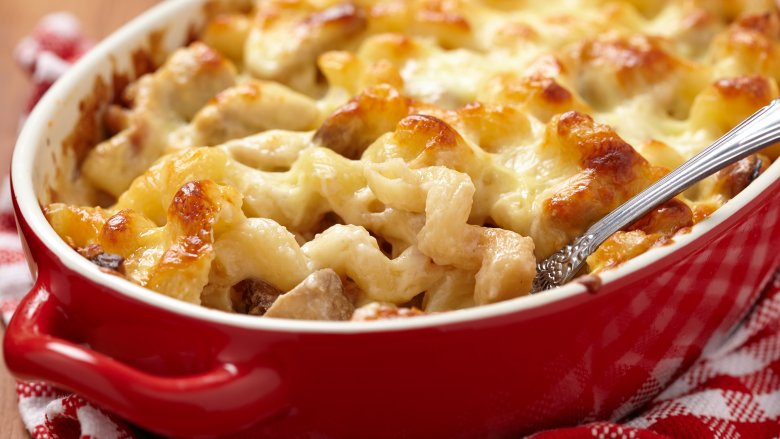 Shutterstock
We know you have your favorite, go-to recipe for mac and cheese. Sometimes it's a side dish, and sometimes it's a main dish. Add shredded or diced turkey and it'll definitely be the latter — and, it'll be so good your family won't even complain about having leftover turkey yet again.
This dish might not be particularly healthy, but it is packed with protein — and there's the added bonus of a dish that comes together without having to spend a huge amount of time in the kitchen. While some might get a little fancy by adding cream of chicken soup and topping the whole thing with panko breadcrumbs, you can also just slip the turkey into your standby family favorite with no fuss.
In your favorite curry sauce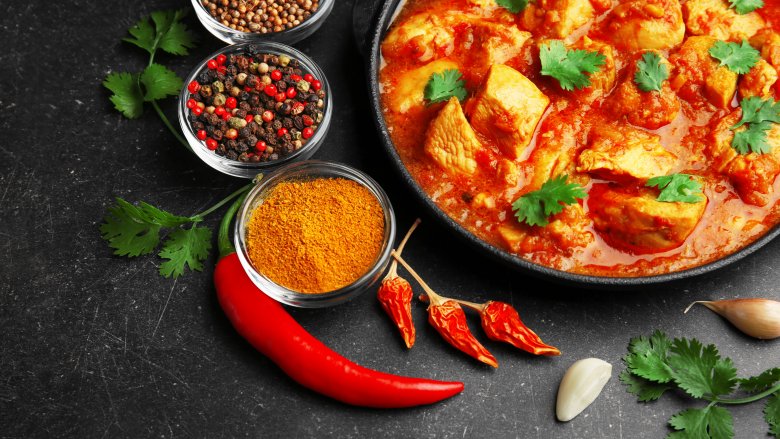 Shutterstock
Beef and chicken are probably your default proteins for making Indian, but you can definitely use up your leftover turkey this way, too.
Depending on how much time — and how many favorite recipes you have — you can start from scratch. But, let's be honest here. Sometimes, you need a shortcut. Check out the Indian section in the grocery store and you'll find all kinds of premade sauces that are great for those nights when you just don't have time to make something from scratch — or for that day after you spent 12 hours in the kitchen cooking a full turkey dinner. Dice or shred some turkey, pick whichever sauce you're in the mood for, and serve over rice or couscous. Don't forget the naan!
Reheated so it's wonderfully moist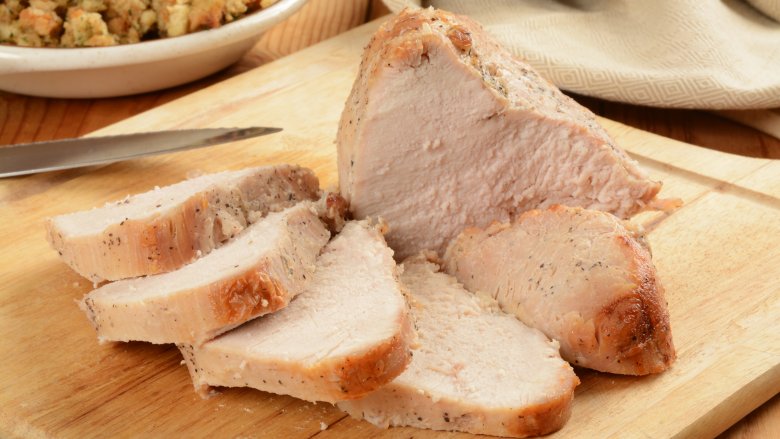 Shutterstock
If you really love turkey, you may just want to serve it up in such a way it's not hidden inside other ingredients. That could be in slices with the rest of your leftovers, or on one of those tried-and-true turkey sandwiches. Or how about on a hot turkey sandwich with some gravy? The problem is, turkey has a pesky tendency to dry out if you reheat it, but Cook's Illustrated gave us some tips on how to keep that from happening.
It's easier than you think: Start with heating the oven up to 275. Wrap your leftovers in foil, and pop them into the oven. Heating them to only 130 degrees is going to be hot enough to serve, but it won't dry your turkey out. The tricky part comes in keeping an eye on the temperature, since there are so many variables — like how thick your pieces are and how much you're reheating — there's no tried-and-true time. Keep an eye on it with a meat thermometer, then take the pieces out. Your turkey will be as good as it was on that first day!