Slow Cooker Broccoli Potato Cheese Soup Recipe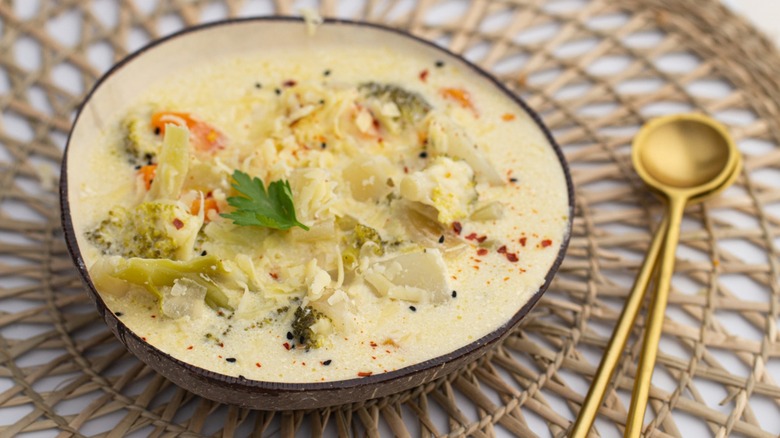 Susan Olayinka/Mashed
Everyone knows the health benefits of broccoli. Not only is broccoli brimming with vitamins and nutrients, but it's also been proven to boost people's immune systems, balance out blood pressure, counterattack the mental effects of aging, and can even help prevent diseases like cancer.
Crunching on raw broccoli poses the perfect health snack, even when paired with a fat-free and low-cal dressing. It adds an awesome health boost when incorporated into recipes like stir fry, chicken and broccoli alfredo, or broccoli-cheddar quiche.
And when prepared in a slow cooker side-by-side with diced potato bites and cheese for a hearty bowl of broccoli potato cheese soup, you won't believe that it's actually good for you. Chef and recipe developer Susan Olayinko has created a wonderful recipe that saves time by using a slow cooker, and the result is a fantastic final dish that quickly will become a favorite in your home. It's light enough for lunch and rich enough for dinner. Enjoy!
Gather up the broccoli potato cheese soup ingredients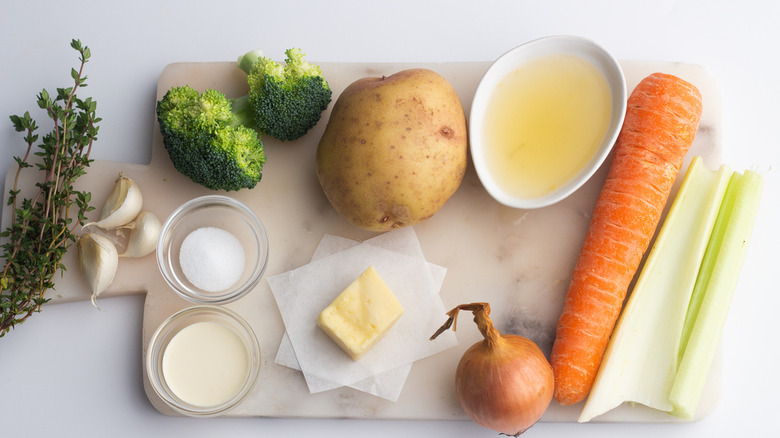 Susan Olayinka/Mashed
Bursting with flavor, this slow cooker broccoli potato cheese soup recipe draws upon several spices to bolster its taste. It, of course, calls for a base of chicken broth and heavy cream, along with broccoli, a potato, and cheddar cheese. Additional ingredients needed for this recipe include a stalk of celery, a carrot, an onion, garlic cloves, sprigs of thyme, and salt.
"The taste is like a delicious broth with a hint of sharp cheddar so just imagine chicken broth and cheese. The chopped vegetables also change the consistency but they are nice and soft because of the slow cooker," Olayinka says.
Why a slow cooker for soup?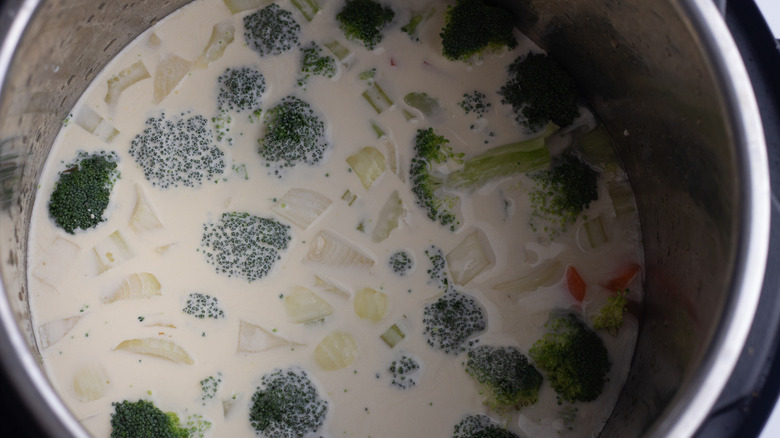 Susan Olayinka/Mashed
Slow cookers are an amazing tool to have in your arsenal, since you can create a meal virtually hands-free. With just a bit of prep time, all you do is pour ingredients into the Crockpot and go off and do something else, like take a nap, clean your house, fold the laundry, or walk the dog. Slow cookers are wonderful for soup in particular, because it allows the ingredients' myriad flavors to blend together.
"It's very awesome, the slow cooker! It's is a home-cooked best friend as it enables you to do a dump and go meal," Olayinka said.
Prep the soup's veggies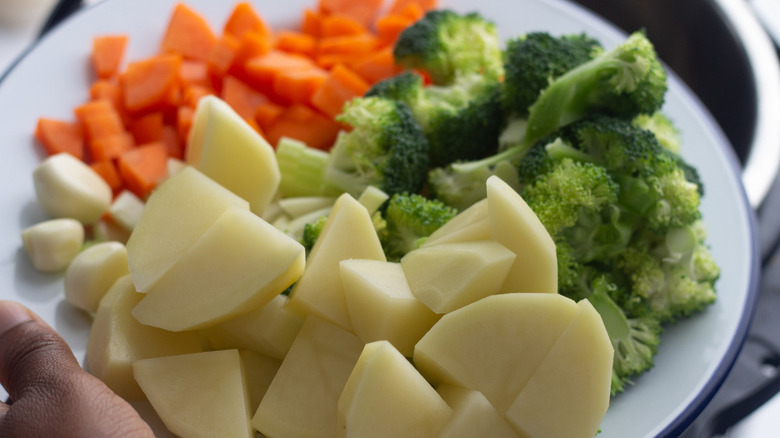 Susan Olayinka/Mashed
Surprisingly it takes a mere 10 minutes to prepare the ingredients for this delicious dinner. Grab a chopping board and cut up 1 cup of broccoli, 1 medium potato, and 1 celery stick into bite-sized pieces. Grab a tissue for the tears and slice up one onion thinly. Take out a garlic press and slice up 3 garlic cloves.
There are a few things you can try to prevent the tears from flowing while slicing the onion. You can chill it in the fridge for 15 minutes in an effort to reduce the chemical load released in your face when cutting through it. You also can cut the onion below your range hood or near a small fan so that it blows the onion smell away from your face. Another technique is to cut an onion near a flame.
Blend the base in the slow cooker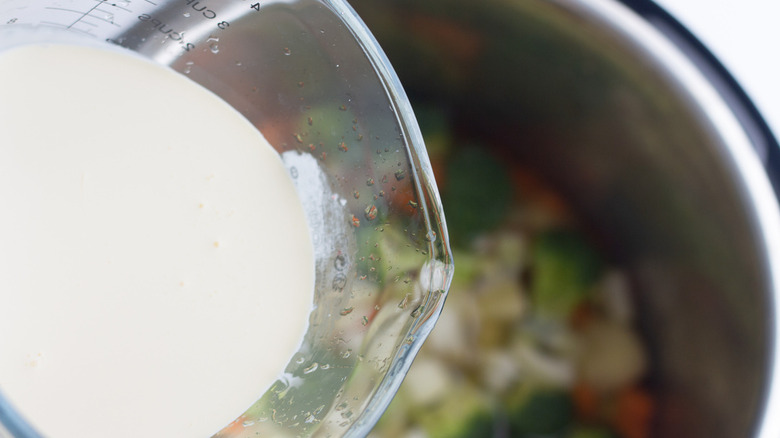 Susan Olayinka/Mashed
Pour into the slow cooker 5 cups of chicken broth, ¼ of a teaspoon salt, ½ of a cup of heavy cream, and the chopped potato, celery and garlic. Toss in the 4 sprigs of thyme for additional flavor. Turn the slow cooker to high and set the timer for three hours.
Now's the time to hop in the shower, enjoy a glass of lemonade, check out the latest episode for your Netflix addiction, or catch up on SnapChat. You have three hours to get something done! When the three hours are up, add ½ a cup of mature cheddar cheese to the slow cooker, mixing thoroughly. Serve immediately.
What veggies to buy?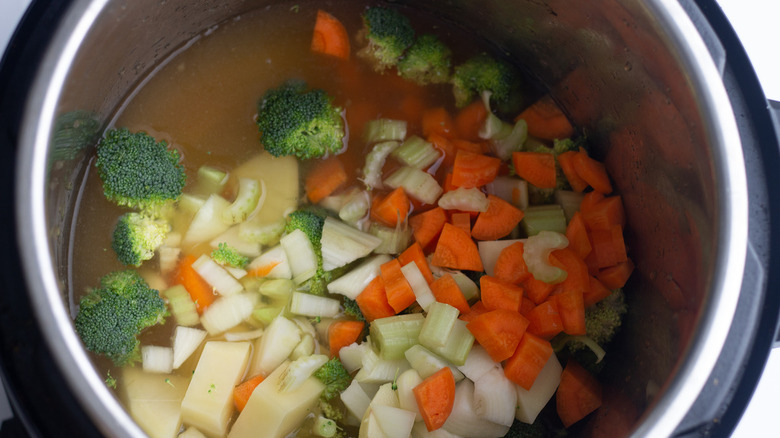 Susan Olayinka/Mashed
Olayinka purchases both organic and non-organic produce, but prefers organic fruits and veggies for her family and for recipes like these.
"I just believe they taste better and I've heard that the vitamin content is slightly higher," she says. When buying the broccoli, the florets should have short stems. Fresh is best, too, and not frozen broccoli for this recipe. "I find that the stems are a bit chewy," Olayinka says. For the onion, there's no shortage of varieties to choose from, but she gravitates toward yellow and not white or vidalia. The potatoes should be Yukon gold, she advises, although white potatoes would work if you can't find Yukon gold.
How to serve the soup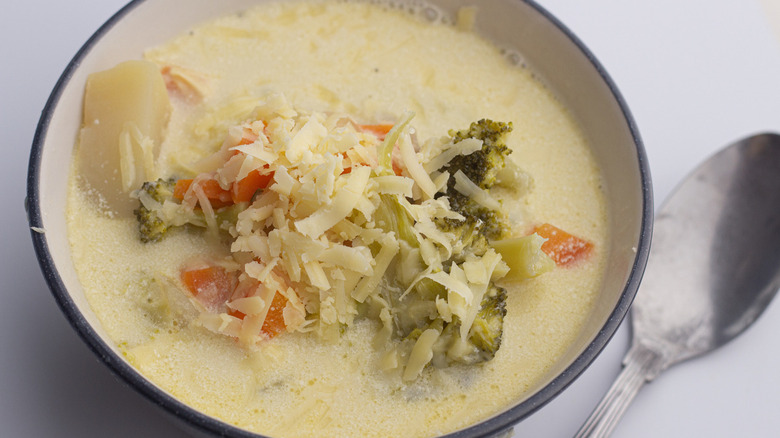 Susan Olayinka/Mashed
Sure you could ladle the soup into a bowl and slurp it up with a spoon. But why not spruce up this meal? Olayinka suggests eating the soup with a heaping handful of crusty sourdough bread slathered with butter or even a grilled cheese sandwich on the side. Bread bowls are amazing for thicker soups like this, too.
To spruce up your sourdough bread, use flavored butter like those infused with lavender. If you're gravitating more toward a toasty and warm grilled cheese sandwich, be sure to use thick slices of authentic cheese for the middle. Another hearty and filling side that pairs well with soup is a homemade bagel, preferably plain but schmeared with flavored cream cheese.
Slow Cooker Broccoli Potato Cheese Soup Recipe
A slow cooker is a perfect vehicle for delivering this savory and cheesy broccoli soup. The prep work is easy and the result is a soup that's sure to satisfy.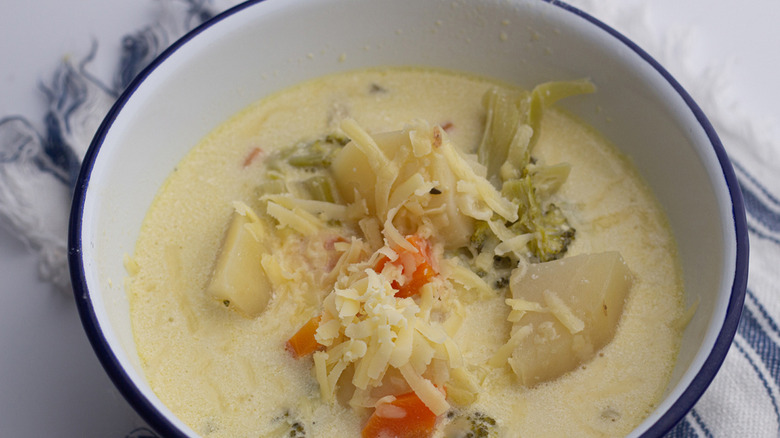 Ingredients
1 cup of broccoli
1 medium potato
½ cup mature cheddar cheese
5 cups chicken broth
1 celery stick
1 onion
3 garlic cloves
4 sprigs of thyme
¼ teaspoon of salt
½ cup heavy cream
Directions
Get a chopping board and chop up the broccoli, potato, and celery stick into bite-sized pieces.
Slice the onion thinly and use a garlic press to garlic and set aside.
In the instant pot pour the chicken stock, salt, heavy cream, chopped potato, chopped celery, and chopped garlic and cook on high for 3 hours.
When the 3 hours are finished, put the cheese in the instant pot and mix it in and serve immediately.
Nutrition
| | |
| --- | --- |
| Calories per Serving | 347 |
| Total Fat | 20.4 g |
| Saturated Fat | 11.1 g |
| Trans Fat | 0.2 g |
| Cholesterol | 66.6 mg |
| | |
| --- | --- |
| Total Carbohydrates | 27.1 g |
| Dietary Fiber | 2.9 g |
| Total Sugars | 7.9 g |
| Sodium | 712.5 mg |
| Protein | 14.6 g |