Everything We Know About Cinnamon Toast Crunch Cookie Dough
Your favorite childhood cereal is coming to store shelves as your soon-to-be favorite cookie dough with Limited Edition Cinnamon Toast Crunch flavored cookie dough by Pillsbury (via PopSugar). This delicious new dough comes in ready-to-bake portions to make 12 big cookies. Even better, this dough can also be eaten raw. Whether you can't quite wait for the oven to heat up, or you are ready to roll the dough into bite-sized balls and add it to your ice cream, this limited edition flavor is set to make the perfect treat for Saturday morning cartoon snacking.
Instagram reactions seem to be reduced to awed one-word answers including, "BRO," "neeed," and "cool," but the enthusiasm is definitely there (via Instagram). This cookie dough will be released at a suggested retail price of 2 for $5 and include the 12 extra large cookies with vanilla frosting and patented Cinnadust flavoring (via Chew Boom).
But that's not the only delicious plans Pillsbury has for this iconic cereal.
Pillsbury works its magic with Cinnamon Toast Crunch's Cinnadust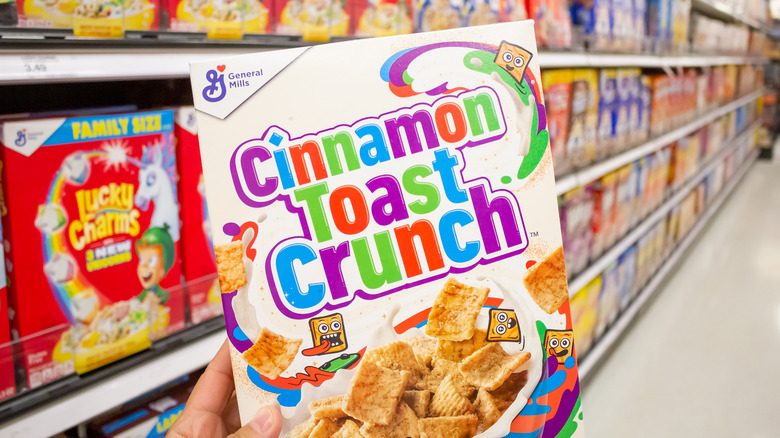 Shutterstock
If you are craving that patented Cinnamon Toast Crunch Cinnadust flavor, what better way to enjoy it than on some good old-fashioned cinnamon rolls? Starting June 2021, you should be able to enjoy both Cinnamon Toast Crunch cookie dough and cinnamon rolls in your Pillsbury baking section at nationwide grocers. The cinnamon rolls will be sold in your traditional Pillsbury tube of eight, with the frosting package on the inside. Yet, while the rolls are also ready-to-bake, you should not eat this dough raw. 
These flavor profiles sound spot on to us. Cinnamon with sugar cookies adds a classic snickerdoodle-style flavor, whether you add the icing or not. Pillsbury's traditional cinnamon rolls could clearly benefit from being kicked up a notch with some cereal-worthy seasoning, too. The only thing cereal lovers may truly miss is the crunch, though we do not recommend adding crunch to the rolls or cookies, and instead, encourage you to follow the directions on the packaging itself.
So, if you crave those tasty squares, rolls, or cookies, get to your store now before they are gone!