The Unique Fries McDonald's Sold During The 1994 Olympics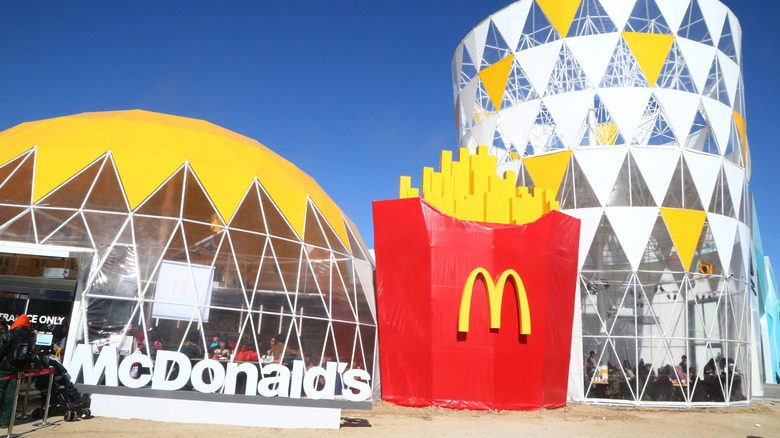 Shutterstock
McDonald's and the Olympics have a long, storied history that began in 1968, according to Olympics.com. As the story goes, McDonald's delivered hamburgers all the way to Grenoble, France to U.S. athletes who "deserved a break" that day. The marketing stunt paid off and set the fast food chain on the path to become a sponsor of these iconic games in 1976. Per The Washington Post, the golden arches sponsored the Olympics for four decades until it was announced in 2017 that the two would be parting ways. Kind of a bummer, if you ask us, but fast food and competitive sports really don't seem like a good combo. 
With that said, during those 40 years, McDonald's came up with some memorable campaigns and foods that had both athletes and spectators ordering it up. From their disastrous marketing campaign in 1984 that involved giving away menu items based on U.S. athletes winning events, which the Laist.com details, to the quick service restaurant's user generated ad campaign during the 2012 London games, McDonald's and the Olympics constantly stepped up their game with something new. But one menu item that they played around with is one that may cause some strong feelings. In 1994, McDonald's changed up one of their most beloved staples in anticipation of the Olympic games held in Lillehammer, Norway. Here's what happened.
Olympic Twist Fries, A.K.A. curly fries
During the 1994 Winter Olympic games, McDonald's sold Olympic Twist fries, also known as curly fries, for a limited time at participating stores. In a commercial featuring a young girl practicing her figure skating routine, a dad watches on as his daughter falls in the middle of a twisting toe jump. She takes a break and has some of these fries before returning to the ice and achieving her perfect jump. The taste and texture of these curly, twirly fries was described as "crisp, lightly seasoned spirals" and McDonald's concluded the commercial by labeling the February offering as an "inspiration with a twist."
They sound salty and wonderful. Seriously, who can resist those golden ringlets of fried potato goodness? According to Inc.com, McDonald's sells 9 million pounds of fries on a daily basis. We clearly are fond of this fried food. But, if you are among those who believe McDonald's fries are sacrosanct and should never be messed with, then you will be happy to know the Twist fries were not around for long. However, they did not go away completely; per Yahoo, McDonald's has tried various versions of the twist fries in the likes of Singapore, where they were flavored with salt, pepper, and crab.