The Sauce Gregory Gourdet Calls 'All-Purpose' For Veggies
If you are a fan of Bravo's cooking competition series "Top Chef" or happened to be visiting Portland and stopped off at the pop-up restaurant Kann, which served up Haitian-inspired eats, then you probably have been following the meteoric rise of Gregory Gourdet. Gourdet is a force in the culinary world whose cooking is inspiring cooks, both young and old. He even shared one of the most impactful lessons he learned during his first appearance on the reality cooking show, telling Parade, "One of the biggest lessons I learned from my first season is that there's so much about food you can know. What we can learn about food is so endless."
Gourdet went on to explain that his appearance on "Top Chef" provided him the opportunity to travel and learn more about food, and now his journey and this experiences have culminated in the James Beard nominated chef publishing his first cookbook, "Everyone's Table: Global Recipes for Modern Health." This is a cookbook that has everyone talking. 
Per Today, Gourdet revealed in the foreword that all 200 recipes are ones he would cook for his friends, but you may not notice they are also free of gluten, dairy, soy, refined sugar, and legumes. What you will take note of is his heavy concentration on vegetables. How do you dress-up vegetables and make them lip-smacking good? According to The Kitchn, Gourdet calls this one sauce "all-purpose" when you are charring or roasting up your vegetables.
Vietnamese-style chili lime sauce is 'salty, funky, umami, spicy, garlicky'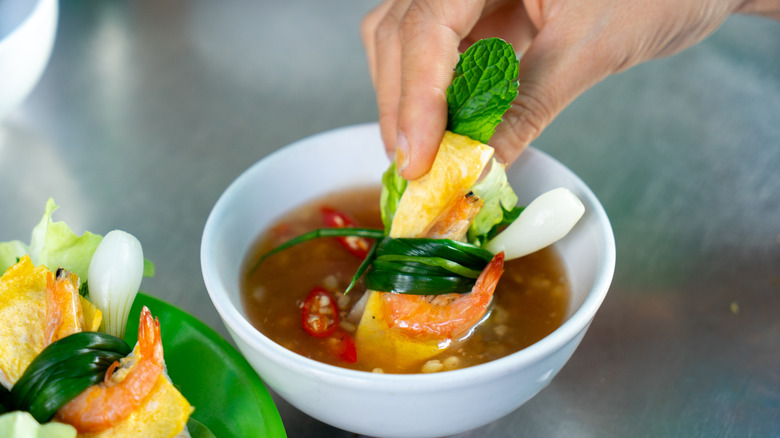 Shutterstock
If you like to eat a plant-based diet, but are looking for a way to transform your vegetables, Gregory Gourdet knows just the sauce you need. When asked by The Kitchn if he could have just one sauce for vegetables, what would it be, the celebrity chef said, "I think it's the Vietnamese-style chili lime sauce."
And if you are not certain what that is, don't worry, Gourdet went on to explain, "That's in the sauce chapter. Fish sauce, lime juice, and some chilies. It's something that does not go bad. It's tart, it has umami, it has chili. It's one of my favorite sauces. It goes really well with pretty much anything — especially something that's charred or roasted. You can easily use that to dress literally anything from simple greens, to something grilled, to hearty greens." 
We definitely love the acidic, but sweet flavor of lime paired with the heat of some chilies, but what does this sauce taste like? Gourdet told the cooking site, "It has that great balance of salty, funky, umami, spicy, garlicky, so it's really an all-purpose sauce." Sounds like we need to make this sauce for dinner tonight!