George Lopez Tells Us Everything About George Lopez Tacos - Exclusive Interview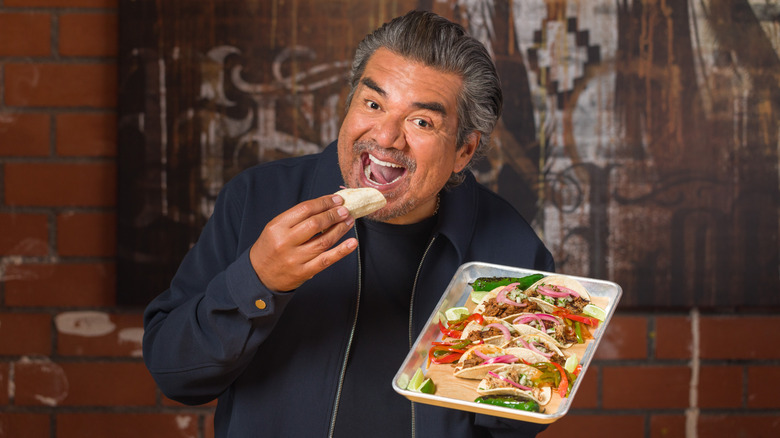 Greg Cahill for George Lopez Tacos
George Lopez is, without doubt, a major-league multi-hyphenate: comedian, television and film actor, talk show host, author, and restaurateur. For his latest culinary venture, Lopez has partnered with Nextbite — the leader in the virtual restaurant industry — for George Lopez Tacos, a delivery-only taqueria for Lopez's "bad-ass" street tacos. The unique aspect of Lopez's tacos is that everything is prepared fresh at one of the 80-plus restaurants that are part of the Nextbite network, carefully packaged, and delivered hot to your door by Grubhub, DoorDash, or other delivery-app services. 
The George Lopez Tacos menu offers three types of proteins: pork carnitas, chicken tinga, and Lopez's favorite, beef ranchero verde. They can be ordered singularly or "family style" for four or eight. Everything you need to create an authentic Mexican street taco is included, such as fire-roasted peppers and onions, avocado crema, roasted jalapenos, and of course, corn-masa tortillas. We recently talked with Lopez about his inspiration for George Lopez Tacos, the do's and don'ts for making the perfect taco, and, of course, Harley Quinn.
George Lopez was inspired by his grandmother's cooking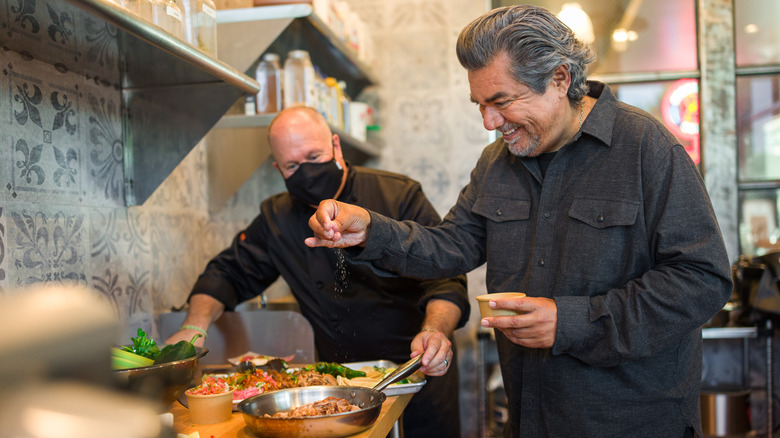 Greg Cahill for George Lopez Tacos
How did you get into the restaurant business?
I think because of the stand-up, I was always talking about the way my grandmother cooked. I was talking about putting the bacon grease back in the beans and the homemade tortillas and the chile and the salsa and kind of the whole thing about going to this place. I still go to the same place I've been going to, a place that has been there for 70 years. My grandmother was not a complicated cook, but she made some pretty delicious things.
Everything that she made, we ate. And there wasn't a lot left over.  But her cooking for my grandfather and then him coming [home] at the end of the day and there being a burrito in there. That's all the stuff that I was trying to bring to the concept of George Lopez Tacos. 
How did you develop the menu for George Lopez Tacos?
There's some assembly required, but you can decide how hot, what kind of meat, what kind of seasoning, what kind of sauces, and not having them already assembled and delivered. I think it can be healthy now as well. None of these things are going to make you immediately fall asleep like my grandmother's food did. But when we all now... kind of as a culture, as a society, put more emphasis on the ingredients of the food and the food being good and being good right away, there's not... oh, you got to try this. This is better than that.
It has to be good. And it has to be good right away. I always thought about when you date, there's a first impression, but I told the guys when we started getting into the food bet, you're going to get one bite. And if it's not a good one, they probably won't be coming back.
George Lopez reveals what it's like to work with Nextbite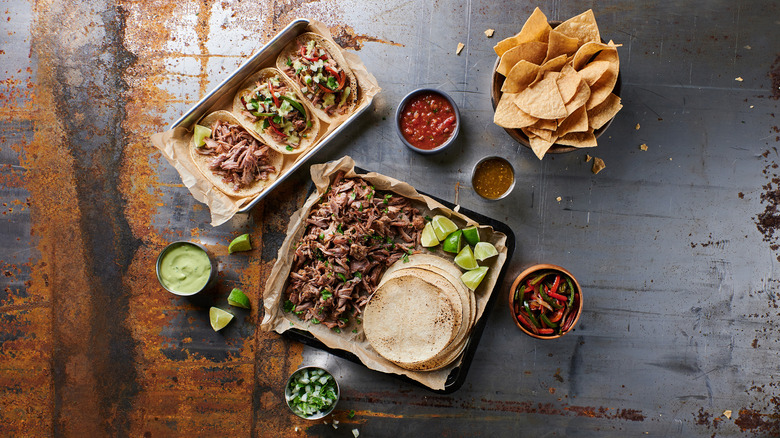 Rachel Adams
Do you know where your food is prepared? You've got 80-something locations.

With the ghost kitchen concept, like Nextbite, they go in there and they have a ghost kitchen, which is sometimes owned by a small business. And they're the people in there that are making it. I mean, it's so great about Nextbite and Grubhub and all the things that they support small kitchens and support small business. I think over the last year, and especially even here in L.A., I saw some places that are closed and it breaks my heart.
So to be able to kind of put everybody back in the rotation, the places where they make the tortillas and all the sauces and all the carnitas and the steak and chicken stuff, that big wheel of food is going to start turning all over again. I think that saving small businesses and being in partners with small business gives people the sense and the taste that it's authentic. I think there wasn't a smaller kitchen than the one my grandmother cooked in. And if she was here, she was never happy, but I think she might be happy with the way it turned out.
How to make George Lopez's favorite taco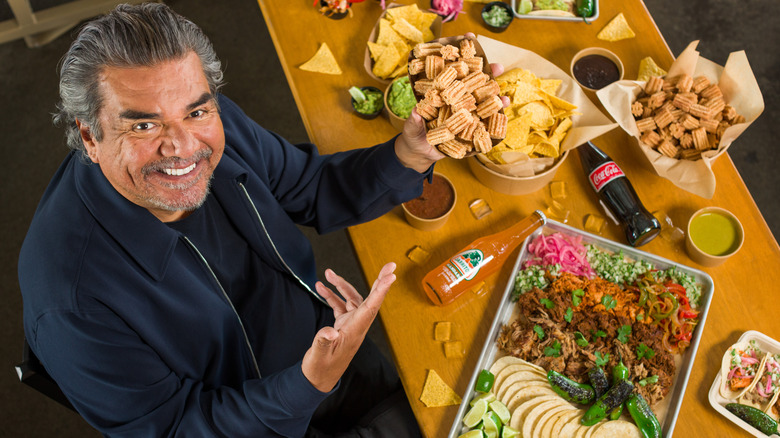 Greg Cahill for George Lopez Tacos
What's the secret to making a perfect taco?
Well, I think the temperature, and if you get it when it's hot, then you're going to get the beautiful smell. And then the tortillas are going to be warm in your hand, not hot, but warm. And then you start to put it together. And when you taste it, it's all connected to the heart, I think.
My grandmother passed away like 11 years ago. It's not a day goes by that I don't think about her. But in sitting here talking to you about that, I can see myself in the kitchen in a chair waiting for her to bring me one taco at a time. I didn't realize how special those moments were. But also, we're all very connected to food and the food that we like. None of our parents made bad food. I don't think any of our parents were bad cooks.
What's George Lopez Tacos must-try item?
I like the steak, and I love the cilantro. I love the little onions and the sauces on top. I like the double tortilla. I mean, when you grow up poor, you don't have the option, but as I got older, I started to realize, in Tijuana in the '80s, when you started to see them use two tortillas, I'm like, wow. That's a big deal when you're used to only seeing one and then somebody hands you one in a nice little paper, and it's got two and it's got just the perfect seasoning and the amount of meat, and it's just one bite and I got you.
Why George Lopez Tacos are different from other taco places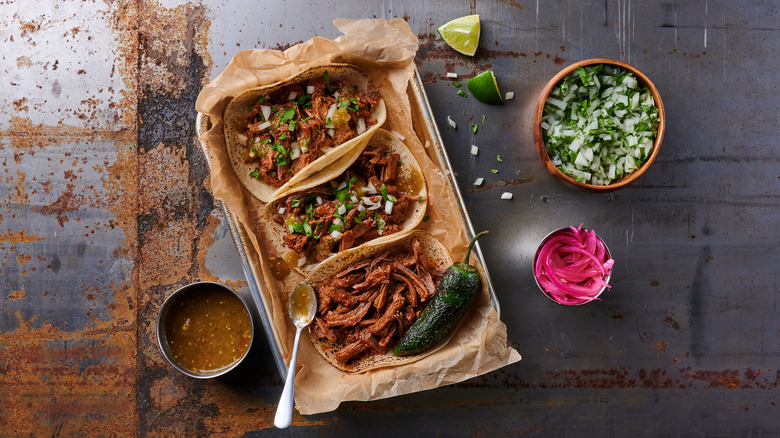 Rachel Adams
What's the difference between George Lopez Tacos and other taco places?
Well, it's George Lopez tested, George Lopez approved. I think when you started to see urgent cares pop up and you thought, wow, urgent care. Why wouldn't somebody go to the hospital? And now urgent cares are everywhere. Now, Nextbite and small businesses are the places that can get you the things that you want in a timely matter so you're not bogged down by a big place.
You're in there in a small place and those drivers are out there and they get it to you and it's hot and it's fast. I think we're going to start to have to assemble these things, some assembly so that you know that somebody didn't decide for you how you want your taco. You can decide for yourself.
All the food is cooked fresh, sealed up, driven to you, and then you put it out on the table and people can make a taco as they wish. So, it's basically a kit?
It's like when you have a kit or you have a Mustang and then they buy you the kit, and all of a sudden you have a regular Mustang, but now the kit has the flare of the back. It's got a different type of knob. It's got the things that shoot out of the sides. We've given you the taco and now we're giving you the kit to accelerate your taco making and taco enjoying skills.
The George Lopez way to build a taco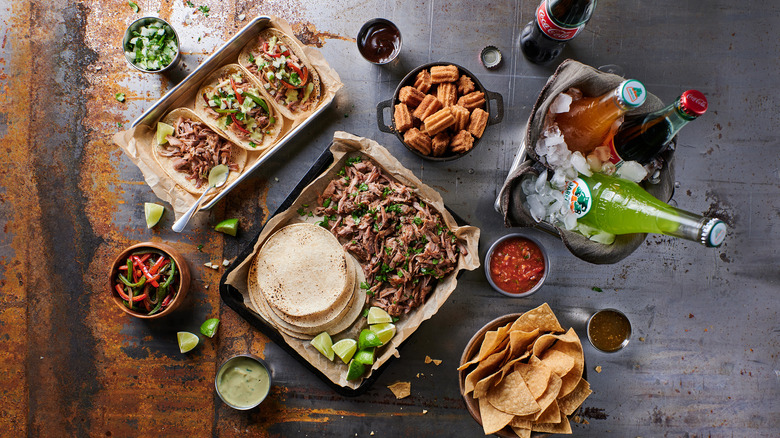 Rachel Adams
What's the biggest mistake you see people make when they order a taco?
The biggest mistake I've seen is sometimes when it gets delivered or sometimes when it shows up, it's a little bit wet because some of the ingredients, like pico de gallo. In Mexico, the pico de gallo is onions and tomato and cilantro. But it's dry out there. And here sometimes they put them in little plastic containers, which has a little bit of liquid. So when you put that on the taco, the liquid's going to go to the bottom of the taco, and then you're going to get a soggy taco. Nobody would want a sandwich that's kind of soggy in the middle. And nobody wants to taco that [is] soggy in the middle.
What's the right way to make a taco?
The right way is you put the meat in there and you put a little bit of the seasoning and then the sauce on top. So by the time you're done, it's never gotten to the bottom. It's always been at the top.
George Lopez Tacos has a special dessert. Tell us about it.
[George Lopez Tacos] comes with the churro bites. The churro was the straight donut and the cinnamon. When you go to the amusement places or you go to movie theaters and you started to see the churro, you're like, "oh, all right." So we're not just into donuts or cookies. Now we're into churros.
For me, I'm a huge sports fan. And when you started to go to stadiums and they started to have churros, you're like, "Okay, this is something that's not going to go away now." They love it. And then for kids and for families, I decided a long time ago, and I had nobody do it until we started to do the food bet, you would take the churros and make them into bite-size and not the long churro.
Is there anything else you'd like to tell us about George Lopez Tacos?
I think after a rough year and us starting to get back to some normalcy that food is going to be what's going to set us on the right track.
George Lopez's favorite acting role so far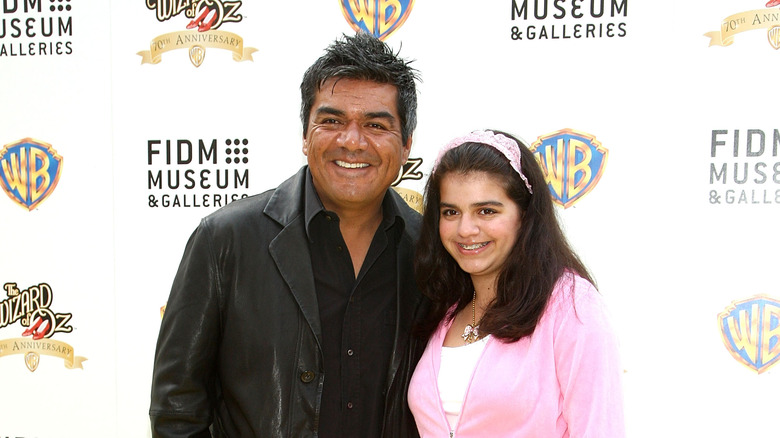 Alberto E. Rodriguez/Getty Images
What's your favorite role been so far?
In doing stand-up and knowing that comedians could, if they were lucky enough to ever have their own show, I saw a bunch of guys get television shows when I never thought I would get mine. I was at the Comedy Store on a Monday in the '80s when Roseanne was in there, and she was going to be on Johnny Carson on Wednesday. I saw Tim Allen before "Home Improvement" started. And he was incredible. In "Home Improvement," you saw what people saw in his act. Same thing with Drew Carey. 
So I would have never thought that I would have had anything that would have been a value in my life. Not only to get a show but to sustain a show. And the first show premiered in 2002. It hasn't been off the air since 2002. And yesterday, we announced that my daughter, Mayan, who was 5 when my show started [and] who's now 25, we sold an idea to NBC about a father-daughter relationship. That would have to be it.
What was the most challenging thing about your work?
The most challenging, I would say, was the talk show ("Lopez Tonight") because every day for somebody to go in there and tell you where you could do better when we were doing great is not the best workplace environment. I think they were afraid of what the show could be. One day not as many women are watching it. The next day too many women are watching. Then no Latinas are watching. While they tried to figure out what they wanted the show to be, we already knew what the show was. And if you look at those shows, they're on YouTube a lot, the Prince interview. And we broke a lot of bands and actors and actresses for the first time. I think not only had the biggest audience in late-night TV, but the most excited, and it was fun to do. They never just hired me and leave me alone, man. They hired me and they change you.
How did you get a guest spot on the animated "Harley Quinn" series?
When I was going on auditions, you would go to a voiceover occasionally, and a lot of the actors that were auditioning would say, "I don't know why you don't work more. You have a very unique sounding voice." It's funny that all of the "Smurfs," I did two "Smurfs" and two "Rios" and three "Beverly Hills Chihuahuas" and "Marmaduke" and "Escape from Planet Earth." It all started with someone saying, "There's a small part in this movie of this little dog. There's only four lines." And they go, "All the good parts are taken."
So there's four lines of this dog. There was no money in it. And they call me up and they go, "So what do you want to do with that little part? Do you want to do it?" And I'm like, "Yeah, I'll do it." It was four lines. I was at my house at 12:45 and at 1:05, I was singing to Drew Barrymore. And the rest is animated and voiceover history.
Will you be on "Harley Quinn" again?
I hope so. Yeah, I hope so. Just being around and them knowing that I've done all these movies — is that it was fun. Good show.
From the churro bites to the la chingona, check out George Lopez Tacos for a complete menu and ordering information.