MasterChef: Legends' Aarón Sánchez Reveals What We Don't See On TV - Exclusive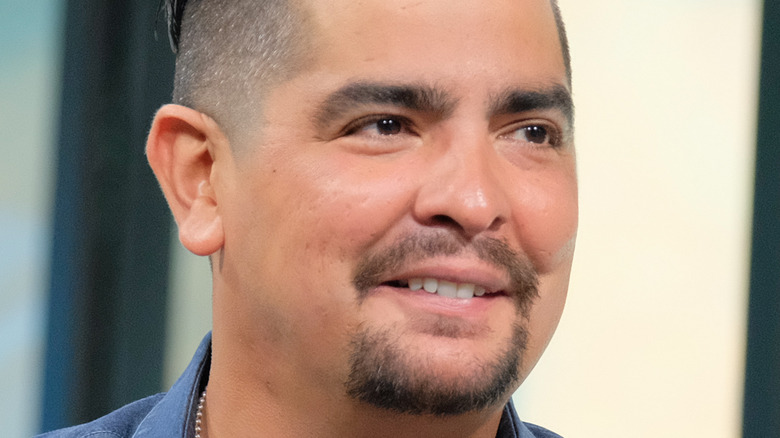 Matthew Eisman/Getty Images
Cooking competitions require clever behind-the-scenes strategies to create a compelling narrative and ensure cameras catch every moment. "Iron Chef," for example, pairs chefs ahead of filming for scheduling purposes, per Today. On "Chopped," ovens are pre-heated, reaction shots are filmed from multiple angles, and contestants are often selected based on compelling personal histories (via AV Club). It takes a community to ensure viewers get intensity and drama.
During an exclusive interview with Mashed, judge Aarón Sánchez explained that the production team at "MasterChef: Legends" works hard to make sure that dishes are judged fairly and contestants are set up for success in the high-pressure setting. "I think, first of all, what's important is that what makes 'MasterChef' the premier culinary competition in the world, is [that] we mentor," Sánchez said. 
Regardless of what position a "MasterChef" contestant ascends to, Sánchez said, "Even if you were to say, fall short ... you still walk away with an enormous amount of confidence with the certainty that you want to get into the culinary world ... I want people to know that." The judge revealed contestants and crew spend about a month or more filming, which requires some contestants to leave jobs and be away from their families for an extended period. "So, we're very much invested in their mentoring and seeing them grow as cooks," Sánchez said. 
'MasterChef' contestants leave with even more training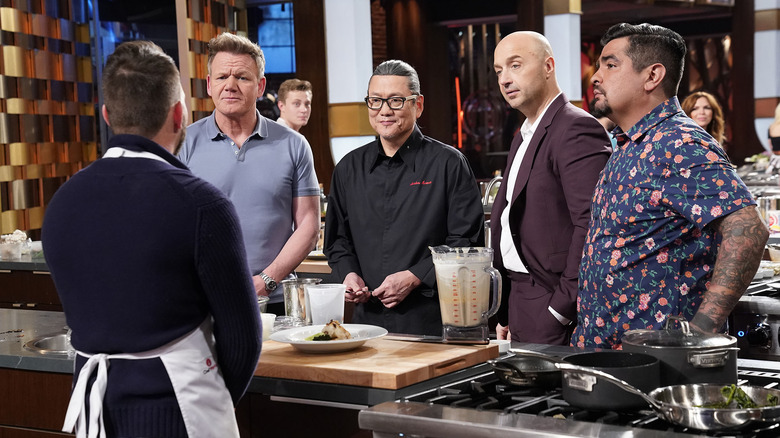 FOX
Calling the filming process "intense," Aarón Sánchez revealed that the goal of the "MasterChef" production team is "following all the rules" and making sure "it's a fair game." Being on set means contestants will be forced to cook under conditions they've never encountered before. To prep them ahead of time, Sánchez explained that contestants participate in "masterclasses where behind the scenes they're working on their cooking skills, their cutting skills, their sautéing, just some basic techniques to prepare them." The reason for this, according to Sánchez, is because "we feel that would be unfair to throw them into the gauntlet without us determining where they are, as far as the progression and their growth."
One out of 15 contestants takes home the top prize of $250,000. Thanks to the mentorship program, it sounds like at least each participant can leave with the training to be a more skilled chef. Eventually, when it comes time to choose a winner, Aarón Sánchez looks at how each chef has put their new skills to work. "The qualities that we look for, especially towards the latter part of it, is their evolution of their palate and understanding how to balance flavors and knowing what ingredients go with what," Sánchez said.
"We're very emotionally invested, and we want to see them, all of them, succeed," Sánchez said. "That's what I take, a lot of gratification in knowing that I'm helping them secure their dream of being in the food world, even if they don't win the whole thing."
'MasterChef: Legends' judges perform real tastings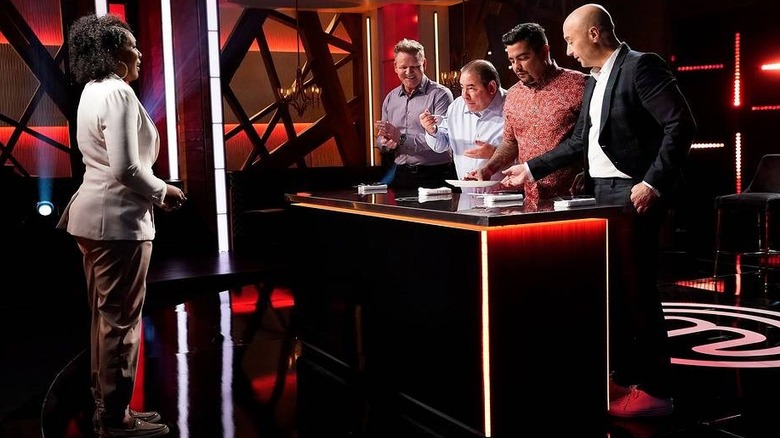 FOX
Striving for transparency, chef Aarón Sánchez explained that "MasterChef" judges are eating even more food than audiences might realize. "We do a lot of tasting behind the scenes," Sánchez said. "So sometimes, you, as a viewer will see just three dishes come up, but the reality is that we taste everything hot. We taste everything as it comes out. We do it with a group of people that make sure that we're following all the rules."
Editing for time means audiences don't witness the impact the judges can have on these burgeoning chefs. "It's not [like] where in other competitions you have 10 minutes in front of us, your food sucks, bye-bye, there's no parting gifts," Sánchez joked. All the mentorship hopefully delivers chefs better equipped to enter the culinary field — and more interesting television. "Because the end result, for you as a viewer and for us as judges, [is to] get great food and to see them get better and display the characteristics and the qualities that are needed to be a top-flight MasterChef."
You can catch more of Aarón Sánchez on the new season of "MasterChef: Legends," which airs on Wednesdays at 8:00 p.m. on FOX. This season, culinary legends like Emeril Lagasse, Paula Deen, Roy Choi, Nancy Silverton, and Iron Chef Morimoto will join hosts Gordon Ramsay, Joe Bastianich, and Sánchez as they guide 15 home cooks through a series of challenges for a chance at $250,000.