Crispy Air Fryer Potato Wedges Recipe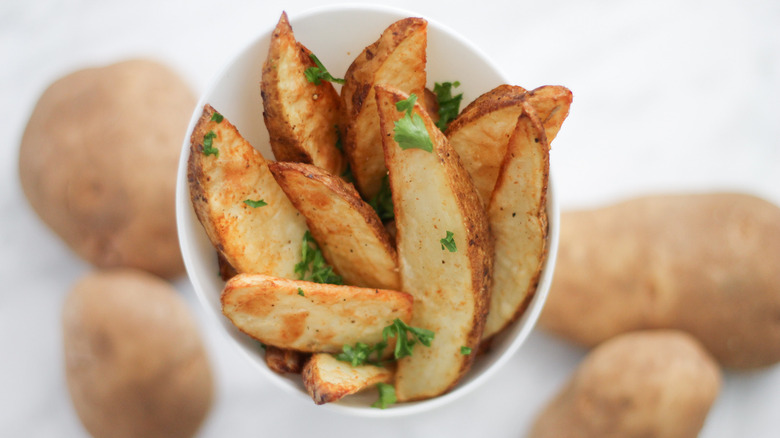 Melissa Olivieri/Mashed
There is something immensely comforting about digging into a plate of freshly made, perfectly browned, and delightfully crisp potato wedges. While the words "crisp" and "potato" uttered together might strike fear into the heart of anyone looking to eat more healthy food or who wants to cut down on calories and fat, these potato wedges are different. That's all because of the way they are cooked. Air fryers work by pushing hot air around food, turning them golden brown and crispy without the need for lots of fat and deep-frying. Because of this, Healthline reports that some air fryer brands even claim that this cooking method can slash the fat in fried food by up to 75 percent. 
Melissa Olivieri of The Olive Blogger offers up a sumptuous way of preparing potato wedges that deliver on three counts: they're crisp, nutritious, and delicious. Olivieri also offers up an extra step that you'll find will help you make your wedges that much more crisp. And it's largely thanks to your handy air fryer.
Gather the ingredients for air-fried potato wedges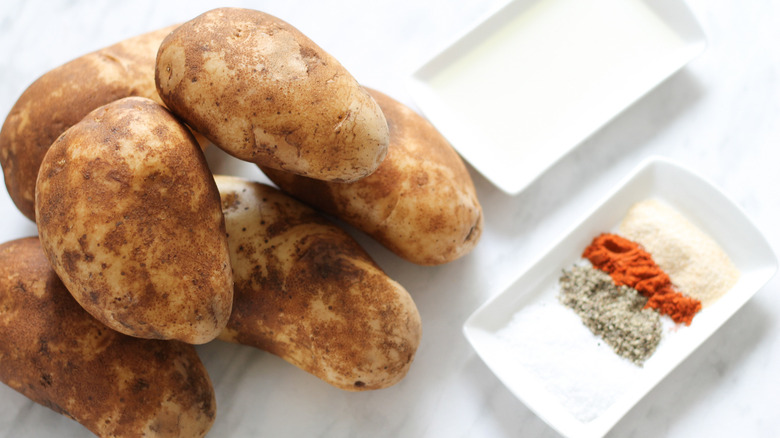 Melissa Olivieri/Mashed
The best part about making air fryer potato wedges is that if you already have an air fryer, the rest of the ingredients could well be items you already have in your pantry and fridge. 
This recipe calls for russet potatoes, vegetable oil, kosher salt, black pepper, smoked paprika, and garlic powder. But if you don't have any russet potatoes on standby and you're desperate to make this recipe right away, any other kind of potato, including sweet or yellow potatoes, will do. 
However, there is a caveat to be mindful of here, because changing the potato will also give you a slightly different dish. "Each potato is a little different. Also, you will need to adjust the timing depending on the potato used," Olivieri says, as the different densities and textures of potato varieties will change the cook time. For instance, less dense sweet potatoes will likely take less time to cook, though it's always a good idea to check in on them through the cooking process to be sure.
Cut the potatoes into wedges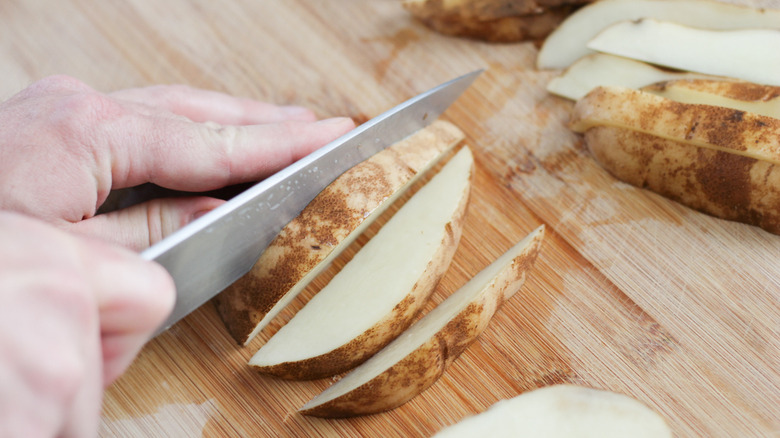 Melissa Olivieri/Mashed
Did you know that the skin of a russet potato has more nutrients than its insides? They're high in fiber as well as other nutrients that are good for you like potassium and vitamins B and C, as well as calcium. 
As such, there is no need to peel the potatoes as part of your prep, but you will need to make sure your spuds are scrubbed and cleaned properly. Potatoes do grow in the dirt, after all, so it's always a good idea to make sure any soil or dust is thoroughly washed away before you begin cooking. Next, slice your potatoes in half, then into half-inch wedges, cutting into the potato on a slight angle to create the wedge shape.
This optional step will give you crispier potato wedges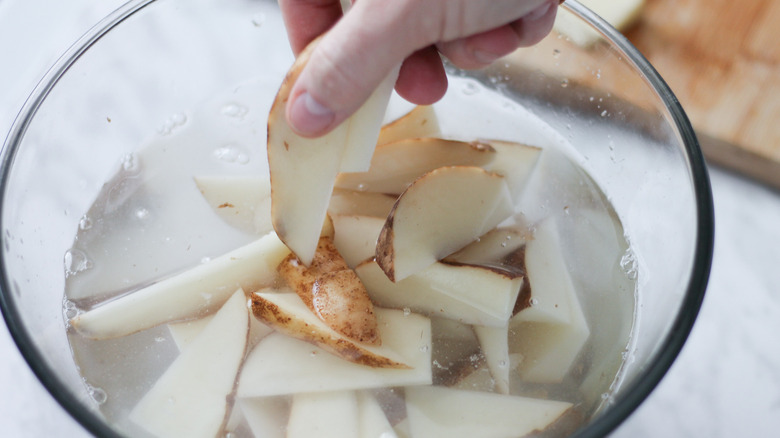 Melissa Olivieri/Mashed
This next step adds about an hour to the entire process, to be certain, and it is optional. However, Oliveri promises it is well worth the effort, so consider planning ahead and adding some extra time. 
Once all the potatoes are sliced, you can then soak them in a large bowl of cold water. Doing this will help to draw the starch from the potato, allowing them to cook evenly. This will also prevent the outside of your wedges from becoming gummy or sticky and will make the potatoes extra crispy after their run in the air fryer. 
After your potatoes have soaked for about an hour, pat the wedges dry using a paper towel. Make sure they are as dry as possible before you return them to the large bowl. Olivieri says that it's not too critical to get the potatoes bone dry unless you're pressed for time, because she warns that leaving the potatoes damp means that water will need to cook off first. "The nice thing with soaking the potatoes first is that you are guaranteed a crispy outcome if you take the extra few minutes to pat them down," she says. 
Season the potatoes after they have been dried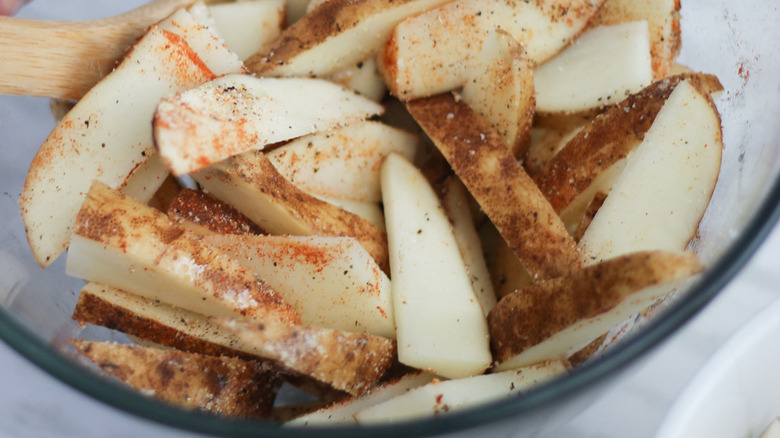 Melissa Olivieri/Mashed
First, set your air fryer to the "fries" option and allow it to preheat while you season the potatoes.  If you don't have an air fryer, a regular oven can do the work too, but you'd need to give this recipe more time in the oven to get the potatoes to their desired crispness. Olivieri stands by the use of an air fryer because, as she put it, "the air fryer is amazing for doing potato wedges as it allows the air to circulate around the potatoes and therefore cooks them faster and provides a better crisp."
Season the potatoes using vegetable oil, kosher salt, pepper, garlic powder, and paprika. Use a large wooden spoon to distribute everything and ensure that the potatoes have an even coating of the seasoning mixture. 
Eventually, feel free to experiment with different spice combinations as, after all, fortune favors the bold. If you're looking for suggestions, Olivieri also recommends a blend of rosemary, kosher salt, and garlic powder as a savory spice mix with classic potato-friendly flavors.
Cook the potato wedges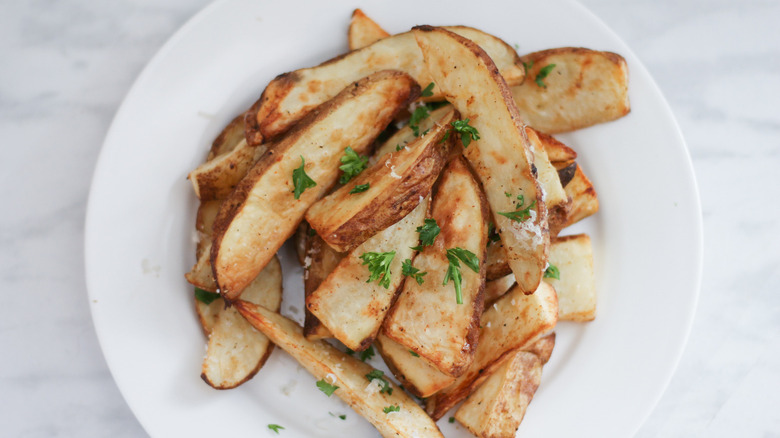 Melissa Olivieri/Mashed
Now, with the air fryer preheated and set to go, you're ready to put the seasoned potatoes in the basket of your air fryer and start cooking. When cooking the potatoes in the air fryer, be sure that you don't overload your device. Instead, Oliveri suggests cooking the potatoes for 20 minutes and in smaller batches so the wedges cook evenly. 
You'll also want to shake the basket after 10 minutes, to ensure that the potatoes are browned evenly. Oliveri promises that, with this method, you'll achieve wedges that are perfectly crisp on the outside but still have a fluffy center. If you like yours to be extra crispy you can go ahead and add 5 minutes to the cook time.
Serve the potato wedges immediately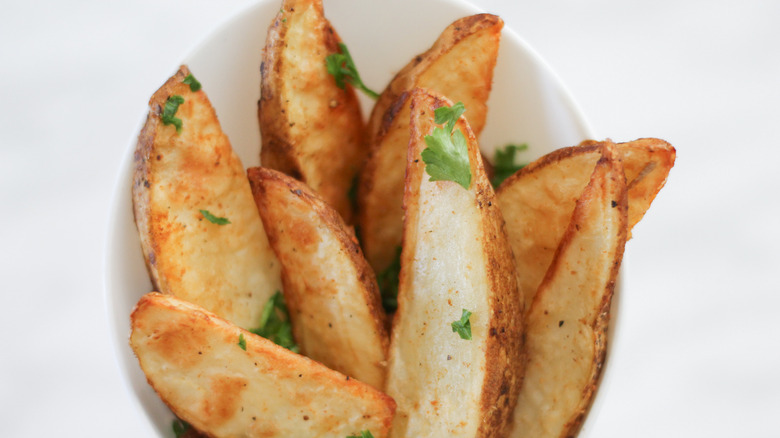 Melissa Olivieri/Mashed
Once the potatoes are done, take them out of the basket and serve immediately. You may also top them with chopped parsley or some grated Parmesan cheese. If your wedges are looking far from happy — meaning that they got soggy — the most likely reason that they didn't crisp up is that you've overfilled the air fryer basket. Bear in mind that the air fryer needs room for the air to move around the potatoes to ensure even crispness.
Olivieri says this tasty treat is best served immediately in order to ensure they keep their crisp. These potato wedges can also be heated up again in the air fryer if, for some reason, you didn't finish them all on the first go. If you do need to reheat leftover potato wedges, it's important to keep in mind that this process will dry them out a little bit each time they are reheated.
Crispy Air Fryer Potato Wedges Recipe
This recipe for crispy air fryer potato wedges offers a sumptuous way of preparing potatoes that delivers crisp, nutritious, and delicious spuds every time.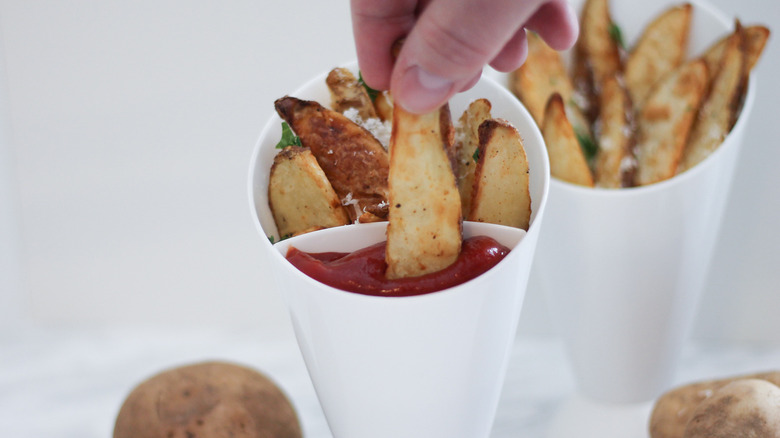 Ingredients
6 russet potatoes, washed
2 tablespoons vegetable oil
1 tablespoon kosher salt
½ tablespoon freshly cracked black pepper
½ teaspoon smoked paprika
1 tablespoon garlic powder
Optional Ingredients
Chopped parsley
Grated Parmesan cheese
Directions
Begin by slicing your potatoes into half-inch wedges.
Once all potatoes are sliced, optionally soak them in a large bowl of cold water for 60 minutes.
Set air fryer to "fries" option and allow to preheat while you season the potatoes.
Pat dry potatoes using a paper towel, ensure they are as dry as possible, and return to the large bowl.
Season the potatoes using vegetable oil, salt, pepper, garlic powder, and paprika. Toss to coat.
Place seasoned wedges in the air fryer and cook for 20 minutes. Shake them after 10 minutes to ensure even distribution.
Serve immediately. Optionally, top with chopped parsley and fresh grated Parmesan.
Nutrition
| | |
| --- | --- |
| Calories per Serving | 363 |
| Total Fat | 7.4 g |
| Saturated Fat | 0.6 g |
| Trans Fat | 0.1 g |
| Cholesterol | 0.0 mg |
| | |
| --- | --- |
| Total Carbohydrates | 68.9 g |
| Dietary Fiber | 5.3 g |
| Total Sugars | 2.4 g |
| Sodium | 879.1 mg |
| Protein | 8.4 g |