Taco Bell Is Testing A Plant-Based Naked Chalupa. Here's What We Know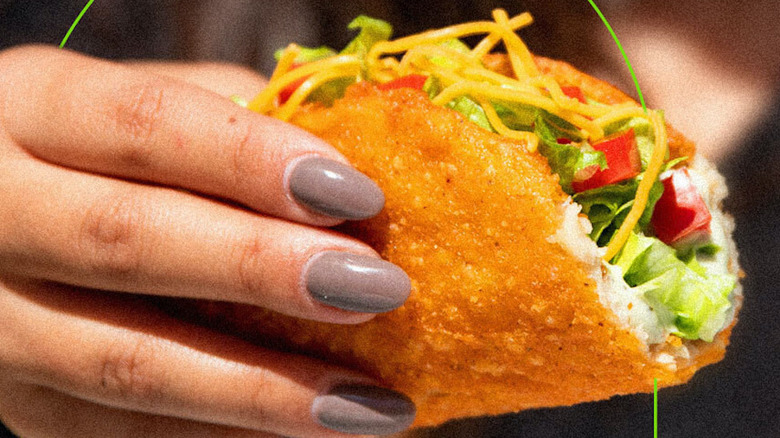 Taco Bell
Taco Bell is well-known for its cheap prices and many creative food items. Plus, it's a great fast food chain for vegetarians and vegans to grab Mexican-inspired meals because they can always swap out the meat for beans — or take out the cheese and sour cream and replace them with salsa, Fresco-style.
At Taco Bell, you can expect to see the menu constantly changing, and now, there could be something new in the mix for plant-based eaters. Taco Bell is testing a plant-based Naked Chalupa, but there's a small catch. You can only get the plant-based Naked Chalupa at one location in California, according to Chew Boom. If you're looking to try this plant-based item, you'll have to head to the Taco Bell on 2222 Barranca Parkway in Irvine, California by June 27 or until supplies last. PR Newswire reports that the plant-based Naked Chalupa costs $3.49 plus tax, so it's another great deal.
What's in the plant-based Naked Chalupa?
Before we dive into what makes the plant-based Naked Chalupa different, it's good to know what's inside Taco Bell's Chicken Naked Chalupa. According to the Taco Bell website, they describe this food item as "a boldly seasoned, Chalupa shell made of crispy, marinated all–white meat chicken and filled it with crisp lettuce, diced tomatoes, shredded cheddar cheese and creamy avocado ranch sauce."
Essentially, this is how Taco Bell got fried chicken on its menu, and it looks like the chicken wars won't be over anytime soon in the world of fast food. But the introduction of the plant-based Naked Chalupa gives vegans and vegetarians more selections. Chew Boom says that the plant-based Naked Chalupa is made out of a pea-based protein, and it's filled with the same toppings as the Chicken Naked Chalupa. 
While the plant-based Naked Chalupa is only in California for now, this isn't the end of Taco Bell's meat-free innovations. According to PR Newswire, Taco Bell will also be working with Beyond Meat, and we can't wait to see what new products are in store.