20-Minute Sausage And Potatoes Dinner Recipe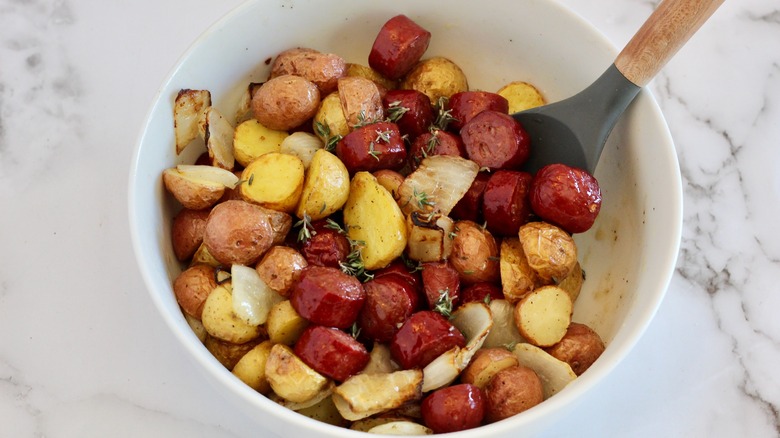 Mackenzie Burgess/Mashed
We all live busy lives and don't have time to cook difficult or complex dinners most weeknights. Some nights, it's just too much to handle, right? We've all been there. That's why this 20-minute air fryer sausage and potatoes recipe is the perfect option for those busy nights when you need a hearty, filling, and delicious main course. With a combination of crispy potatoes, savory sausage, and a simple honey Dijon sauce, we know you'll be coming back for seconds of this recipe.
This recipe also cooks together in an astonishingly short time thanks to the handy air fryer. The air fryer was first invented in 2010 by the Philips Electronics Company, according to Kitchen Weapon, and it's been making waves in the kitchen ever since then. This trending kitchen tool is essentially a countertop convection oven designed to cook ingredients in a much shorter amount of time and yet still produce that much-beloved crispy, browning effect. You can also use air fryers to make healthier fries, moist chicken, and roasted vegetables without a ton of added fats. 
You can check out other easy recipes by culinary registered dietitian nutritionist Mackenzie Burgess on her blog at Cheerful Choices.
Gather your ingredients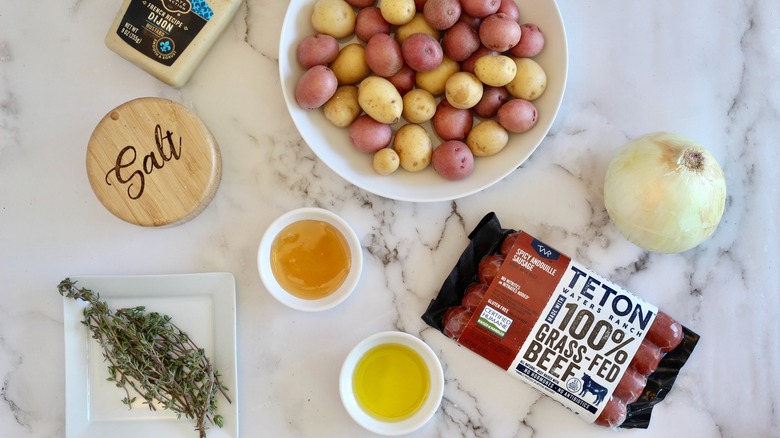 Mackenzie Burgess/Mashed
There are just eight simple ingredients used in this air fried sausage and potatoes recipe. The recipe as written makes enough for four servings, which should be enough for most family dinners. If you are wanting to make more or have a ravenous crowd to feed, simply double the recipe and ensure you have a large enough air fryer to fit everything inside.
To make this recipe as-is, you will need 1 pound creamer potatoes, 1 yellow onion, 1 tablespoon olive oil, salt and pepper, 1 10-ounce package of fully cooked sausage links, 1 tablespoon Dijon mustard, 1 tablespoon honey, and some fresh thyme leaves, for garnish. Take a minute or two to halve the potatoes, cut the onion in large chunks, and slice the sausage links into ½-inch rounds.
You can also customize this recipe depending on what ingredients you have on hand. If you don't have olive oil, for instance, feel free to use another oil like avocado oil or canola oil. If you don't have a yellow onion, you could also choose a red onion or white onion in its place. Finally, if you don't have fresh thyme on hand, sprinkle some dried thyme leaves or another fresh herb like chives or parsley on top of the finished dish.
Prepare the potatoes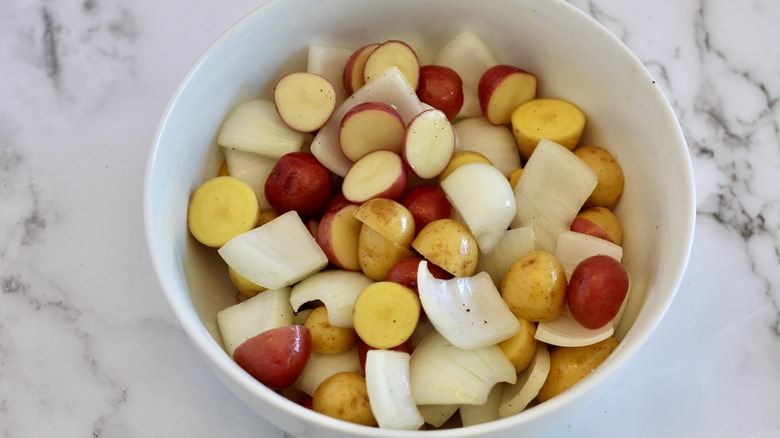 Mackenzie Burgess/Mashed
For this recipe, we are choosing creamer potatoes because they are very small and cook quickly. Cut the creamer potatoes in half before combining them with the other ingredients. If you can't find these bite-sized potatoes, you could also use other small potatoes like petite gold or fingerling potatoes. Depending on the size of the potatoes you use, you may need to quarter them.
Once you have your potatoes halved, toss them with the onion, oil, salt, and pepper. For this recipe, we are keeping the seasonings pretty basic. That said, you could also sprinkle in other spices as the mood strikes you or the opportunity presents itself. Consider variations like adding in some Italian seasoning, cayenne pepper, or garlic powder.
Air fry the potatoes first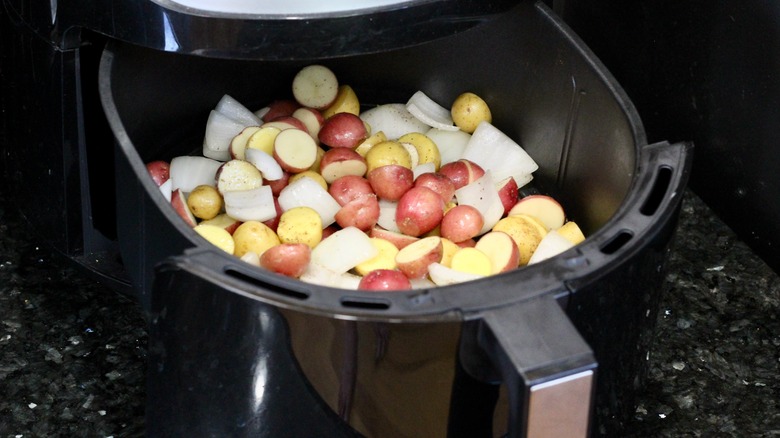 Mackenzie Burgess/Mashed
Once everything is combined together, add this mixture to the basket of your air fryer. We are cooking the potatoes first because they take a bit longer to cook and brown than the pre-cooked sausage does — and we certainly don't want burned sausage or undercooked potatoes. Now, normally potatoes take about 30 to 40 minutes to cook in a standard oven. But for this recipe, they become tender in half the time. That's the magic of the air fryer.
We recommend letting your air fryer preheat for a few minutes before adding the potatoes, just like you would with a regular oven. This promotes more even browning throughout the subsequent cooking process. Cook this mixture for about 10 minutes until the potatoes are just tender and starting to brown.
Add the sausage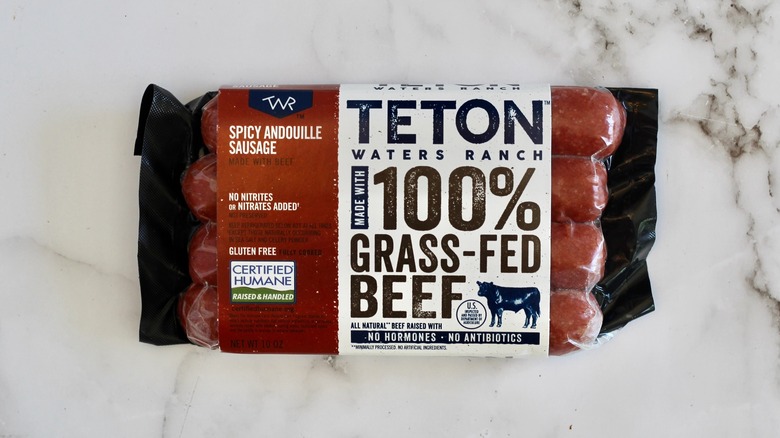 Mackenzie Burgess/Mashed
After the potatoes are slightly browned, add your sliced sausage into the air fryer. Burgess recommends choosing grass-fed beef sausage because it has higher levels of heart-healthy omega-3 fatty acids compared to more traditional grain-fed beef, according to Nutrition Journal. Grass-fed beef also provides substantial protein, which can help you feel fuller longer.
Of course, if this particular type of sausage isn't in your budget or not to your taste, you can customize this recipe and use any sausage you enjoy. Burgess says, "I like to use Teton Waters Ranch sausages for this recipe because they are 100% grass-fed, contain real ingredients you can pronounce, and have such great flavor." But you could also conceivably use turkey sausages, pork sausage, or even a meat-free version for a vegetarian take on this recipe.
Whatever variety you choose, add the ½-inch slices of sausage into the air fryer basket after the potatoes have been cooking for 10 minutes.
Cook mixture until tender and browned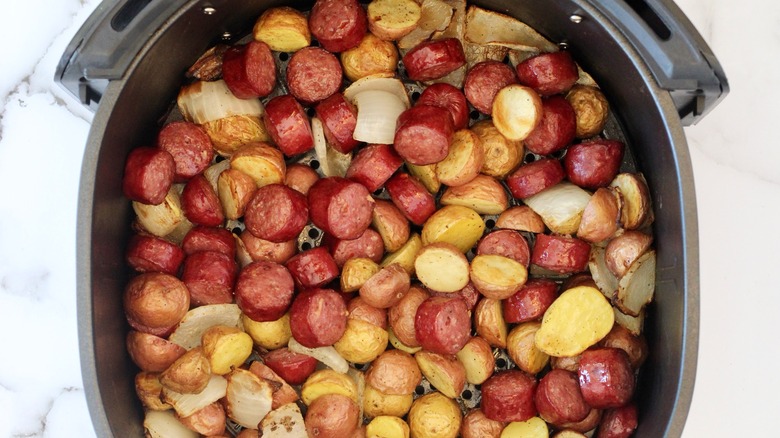 Mackenzie Burgess/Mashed
Once the sausage is added into the mix, cook everything for about 5 more minutes until the potatoes are browned all around and the sausage is heated through. If you are working with larger potatoes, you may need to cook a couple of minutes longer — just take a peek into the air fryer basket on occasion to make sure things are moving along and not overcooking. Overdoing it can burn the pieces of onion.
While you're waiting for everything to finish cooking in the final minutes, whip together the easy honey Dijon sauce. All you'll do is mix together 1 tablespoon of Dijon mustard and 1 tablespoon honey.
Add sauce and garnish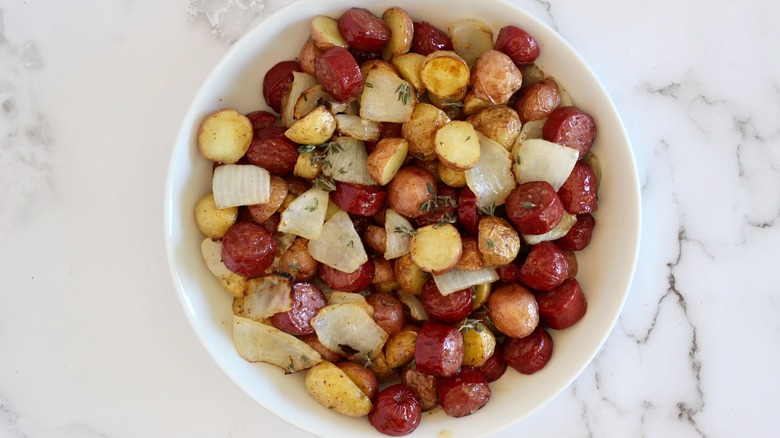 Mackenzie Burgess/Mashed
Once they're all fully cooked, add your cooked potatoes and sausage to a large serving bowl and toss with the sweet and savory honey Dijon sauce you've just made. Then, garnish it all with thyme leaves on top for a pop of green color and a bright, herbal flavor.
"This dish is a great source of satisfying protein from the sausage and fiber from the potatoes, helping you feel full longer at mealtime", remarks Burgess. You can enjoy this dish by itself, which is sure to please if you're an especially big fan of potatoes. Of course, you can serve it with a lighter, healthy side dish like a mixed greens salad or roasted broccoli. 
If you end up with extras, store these leftovers in an airtight container in the fridge for up to 3 days.
20-Minute Sausage And Potatoes Dinner Recipe
This 20-minute air fryer sausage and potatoes recipe is the perfect option for those busy nights when you need a hearty, filling, and delicious main course.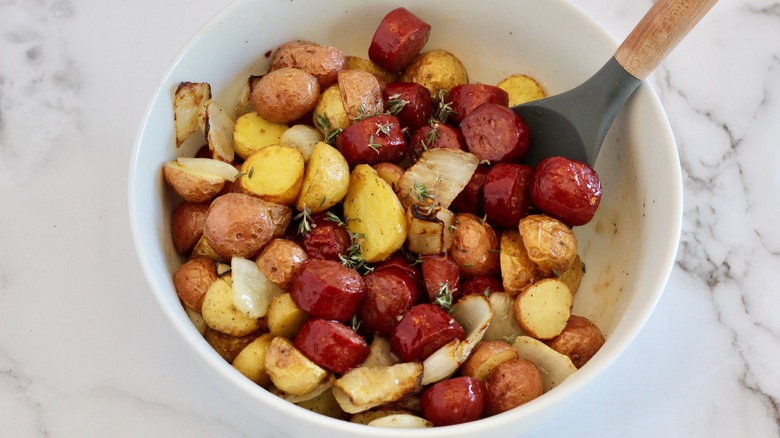 Ingredients
1 pound creamer potatoes, halved
1 yellow onion, cut into large chunks
1 tablespoon olive oil
½ teaspoon salt
½ teaspoon freshly ground black pepper
1 10-ounce package fully cooked sausage links, sliced into ½-inch rounds
1 tablespoon Dijon mustard
1 tablespoon honey
Fresh thyme leaves, for garnish
Directions
Preheat the air fryer to 400 degrees Fahrenheit.
In a large bowl, toss together potatoes and onion with oil, salt, and pepper. Transfer mixture to air fryer basket. Air fry for 10 minutes or until potatoes are barely tender, shaking the basket halfway through cooking.
Add sausage to the air fryer basket and cook everything for 5 more minutes.
Combine Dijon mustard and honey in a small bowl.
Removed sausage and potatoes from the basket and put into a large bowl. Drizzle honey Dijon sauce over the sausage and potatoes and toss to combine.
Garnish with thyme leaves and serve warm.
Nutrition
| | |
| --- | --- |
| Calories per Serving | 354 |
| Total Fat | 21.2 g |
| Saturated Fat | 5.9 g |
| Trans Fat | 0.1 g |
| Cholesterol | 49.6 mg |
| | |
| --- | --- |
| Total Carbohydrates | 28.7 g |
| Dietary Fiber | 3.6 g |
| Total Sugars | 7.2 g |
| Sodium | 576.0 mg |
| Protein | 13.8 g |