The Massive Pistachio Heist That Has Everyone Talking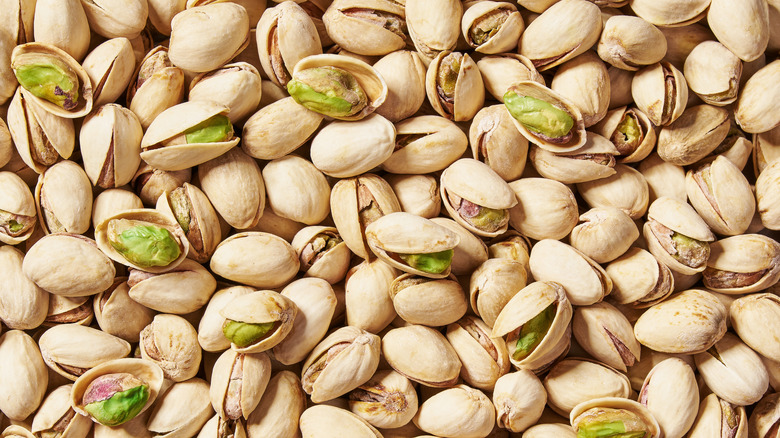 Shutterstock
Someone in California stole 42,000 pounds of pistachios — that's about the weight of three African bush elephants — and did not get away with it. Earlier this month, the Touchstone Pistachio Company in Tulare County did a routine audit and noticed that several tons of pistachios had been misplaced. They called the sheriff's department and got a swift answer: An employee of Montemayor Trucking had the nuts in a trailer one county south. He was bagging the pistachios for resale, the sheriff's department announced on Facebook.
The thief took a risk stealing in Tulare County, as the Tulare County Sheriff's Department has made somewhat of a name for itself cracking cases of missing pistachios, having tracked down $300,000 worth of stolen nuts earlier this year, according to Food & Wine. In this case, the Ag Crimes Unit recovered and returned Touchstone's remaining pistachios in just 24 hours. The thief was arrested and booked in Tulare County, sheriffs said.
Why might someone want to steal pistachios?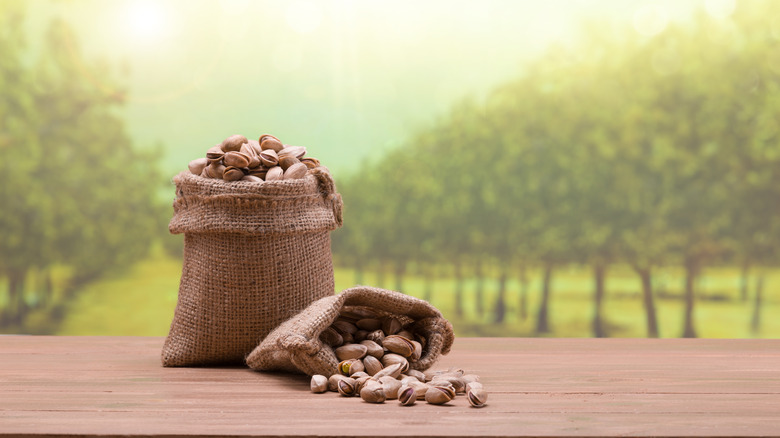 Shutterstock
"If they weren't so expensive he wouldn't have stolen," declared one commenter on the Tulare County Sheriff's Office Facebook post about the incident. That's one theory as to why Alberto Montemayor, the truck driver arrested for the crime, may have stolen 42,000 pounds of pistachios. Just as pistachios are pricey for consumers, they're expensive for farmers to grow because of their difficult growing requirements, lengthy maturity period, and other factors (via Money Inc.).
Another possibility (besides the fact that pistachios are tasty) is that there is such a surplus of pistachios in America right now, perhaps Montemayor thought no one would notice if several tons went missing. California has produced record amounts of pistachios in the last two years, according to Modern Farmer, and predicts to grow even more in the coming years. On top of that, pandemic-related complications meant that the state exported fewer nuts than usual. This may be the reason that the USDA, which routinely purchases surplus food to give to food banks, bought $40 million of pistachios in 2021, Modern Farmer speculates.